Aloha Friday Photo: Laie Point Big Splash Edition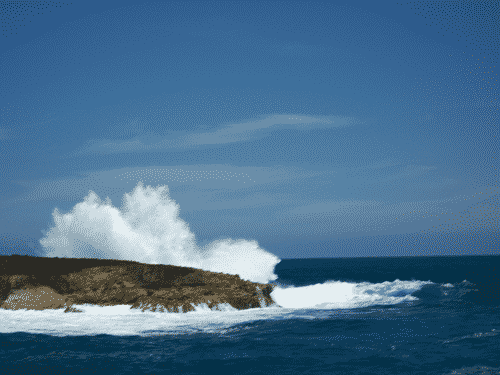 Today's photo is from Marvin and Nancy from Indiana. Marvin writes, "Nancy took this photo right after we had been awestruck by the power of the ocean crashing ashore at Laie Point on a beautiful February afternoon." 
Big North Shore ocean swells are quite common in February. On this February day, the big waves were certainly in action. Just from memory, I'd say that this sandstone rock at Laie Point juts out 10 to 20 feet above the water. So, I'd estimate that splash is about 20 to 40 feet high.
For contrast, compare Marvin and Nancy's above photo to one our photos of Laie Point on a calm, June day.
I recommend you go to Laie Point as you venture out to Oahu's top scenic attractions. It's an interesting view any time of year.
Mahalo to Nancy and Marvin for sharing their Laie Point photo!