Excellent Hawaii Snorkeling at Lanai's Shark Fin Cove
You may have heard of Hawaii's famous snorkeling spots like Molokini off Maui, Hanauma Bay at Oahu, and Kealakekua Bay at the Big Island. Those are all great spots to snorkel, but let me tell you that Lanai's Shark Fin Cove at Kaunolu is definitely on par with those more well known sites.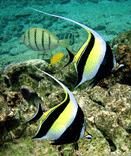 We went out to Shark Fin Cove with Trilogy's Lanai Snorkel Sail during our recent visit to Lanai.  The snorkeling was excellent, teaming with colorful tangs, parrot fish,  and of course the Hawaii State Fish, the humuhumunukunukuapua'a. We also saw a "Nemo fish" (clown fish), a puffer fish and an octopus.
With the sea very calm the day we were there, we were able to move from the main part of the cove to a sheltered place closer to the lava rock named Shark Fin. What an interesting spot! There were dozens of Moorish idols facing the fin as if they were worshiping it. I've never seen anything like it.
Despite the name Shark Fin, we did not see any sharks. (I was really glad of that!) Shark Fin gets its name from the shape of the lava rock jutting from the ocean, which looks like a giant shark fin.
I was absolutely thrilled that our snorkeling excursion went to Kaunolu as this was King Kamehameha the Great's summer fishing retreat! I have been drawn to this place like you wouldn't believe. So, I was crushed to learn that the four-wheel drive rental didn't allow access to Kaunolu. Earlier during our visit, we had  sneaked a peek of Kaunolu on land (but I'm not going to say how) on the day we rented a Jeep. We couldn't find the path that lead over to see Kahekili's Leap (a 60ft tall cliff dive to the ocean) and the massively tall, sheer cliffs along the coast.  This snorkel excursion filled in those empty gaps and then some!
After a nice deli lunch while floating near Shark Fin, the captain took us further along the south Lanai coast to see the tall cliffs.  Then we went in search of dolphins before heading back to Manele Bay. We hear that dolphin sightings are practically an everyday occurrence, but we didn't have any luck that day. C'est la vie. I wasn't disappointed, though, because I had just experienced some outstanding snorkeling at such a scenic and historic site.
I really enjoyed seeing remote parts of Lanai from the catamaran. The views definitely captured our attention on the way to and from Kaunolu. (See this short video that I shot with my iPhone from the catamaran.)
What to know when you go:
This five-hour snorkeling excursion is currently offered four days per week. See this link for the schedule.
Pricing is $169 plus tax. Children ages 3-12 are half off and youth 13-18 are 25% off.
To make a reservation call 1-808-TRILOGY (808-874-5649) or toll-free at  888-Maui-800.
Approximately 90% of the time, this tour goes out to Kaunolu as conditions allow.
All snorkel gear is provided.
A tasty deli lunch was provided.
Wear sun protection and reapply as necessary.
And, don't forget your waterproof camera, like we did. Doh! (I braved bringing my iPhone along for the above water scenes, but I wasn't about to test any underwater capabilities.)