Aloha Friday Photo: Leaping Legends Editions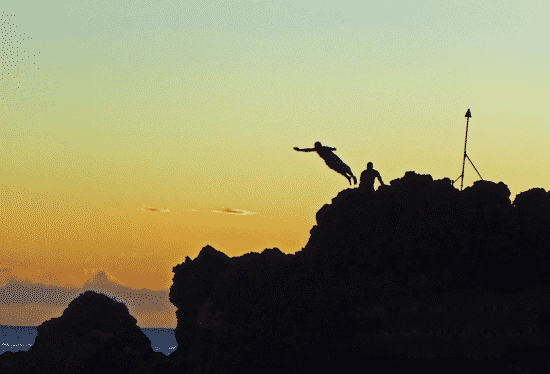 Mahalo to Go Visit Hawaii's Italian friends, Marco and Laura, for providing this perfectly captured shot of the daily cliff dive ceremony at Sheraton Maui on Kaanapali Beach. Laura and Marco traveled all the way from Italy to visit three Hawaiian Islands back in August, 2010. Laura writes,
We spent our last week at Kaanapali Beach Hotel on Maui;  just a few steps away on the beach there is the famous BLACK ROCK. While having  pupus … and a gorgeous sunset at the nearby Sheraton Maui bar, we met this lovely Hawaiian guy who was going to "perform" that amazing CLIFF DIVING CEREMONY they hold each day at sunset!

He told us that, for ancient Hawaiians, that rock was  where a man had to prove to be brave (diving down). They also believed that this place  was a sort of passage, a "way" to the "Other World "!

And here it is : HE jumped … and I could get him on my camera … still don't know how I could be so fast …
That's an excellent description, Laura!
Just to share a few more bits from my Sheraton Maui Review:
Ancient Hawaiians believed that Pu'u Keka'a (Black Rock) is one of the three places where souls of the dead leaped from earth into their ancestral spirit. The Sheraton Maui Resort tells the story and reenacts the cliff diving skill of King Kahekili each evening at sunset. This Maui king was famous and especially revered because he leapt off Pu'u Keka'a (Black Rock) and returned to shore unharmed. Essentially, Hawaiians believed that he jumped into the afterlife and returned.
I really enjoy watching this free torch lighting and diving ceremony at the Sheraton Maui. I do recommend you catch it, too — especially if you are staying in or near Kaanapali Beach. You can observe the ceremony from the beach, but you might enjoy sipping a drink at The Cliff Dive Bar where you can listen to a recorded narration explaining the history of this ceremony.
Thanks again to Laura and Marco for sharing their gorgeous photo and Hawaii vacation memory with us.