Hawaii Fact 44 of 50: Hawaii is a Hotbed for Astronomy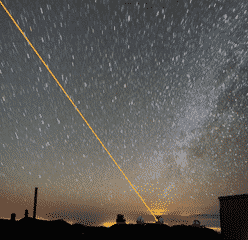 Hawaii's Mauna Kea on the Big Island and Haleakala on Maui have all the key ingredients that astronomers want: high elevation for star visibility, good year-long weather, and no light pollution. Positioned at 21 degrees N Latitude, from these mountain tops, you can not only see the Northern Hemisphere stars but you can also see most of the Southern Hemisphere stars as well. That makes Hawaii the only state in the United States that sees the North Star and the Southern Cross. Of all the stars the planet Earth can view, Hawaii can see over 80% of them!
See my Q&A with Maui Astronomy Club President, Becky Sydney for more interesting information on stargazing in Hawaii as well as these tips for planning stargazing on your Hawaii vacation.
Photo of Keck-2 telescope on Mauna Kea. Photo Credit: Paul Hirst by way of Creative Commons