Please take a few seconds to vote for GoVisitHawaii.com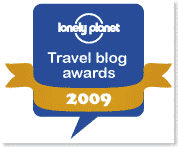 We were recently very honored with a nomination as the Best Destination Blog in the Lonely Planet Travel Blog Awards. This nomination is for everyone at GoVisitHawaii, including you, our readers.
Would you please take just a few seconds to vote for www.GoVisitHawaii.com? It's very easy to do. Here's how you vote:
1. Click this link to Lonely Planet Blog Awards
2. Look for the poll towards the top labeled as the Best Destination Blog.
3. Click on the small round button beside of www.GoVisitHawaii.com
4. Click the rectangular Vote button
5. You've just made my day
Here's a sample of what the poll will look like: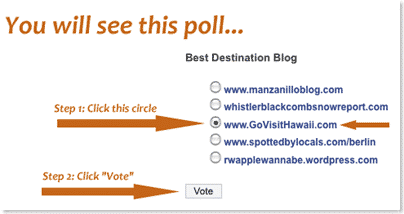 Many thanks to Lonely Planet for organizing these travel blog awards. I think it's great to have such a trusted travel brand recognizing the best in travel blogs.