Avis Tries Harder To Be Bug Free in Hawaii

I have a new favorite rental car company in Hawaii and it's Avis. Recently, we rented cars from Avis on Oahu and Kauai. Both cars were very clean and best of all, they were roach-free.
Some of you may recall that I had a less than pleasant experience with Dollar Rent a Car in March. We had the complete opposite experience with Avis cars. We had requested low mileage cars in the hopes that maybe the cars would be cleaner and pest-free. So, we were nervous when the lowest mileage cars available had over 20,000 miles. Being experience Hawaii rental car connoisseurs, we knew how to look for bugs and we did search thoroughly. We found no bugs!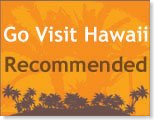 When we returned our last car at Avis, I mentioned to the agent that we were glad that the car  didn't have any roaches. She told me that they have a proactive approach to preventing roach infested cars. They treat the cars when the first arrive and watch and listen for the need to retreat them. Kudos to Avis!
Note:  I should probably make sure you know that I am not affiliated with Avis in any way. I am not compensated in any form for this post.