Hawaii Vacation Deals & News Roundup – 2nd Birthday Edition

Whoa! It seems like I've been blessed with events to celebrate recently. Today, I'm celebrating that Go Visit Hawaii is two years old. Let's hope that the "terrible twos" don't apply to blogs.
* Starting this Friday, the Shops at Mauna Lani will be offering a free first Friday concert series. See this link and scroll to to bottom for the schedule. Also note, as I've previously mentioned in my Big Island free entertainment post, that the Shops at Mauna Lani have free hula performances every Monday and Wednesday evening at 7pm and 8pm.
* I'm hearing that Kauai's Princeville Resort will reopen in July, re-branded as the St. Regis Princeville Resort. The renovations began in September 2008 and were originally due to be finished within seven months, per my previous report. According to the resort's Web site, the resort is accepting reservations beginning October 1, 2009. If the renovations are taking this long, I can only imagine that this swank resort will be absolutely magnificent. I can't wait to see what they've done!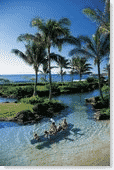 * The beautiful and luxurious Grand Hyatt Kauai Resort & Spa has a special package designed for families that's easy on the wallet and generous on the amenities. The deal includes fifth night free plus 50% off the adjoining "kids" room, complimentary daily breakfast buffet for two adults and two children, an upgraded room view category for both rooms, and more. The offer is valid for stays from June 1 through December 19, 2009. For more information, call 800-447-3334 and request offer code FAMSUM or call your travel agent. (The photo on the right is courtesy of Grand Hyatt Kauai Resort & Spa.)
* Looking for something fun to do the last weekend in April? Want to celebrate a Hawaii favorite? Then start making plans to attend the 7th Annual Waikiki Spam Jam. I must make plans to attend this event someday because I have heard over and over again that it's so much fun.
* Oahu's Turtle Bay Resort is going to be on the big screen again. (As you may recall, "Forgetting Sarah Marshall" was filmed at Turtle Bay, too.) Filming of the romantic adventure comedy, "You May Not Kiss the Bride", began last week on the resort's grounds. In this film, Hawaii will be playing the role of Tahiti and picturesque Kawela Bay will be featured. So, if you are going to be staying at Turtle Bay Resort in the next four weeks, you might see some stars on site.
* Mahalo to Evelyn at Homespun Honolulu who always issues a first rate blog carnival of Aloha. You can read the newest issue here.
* I've just read yet another report on the rental car shortage in Hawaii. Readers have been contacting me about this problem, too. Before I booked my flights for a trip to Maui, I first checked to see if I could rent a car. I had no issues and my planning window was less than two weeks out and over Easter. If you should have a problem finding a rental car in Hawaii, see my post on strategies for overcoming the rental car shortage.
* So, did you notice in that last bullet point that I booked flights for Maui? I am buzzing with excitement. Andy and I are taking my parents to Maui for their first visit to Hawaii. I can't wait to play tour guide and see Maui through their fresh eyes. Our trip begins next week.