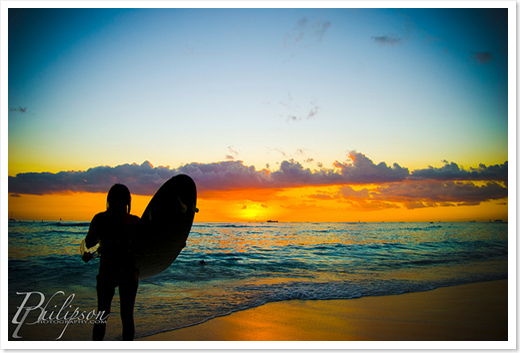 Don't we all want to bring home a few postcard quality photos from our Hawaii vacation? I treasure the photos that triggers my memory of the special places I've seen. I'm not as good at capturing the true beauty of a vacation scene with my camera as I'd like to be. So, I asked Joe Philipson, a very talented professional Hawaii photographer to give us some pointers. Joe graciously and patiently answered my questions. Here is the great insight Joe shared during our interview.
Go Visit Hawaii: Can you please give us some basic photography lessons? I hear professional photographers talk about the law of thirds and how it's so important to good photography. What does that mean in layman's terms and how can we non-pros apply it to our photos?
Joe Philipson: Rule/Law of thirds is easy. Split your camera up into a tic tack toe grid and place the subject on any of the lines or corners of intersection. Our eyes and brain tend to like a photo if the subject is placed off to the side, or if the horizon isn't in the middle. If you go through a lot of stunning photos you'll notice that the subject is almost never placed in the middle of the photo or the horizon is towards the top or towards the bottom.
Go Visit Hawaii: Wow, I'll start paying attention to the rule of thirds now. There's another term I hear photographers throwing around. That's the word composition. What does that mean in photography?
Joe Philipson: A visual arts school in Oregon defines composition as "A arrangement of the visual elements in an artwork…" Composition is what you are photographing and where you are placing the objects in your photo and how the shot is organized. Composition can also be about color, a photographer can compose the color to stand out and draw the viewers eye to a specific part of the photo. You can also draw a viewers eye by the what the people are looking at in the photo.

Lots of principles of photography are also paralleled with principles in art because photography is art. A great photo should capture some emotion and have some meaning just like a good painting, it should tell a story. That is achieved through a well composed photo. Here's an art website that illustrates how some of these principles apply to photography.

With visual psychology you can actually assign an emotion to a subject based on where you place it in the photo. Most people associate loneliness with the bottom left hand corner, and dominance in the middle, etc.

The best way to get better at your composition is to look at great photos and ask "why does this capture my eye" and learn and use that same principle in your photography.
Go Visit Hawaii: Most people vacationing in Hawaii will have point and click cameras and not those fancy cameras that cost a thousand dollars or more. What advice do you have for us to capture great vacation photos?
Joe Philipson: Composition is key. My good friend Kara Baker is an excellent photographer and she has a point and shoot Canon, an old one in fact. Her images are amazing because she knows how to capture emotion and knows how to compose a great shot. It really is 90% photographer and 10% camera. So for all of you out there with point and shoots, read about the rule of thirds, think about your shot before taking it, try not to use the big screen to take pictures but actually look through the eye piece. Have fun on your vacation and try to show it.

Use your flash during the day if you're taking a picture against the sun. Give the photo a different perspective, for example, if you're taking a picture of your kids get down on their level, tell THEIR story. Most great photographs are great because they give the person looking at the photo a different sense of perspective. Don't simply point and shoot but try to change it up.

Also, check out some photos of your destination online before going. Flickr is a great site to check out. Do some keyword searches of the locations you want to visit and get a feel of what a good photo in that location looks like and try to emulate, at least until you can develop your own style.
Go Visit Hawaii: What about timing of Hawaii vacation photos – should you aim for a specific time of day for sight-seeing and taking photos? When you're on vacation in Hawaii, should you aim for sight-seeing Eastern stuff in the morning and Western stuff in the afternoon?
Joe Philipson: As a professional photographer I do keep in mind the times of day and where objects or places are positioned around the island and when the best time to take photos would be but the average vacationer won't be worried about these things and honestly… when I'm on vacation I don't worry about this either. The best thing to do is to just take your camera everywhere you go. Have it on you at all times. Your photos are showing and sharing your experience and you're going to be taking friends and family along for the journey. Part of the problem with wanting try to time things so perfectly, is that you'd have to know the island or place your photographing really well and you would have to be there for a long time. Some of the best photos I've taken have even been at the 'worst' times to take pictures. Just have fun and capture it.
Go Visit Hawaii: Where are your favorite places on Oahu to shoot? If we are looking for the places to capture those near postcard quality photos, where would you suggest we go?
Joe Philipson: Waikiki definitely is great with sunsets and so much energy with so many people. I think it's the best place in the world to people watch. You can literally sit on a bench and have thousands of different types of people walk by. Each of them having their own story to tell. Everyone is on vacation so they are so happy and full of life and enjoying everything.

Other places I love are:

Valley of the Temples
Lanikai – famous beach for photographing models.
Ko'olina, great place to take family shots
Diamond Head has the best panoramic views you'll ever get. It's a super easy hike to get to the top. It takes at most 2 hours to hike up and back.
Go Visit Hawaii: What are some of the more overlooked sights on Oahu that you think make interesting vacation photos?
Joe Philipson: Kaena point, you'll have to get out and walk so bring plenty of water and don't carry to many things but when you get out to the end of the point climb up the mountain. You'll get the most beautiful view of the island that is hardly ever seen or photographed.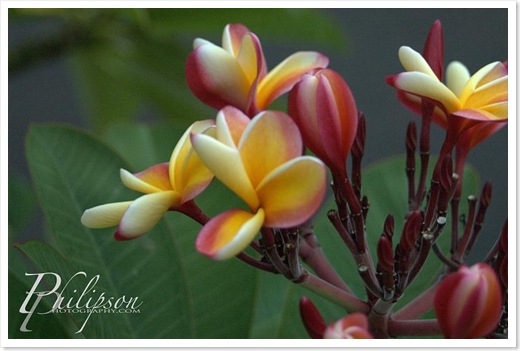 Go Visit Hawaii: I noticed that you take some outstanding floral photos, what sort of tips do you have for us amateurs?
Joe Philipson: Point and shoots cameras are great with 'macro' photos like close ups on flowers. Just make sure you push the button (usually a flower setting) on the camera and you're ready to take great pictures of flowers. Composition is key to this as well.
Go Visit Hawaii: Do you sell your photos? How would someone get in contact with you if they wanted to hire you?
Joe Philipson: Yes, I most definitely sell my photos… you can contact me via my website www.philipsonphotography.com, send me and email or call 🙂
————————————————————————————————————–
I hope you enjoyed this interview with Joe as much as I did conducting it with him. Mahalo nui loa to Joe for taking the time to share his professional photo tips with us. You can follow Joe on his blog, Inside Joe's Head. That's where I first "met" Joe. I was amazed with his talent from the very start with his post of this stunning photo of the Iolani Palace in Honolulu. You can also find more of Joe's work on his Flickr account.