Why Staying in a Condo on a Hawaii Vacation is a Savvy Choice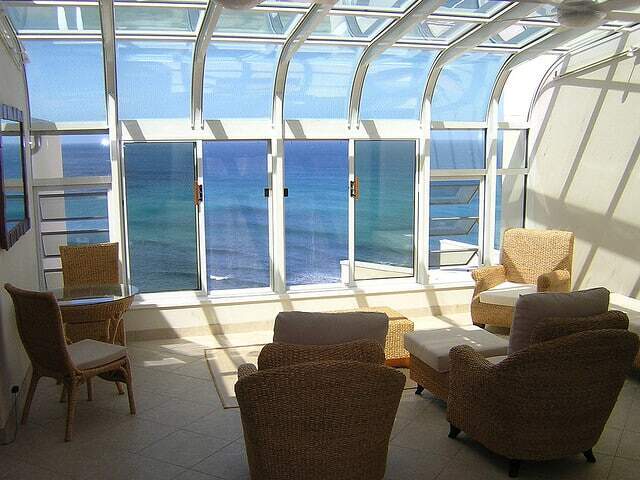 In case you don't already know, I'm a big fan of staying in condos on my vacations to Hawaii. Sure, staying at a four or five-star hotel is a treat, but you really can't beat the conveniences and price of staying in a condo anywhere in Hawaii. In fact, I'm going to the Kohala Coast of the Big Island in March and I'll be staying in a condo.
What makes condos a wise decision? I'll give you 5 good reasons:
1. You'll save money on accommodation cost. From my experience, I'd estimate that the average cost for a condo in Hawaii is somewhere around $200 to 250 per night, but you can find many for much less than that. In fact in March, I'll be staying in a brand new condo with a beautiful golf course and sunset view for $150 per night.
On average, most Hawaii vacation condos sleep 4 to 6 people, making it a great choice for families who need the extra room. The kids can have their own room, while mom and dad get some privacy in their own bedroom.
If you're single, staying in a condo is also a good choice. Split $200 per night with 3 of your friends and voila, you've found a cheap vacation to Hawaii! A Go Visit Hawaii reader, Sheri Bigelow, shared this comment on my article, Vacationing in Hawaii on the Cheap:
I just visited Oahu in May and rented a house with a bunch of fellow photographers. We stayed at a house we found on www.vrbo.com and it was great! Splitting the cost of the rental between us worked out to be about $550 each for a week. Beat that for Hawaii vacation budget-friendliness! Word of advice though, you may want to take care of the money arrangements ahead of time just to be safe (or in case you don't completely trust the $pending habits of your rental buddies).
2. You can cook some meals. Every condo I've stayed in has well equipped kitchens. Many
of them are quite nice with granite counter tops and stainless steel appliances. They usually have lots of extra stuff like toasters, blenders, and full-sized coffee makers (not those microscopic, 2 cuppers that you find in a hotel room.) Most condos have grills, too. So if you get to go fishing in Hawaii and catch a nice fish, you can grill it for dinner.
So, stop off at the Safeway or Foodland in Hawaii, pick up some milk, cereal, fruit, bread and sandwich stuff for lunch and you've saved bunches and bunches of money – I'd estimate at least $20 per person per day.
The photo on the right shows one of my favorite breakfasts in Hawaii. Kona coffee and a Safeway cinnamon roll with cream cheese icing. (Trust me, they were delicious, though a bit decadent.) We took that photo while staying at a beautiful ocean front penthouse condo on the North Shore of Kauai. Who can beat that ocean front view from the lanai?
3. Most condos have a washer and dryer. So, you can pack light and you know I'm a big fan of that!
4. Many condos are equipped with coolers, beach towels and beach chairs. Hawaii has so many gorgeous beaches and it's so nice to be able visit different beaches with your own beach chairs. It's also handy to have a cooler of cold drinks in the trunk of your rental car when you're out sight-seeing.
Sometimes, you can get lucky with other amenities that you'd never find in a hotel. In the condo we stayed at in Kauai, we had a telescope for star gazing, a sunroom (shown in the top left photo), a Japanese soaking tub, and remote controlled, surround sound stereo system.
5. You'll have a bit more privacy and a lot more space. I think this one is pretty self explanatory.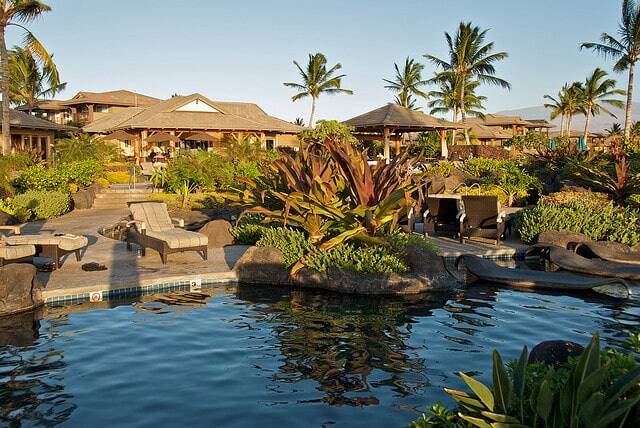 So how do I find the condos I rent? I usually find them on www.VRBO.com (Vacation Rental By Owner). They also have the largest inventory of vacation rentals in Hawaii by far. Another site that's emerged in recent years is AirBnB.com, which tends to offer one-room accommodations, but you can find a few apartments and villas. Before you rent, make sure you've used my tips for selecting a Hawaii vacation rental.
Alternatively, if you're a bit worried about working directly with the owner rather than a full management company, then Castle Resorts and Outrigger are Hawaii's largest companies who manage condo vacations. My only hesitation of renting through those companies is that they rarely let you choose the exact unit. Personally, I like to know exactly what I'm getting.
You can find some high-end vacation rentals that offer most of the conveniences and amenities of hotels — such as onsite restaurants, fitness centers, etc. On Maui, Westin, Houna Kai and Marriott  – all located in Kaanapali — offer luxury vacation condos/villas resorts. On Oahu, Marriott and Disney's Aulani both offer vacation club condos in Ko Olina. On Kauai, check out Westin in Princeville.
There are some "downsides" to renting a condo, though they're really not so bad.
Unless you stay through a hotel managed property — like Aston, Outrigger, Westin, etc —  you won't have daily maid service to make your bed or give you fresh towels. Some owners may offer the option to add daily or semi-weekly housekeeping services for an additional fee.
Each condo is individually owned and decorated. Some are beautifully decorated and others make you wonder what were they thinking.
With the exception of the hotel managed condo resorts, most condos are individually owned, They are not all kept up to the same standards. Check out websites like TripAdvisor.com for reviews. Also, don't be afraid to ask the owner for references, if you have concerns.
Bear in mind that you'll still have to pay Hawaii hotel tax at a rate of over 11%.
You may have to pay a cleaning fee, that's usually around $150 for your entire stay.
You may have to pay a security deposit up front to protect the owner from any damage that you may inadvertently cause. The deposit will be refunded if you don't damage anything.
For a full discussion on the differences between vacation rentals and hotels, see our article: Renting A Condo Vs Hotel For Your Hawaii Vacation
What are your thoughts? Do you prefer a hotel or condo?