Relaxing, spacious stay at Fairmont Kea Lani in Wailea, Maui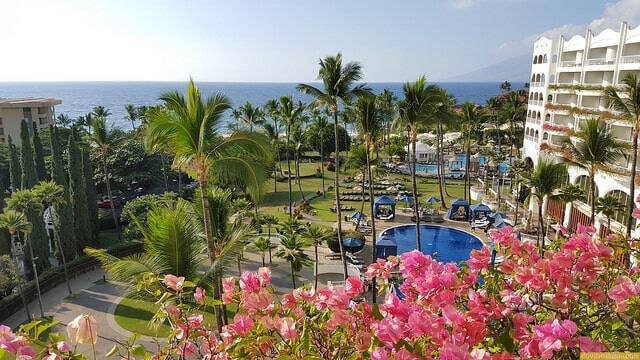 When I think back on our January stay at Fairmont Kea Lani, the word relaxation comes to mind. This resort gives you space to breath, reflect and enjoy.
Location
The Fairmont Kea Lani is perched on a bit of an oceanfront hill of the south end of posh Wailea in sunny South Maui. This location is convenient for sight-seeing all across Maui.
Picturesque Polo Beach fronts this luxury Fairmont property that spans across 22 acres. We made sure to make a visit to Polo Beach for sunset as part of our evening routine. As you can see from the following photo, that routine was rewarded.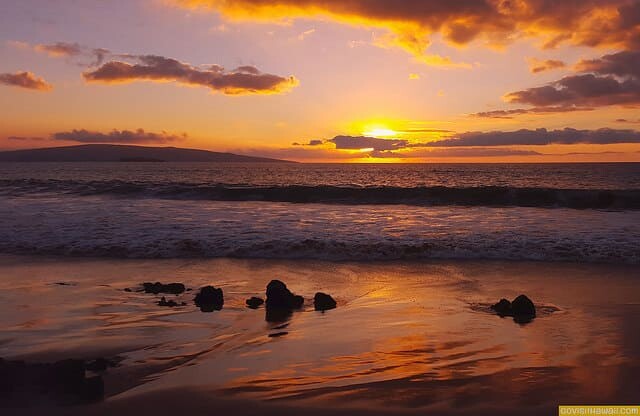 Though the resort has its own good restaurants and some limited shopping, from the oceanfront Wailea resort path, you can take a scenic stroll to other Wailea resort restaurants and shops. Alternatively, the resort's private courtesy car service can also help you get around to golf, tennis, restaurants and shopping within Wailea Resort.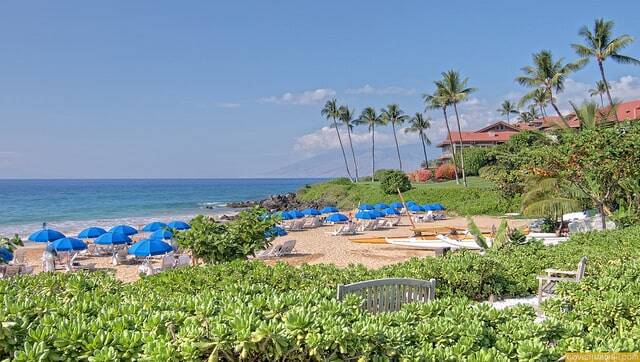 All-suite rooms
Even the "smallest" room, a one-bedroom suite, at Fairmont Kea Lani is very spacious at 860 square feet. It's enough space that I almost felt like I could live in one of the suites. As you can see from the following floor plan of the one-bedroom suite, there's plenty of room for a couple or a family of four to enjoy. (In addition to the one-bedroom suites, Fairmont Kea Lani also offers two and three-bedroom villas.)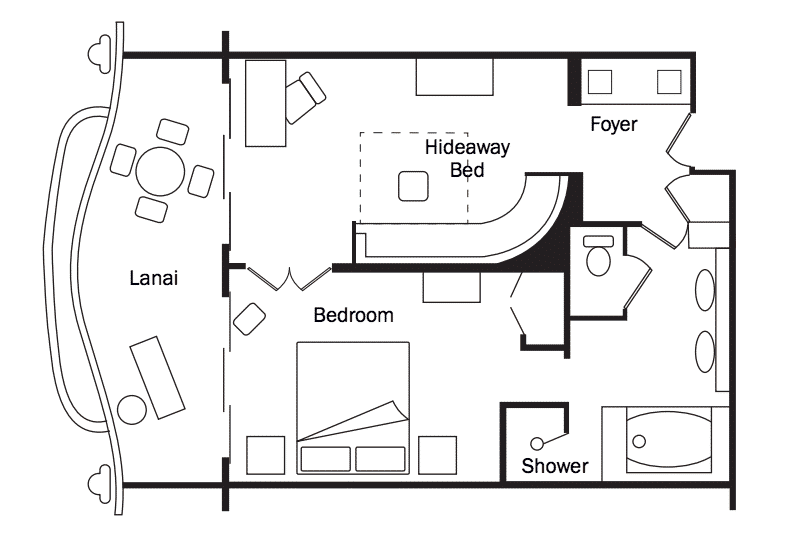 The foyer area includes a kitchenette area stocked with a microwave, compact refrigerator, coffee maker, kettle, drinkware, ice bucket, coffee and a selection of teas.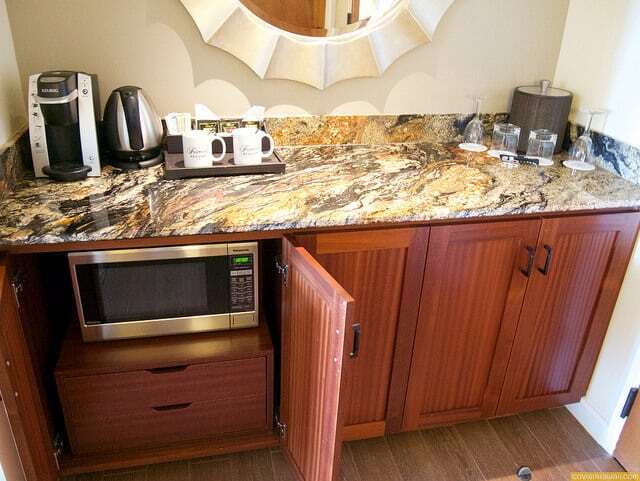 The living area offers a sofa with a hideaway bed, entertainment area and a desk. See this photo and this one for more views of the living area.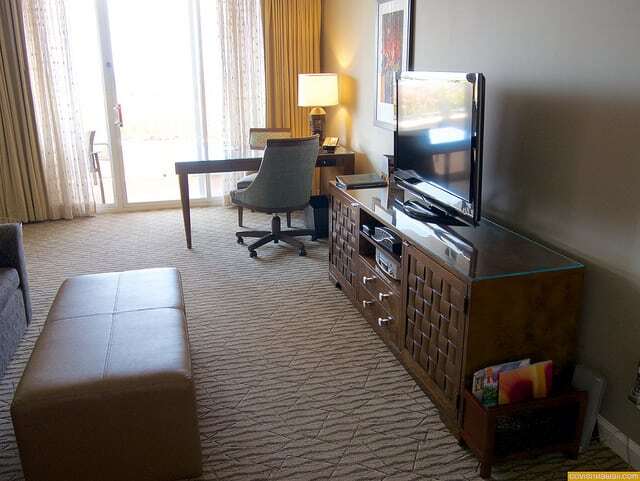 Between the living area and the bedroom area, there are doors that you can close for privacy. The bedrooms are quite nice with a king-sized bed, large nightstands, drawers, a TV and a closet.
The marble baths are generously sized with two vanities, a large soaking tub, a separate walk in shower and water closet. I had taken a peek at room photos on TripAdvisor before booking our stay. I had an impression that the bathrooms didn't have enough space for grooming products, but I was mistaken. There was plenty of space for our items without it feeling crowded or untidy.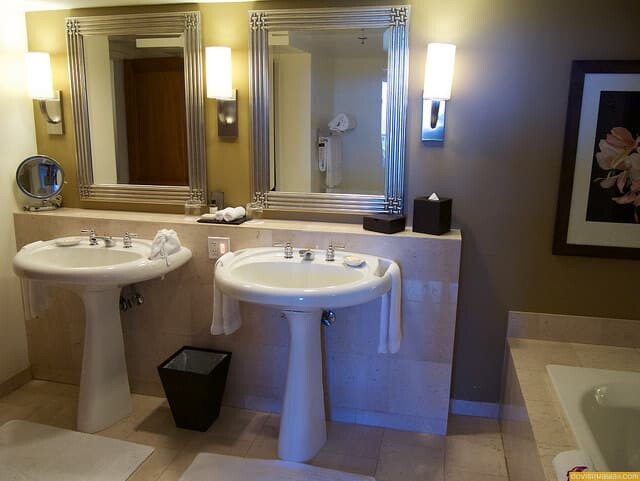 While we're on the topic of the bathrooms, we should mention some of the luxury toiletries that are stocked in the baths. Firstly, there's the lovely Rose 31 La Babo soap, shower gel, lotion, shampoo and conditioner. I fell in love with this scent and you better believe I brought our partially used La Babo products home with me. I must admit that Le Labo wasn't a brand with which I was familiar. So I recently searched for information online and was surprised to discover that a bar of soap costs $45 and and 8oz bottle of shower gel goes for $50. Wow, what luxury!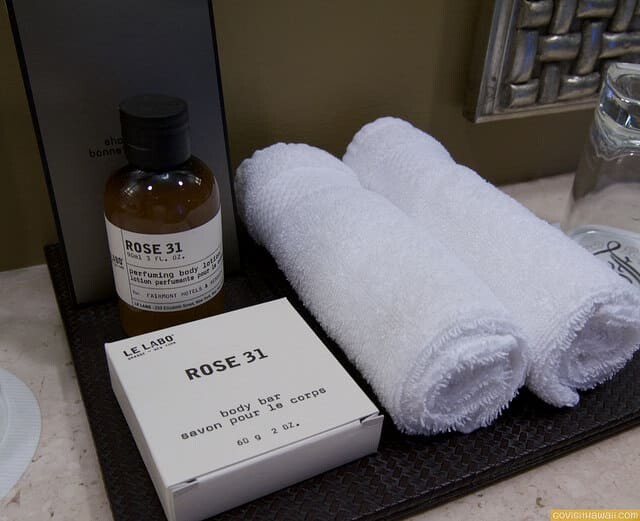 Other thoughtful items in the bathrooms include a loofa which is especially useful to use when you're trying to removed layers of slathered on sunscreen. There was also a caddy that included mouthwash, cotton swabs and balls.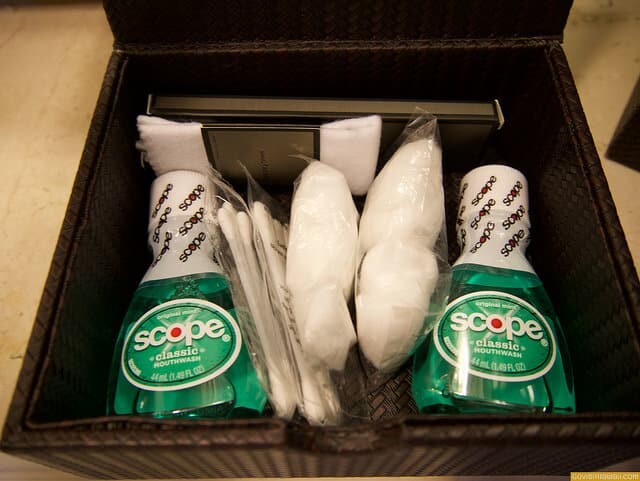 Grounds, pools, beach services
We loved all the tropical flowers, gardens and seating areas throughout the grounds of the Fairmont Kea Lani.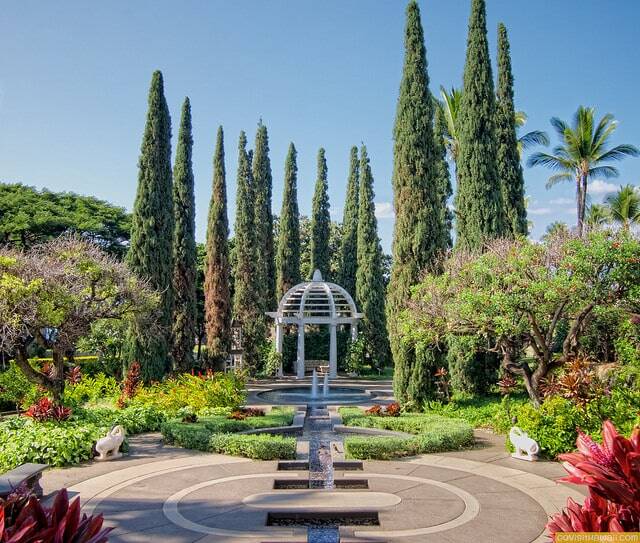 We enjoyed the pool options. There's a kid-friendly pool with a waterslide for a bit of fun for all ages. For relaxation, we liked the serene, adults-only pool.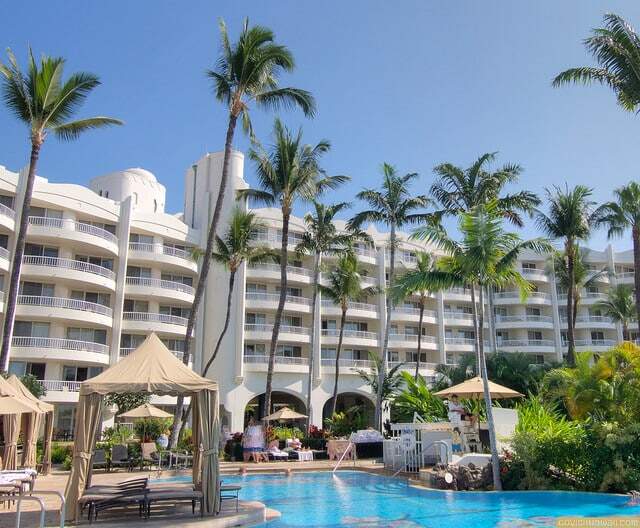 At the beach, you can lounge under an umbrella and beach chairs provided by the resort on a first come, first served basis. Snorkel equipment rental for 1-hour per day is included in the daily resort charge.
Wellness and fitness
We didn't allow time for spa treatments, but we did get to take a quick tour of Willow Stream Spa. I really wish I had been able to squeeze in some spa time as the resort was awarded the top spot for Hawaii hotel spas by Travel + Leisure. [Tip: check to see if the resort offers any special spa deals or access on the day of your check out to help extend your stay.]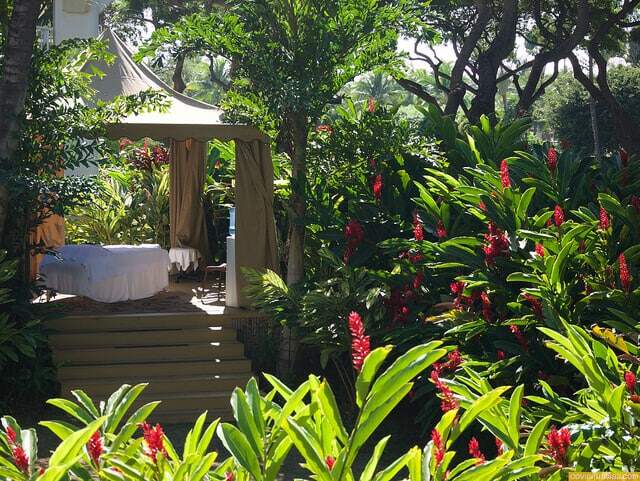 The fitness center offers 24-hour access plus a load of group fitness classes. We saw some fellow guests who were taking the bootcamp class and they sure looked like they were getting a workout.
Kid-friendly
The Fairmont Kea Lani is very kid-friendly. See this link for more details on special amenities for families.
Restaurants
We dined at all the the onsite restaurants. We loved starting our day at Kea Lani restaurant, which was a treat as daily breakfast was included in our package.
Nick's Fishmarket is definitely a favorite of ours with its romantic ambiance and absolutely delicious food. I highly recommend the Opakapaka Picatta and the Strawberries Panzini dessert is not to be missed!
Ko is another award-winning restaurant onsite that pays homage to the cultures and cuisine of the sugar cane plantation era. I recommend the fresh catch with the Macadamia Nut Crust preparation.
Ama has a swim up bar. We had lunch there, but we hear that they are now offering dinner, too.
Luana Lounge is a lovely place for a sunset cocktail.
If you have dietary restrictions or preferences, you'll find that all the menus include special options.
Unique amenities and notables
Text program – guests are invited to ask questions, make reservations, etc via the responsive text program.
Guests can take part in a Hawaiian Canoe Experience. We had reservations to go out on the last day of our stay. We were disappointed that it was cancelled due to high surf though. Fortunately, we had an epic canoe experience the prior day.
Daily resort fee
Resort fees are more the norm than the exception in Hawaii nowadays. At the time of writing, Fairmont Kea Lani charges a daily resort fee of $35 plus tax. It includes daily self-parking for one vehicle, shuttle service, bottled-water replenished in room daily, beach umbrellas and chairs, fitness center, sunscreen at the pool and beach pavilion, cultural activities, internet access and more.
Final thoughts
We loved our stay at Fairmont Kea Lani. The resort has recently completed a $70 million renovation and it shows. It even "smelled" new.
The resort is a tad pricy, but it's worth considering that, at worst case, you get a one-bedroom suite with 860 square feet. That's  quite a bit larger than other luxury Maui hotels. From a quick search, I found rates starting at $416. If you are a Costco member, check their options as that's where we found our best rate.
Feel free to check out our photos here and be sure and watch our short video tour. It's filmed in 4K and even includes a fun virtual trip down the waterslide.

For more opinions, access TripAdvisor reviews here.