Visiting the Mighty Mo (USS Missouri Battleship)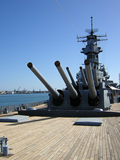 When you are on Oahu, consider touring the USS Missouri, also known as the Mighty Mo. The USS Missouri has a deep history and now proudly resides in "battleship row" near the USS Arizona and the USS Bowfin in Pearl Harbor.
Probably one of the greatest events in Mighty Mo's history is that it hosted Japan's official surrender to the US and marked the end of World War II. When you visit the Mighty Mo, you will see a plaque that commemorates the historic spot.
There are several Mighty Mo tour packages from which to choose. I recommend the guided tours which provides excellent insight and the opportunity to ask questions. See this link for ticketing options and admission pricing.
Here are some tips for visiting the USS Missouri:
Check out the official website.
The battleship is open for tours daily from 8 a.m. to 5 p.m. The only days the battleship is closed for tours are on Thanksgiving Day, Christmas Day, and New Years Day.
Consider combining the tour of the Mighty Mo on the same day as a tour of the USS Arizona Memorial to save time. The USS Bowfin submarine is also nearby.
For security purposes, do not bring any bags whatsoever as there is a strict no baggage policy, including camera cases, fanny packs, diaper bags, and purses. If you do bring any bags, there are storage lockers for rent.
You are allowed to bring in a bottle of water and it can be quite hot on the decks, so do bring a bottle of water with you.
Be respectful of these historic areas. You may encounter a military ceremony on your visit.
Wear sensible, comfortable shoes and clothing as you will be climbing stairs and walking across steel hatches.
Wear sunscreen and bring a hat.
Bring your camera for photos.
If you bring your rental car to the parking area, avoid bringing and leaving valuables in your car.
As today is Veteran's Day, I'd like to close this post with a sincere thank you to all veterans.