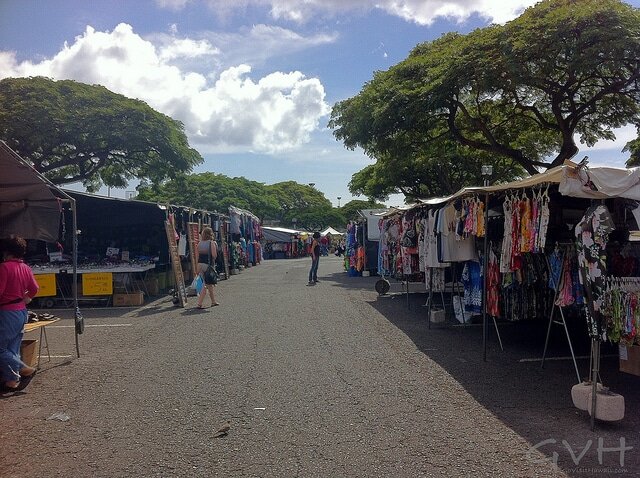 If you enjoy shopping for bargains on your Oahu vacation, you'll love the Aloha Stadium Swap Meet.  You'll find Aloha (Hawaiian print) shirts and dresses for all ages, T-shirts, fridge magnets, jewelry, hats, art, antiques, etc.
Most of the prices are really inexpensive. For example, look at the following photo, where we saw seven T-shirts for $20!
Most of the cheaper trinkets aren't made in Hawaii, but you can find some products that are made in Hawaii – such as ukuleles, soaps and wood carvings
The vendors set up in rows circling Honolulu's Aloha Stadium. You could potentially spend hours walking around to see all the vendors, so do wear comfortable shoes. I also recommend you wear sunscreen and a hat.
The Aloha Stadium Swap Meet is open on Wednesdays, Saturdays and Sundays. Admission is $1 per buyer. Plenty of parking is available. Be sure and take note of where you parked because you will be walking around in circles.
Aloha Stadium is located at 99-500 Salt Lake Boulevard in Honolulu. Use this link for helpful directions by car or bus.
I had anticipated that there would be some 'ono food vendors at the swap meet, but I was wrong. There weren't many food vendors at all and the one we tried was just so-so. So, I don't recommend that you go hungry. There are two restaurants that are relatively close by that I recommend – Nico's Pier 38 and Liliha Bakery. We stopped at Nico's for a late lunch and Liliha Bakery for dessert.
Have you been to the Aloha Stadium Swap Meet? Did you find some bargains and  treasures to take home?