Maui's Top 7 Free or Nearly Free Things to Do and See
Note that since this article was originally published in 2007, some parks and sites began changing entrance fees. So, some of these sites aren't as inexpensive as they used to be.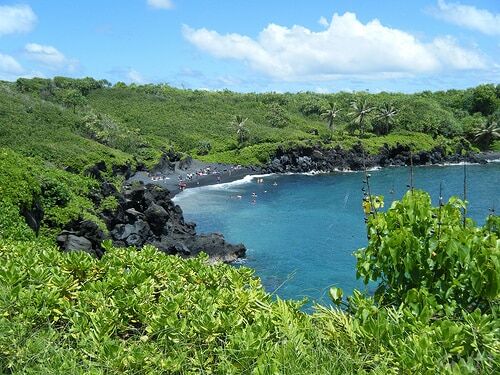 You don't have to spend a bundle on expensive tours to have a fantastic time in Maui. In fact, some of the best sites and activities are free. In this post, I've compiled my top seven budget minded activities. Most of them are free, but if there is a fee involved, I've made note of it.
Explore Haleakala National Park. Consider making an early morning visit to Haleakala and watch sunrise with a reservation. Then plan to hike the trails and look for native Hawaiian wildlife. There is a $30 per car entrance fee which is valid for three days. See this link to verify the current fees.
Drive the road to Hana (Highway 360). Plan a whole day to take this winding scenic route where you will drive along a lush tropical coastline with stunning cliffs, beaches, and waterfalls. See all my tips for driving the Road to Hana. Also, try to combine your trip to Haleakala summit within three days of your drive of the road to Hana so that you will not need to pay another entrance fee for visiting the coastal area of Haleakala National Park.
Have a sunset picnic on the beach. Whether you are on your honeymoon or on holiday with your friends, it is almost magical to watch sunset at one of the many gorgeous beaches in Maui. (Of course this beach will need to be on the west side of the island.) You can easily find grocery or sandwich shops to pick up picnic supplies on Maui. Just be sure you don't bring alcoholic beverages which are prohibited on Hawaii beaches.
Go snorkeling. Bring your own equipment or  find inexpensive rentals. Here are some top Maui snorkeling spots that you access from the beaches (except for Molokini).
Go to the Iao Valley State Park to admire it's beauty and learn about its ancient Hawaiian historical significance. Note that an entrance fee is required.
Take a stroll around historic Lahaina. See the famous banyan tree, historic buildings, and check out the art galleries. You can pick up a free walking map at the Lahania Visitors Center.
Watch the waves, windsurfers, and whales. If you don't spend some time soaking in the scenery at a beach in Maui, well then you've not really had a proper Maui vacation. My favorite beach is D.T. Fleming Beach Park in Kapalua, which once won Dr. Beach's top beach award. From January to April, this beach is also a good point to watch for whales. See this article for free whalewatching information. As for windsurfing, Hookipa is a world famous windsurfing spot.
A couple of honorable mentions for budget Maui vacation ideas are:
You'll surely find lots of great ways to enjoy Maui without spending tons of money on tours. In my opinion, there are definitely some other Maui activities that are worth their cost. So, check out my list of the top 5 things you must see and do on Maui and see our Maui vacation itinerary.
If you'll be visiting other Hawaiian Islands, then don't miss these picks for the best budget activities: