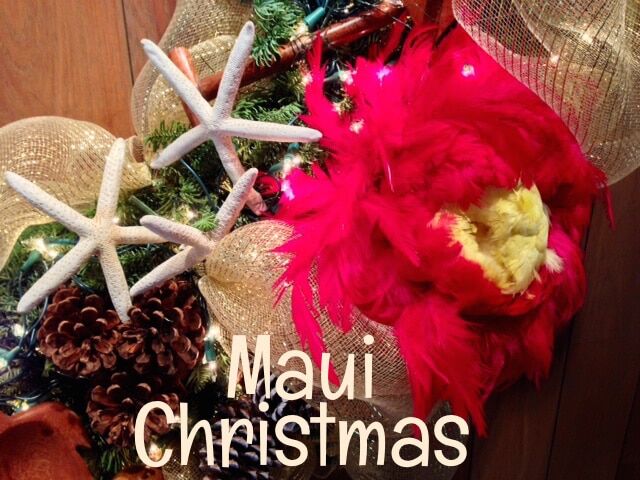 Planning to spend this Christmas holiday on Maui? You'll find the island decked out in lights, ornaments and Christmas cheer. Maui really knows how to celebrate the holidays with warmth and Aloha.
As you're making your Christmas vacation plans, we want to give you some fun and meaningful ideas to celebrate the holiday season with Maui-style. Here are our suggestions for the top things to do for Maui Christmas 2017:
1.  See Lahaina's famous banyan tree wrapped in Christmas lights
The sprawling banyan tree will be wrapped in thousands of Christmas lights. Where else but in Maui will you find such a sight as this one? The banyan tree is located off Front Street in Lahaina town. For parking near the banyan tree, we recommend the free parking lot off of Prison Street. The opening night and lighting ceremony is December 2, 2017, but the tree will be lit nightly throughout the holiday season.
2.  Shopping
Christmastime is a special time to shop in Maui. Consider buying locally made crafts and artwork for gifts. Where are great places to shop on Maui? Lahaina has lots of shops. We also like Whalers Village in Kaanapali and the Shops at Wailea in Wailea. For other unique Maui shopping experiences, check out the shops in Paia or head upcountry to the paniolo (Hawaiian cowboy) town of Makawao where you can visit the Hui No'eau Visual Arts Center.
Special Christmas Entertainment and Events at Maui Shopping Centers
Take selfies with Santa at Whalers Village. Santa will make appearances on December 8, 9, 16, 15, 22 between 2:00 pm and 5:00 pm. See this link for more information.
The Shops at Wailea will host special holiday musical entertainment as follows:

Maui Community Band on 

Saturday, December 9 at 5:00 to 6:30pm

The Festival of the Harps on Saturday, 

December 16 at 5:00 to 6:30pm

Bonnie Newman Joyful Hearts on S

unday, December 17 at 5:00 to 6:30pm

The Festival of Harps on Saturday, December 23 at 5:00 and 6:30pm.

Photos with Santa at the Shops at Wailea on 

Monday

 – Saturday 

10:00 am to 8:00 pm 

(with breaks from 

1:00 to 2:00 pm

 and 

4:00 to 5:00 pm.

) On Sundays and Christmas Eve, Santa will be visiting from 

11:00 am to 6:00 pm

 (with a break from 

2 to 3 p.m.

)
3.  Attend a Christmas Eve Church Service
When you arrive on Maui, pick up a copy of the Maui News as Christmas Eve approaches. They'll have more information about church services across Maui. In the meantime, here's what's caught our eye so for Christmas Eve services:
4.  See Santa Claus as he visits Maui
Santa will be making a few quick visits to Maui before heading back to the North Pole to load up his sleigh. The following venues are hosting Santa's arrival. (As a way to say mahalo to these businesses, we suggest purchasing a meal, drink, etc. during your visit.)
On Christmas Eve, Santa arrives by outrigger canoe around 9am at Wailea Beach in front of the Grand Wailea. He will then be available for photos. See this link for more information.
On Christmas Eve, Santa makes a grand appearance via outrigger canoe at noon on Polo Beach in front of the Fairmont Kea Lani. See this link for more information.
5.  Enjoy a Christmas feast
Many resorts across Maui will offer scrumptious multi-course dinners and/or buffets with menus specially designed for the holidays. Most hotel-based restaurants will be open.  Check directly with your hotel for details. One quick source to check for restaurant availability online is via OpenTable. (Make sure you customize the search criteria on OpenTable.) I recommend you make reservations as soon as possible.
—
We recommend you speak to your hotel's concierge for more options that will be held onsite or nearby your accommodation.  Also, pick up a copy of the Maui News when you are on island for additional restaurants and holiday activity suggestions.
We hope you'll have a wonderful Christmastime on Maui. While you're there, make sure you know how to wish someone a Merry Christmas in the Hawaiian language.
If you'll be staying on Maui through New Year's Eve, check out our guide for Maui New Year's celebrations.