Aloha and welcome to our annual Maui Christmas guide! At the moment, all events on this page are from 2022. Once the venue begin to announce what they're offering, we'll begin updating this page in November 2023, but it won't be complete until December 2023. In the meantime, if you are planning a 2023 Christmas vacation to Maui, we have some advice:
Review the events on this page. Most of them are repeated year after year. As such, you can get an idea of what might be coming up in December 2023.
Subscribe to our free newsletters that are generally issued twice per week. You'll stay up to date all Hawaii travel advice, news and ideas. Plus, we'll announce that this page is up to date via our newsletter. Subscriptions are free and you can unsubscribe at any time.Carefully enter your email address at this link to subscribe to our free newsletters.
.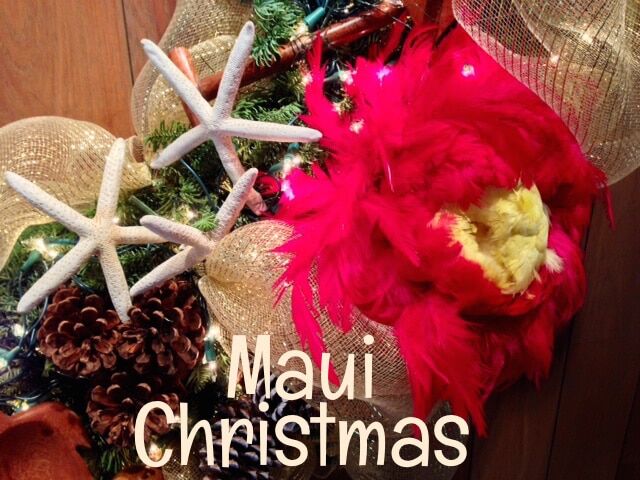 Are you planning to spend this Christmas holiday on Maui? What a special time to visit! You'll find the island decked out in lights, ornaments and Christmas cheer. Maui really knows how to celebrate the holidays with warm Aloha.
As you're making your Christmas vacation plans, we want to give you some special and meaningful ideas to celebrate the holiday season with Maui-style. Here are our suggestions for the top things to do for Maui Christmas 2022.
See Lahaina's famous banyan tree wrapped in Christmas lights
The sprawling banyan tree is wrapped in thousands of Christmas lights. Where else but in Maui will you find such a sight as this one? The banyan tree is located at Banyan Tree Court, just off Front Street in Lahaina town. These Christmas lights are scheduled to be on from 5:30pm to midnight, starting December 3, 2022 throughout the remainder of the month of December. For parking near the banyan tree, we recommend the free parking lot off of Prison Street. 
Christmas Shopping 
Christmastime is a special time to shop in Maui. Consider buying locally made crafts and artwork for gifts.
You can find the big department stores in Kahului, but there are several shopping centers that are closer to the resort areas.
West Maui (Lahaina, Kaanapali, Kapalua)
Lahaina's Front Street and side streets have lots of shops.
We like Whalers Village in Kaanapali.
Lahaina Cannery Mall will be decked out with Christmas trees decorated by local community groups.. See their events calendar to enjoy cultural activities along with special holiday entertainment and photos with Santa.
Lahaina Gateway is another shopping area in the Lahaina area.
Outlets of Maui in Lahaina
South Maui
Other unique Maui shops
If you want to experience a cooler climate, go upcountry to the paniolo (Hawaiian cowboy) town of Makawao where you can browse through unique shops — such as  Hui No'eau Visual Arts Center which is decorated for the Hui Holidays.
The former sugar cane plantation town of Paia has some small, local shops.
Attend a Christmas Church Service
Attending a Christmas service is a wonderful way to celebrate the good news of hope for this season. It's even more special when you do so in Maui.
Here are some services that have caught our eye for 2022. We'll list these churches that are near the resort areas. To help you find a service near your accommodations, we'll list the churches in geographical order.
West Maui – Kapalua, Lahaina areas
South Maui – Kihei, Wailea
When you arrive on Maui, pick up a copy of the Maui News as Christmas Eve approaches. They'll have more information about church services across Maui. Additionally, ask your concierge if they know of services that will be near to where you're staying.
See Santa Claus as he visits Maui
Santa normally makes a few quick visits to Maui before heading back to the North Pole to load up his sleigh. Most often he's dressed in his Aloha attire.
Savor a Christmas feast
Many resorts across Maui will offer scrumptious multi-course dinners and/or buffets with menus specially designed for the holidays. Most hotel-based restaurants will be open.  Check directly with your hotel for details.
One quick source to search for restaurant availability online is via OpenTable. (Make sure you customize the search criteria.) I recommend you make reservations as soon as possible.
Explore the Hawaiian island-style Christmas decorations
Christmas decorations in Hawaii are really special. You may find tropical flowers adorning Christmas trees, tropical fish ornaments and other unique island-style decorations. The hotels really do a fantastic job decorating for Christmas. For a nice stroll, head out on the oceanfront paths in either Kaanapali or Wailea or both. Along the way, pop into the hotels to check out their lobbies.
Enjoy special holiday activities at Halona Kai Holiday Village
From December 23 through 25, Hyatt Regency Maui Resort hosts their second annual Halona Kai Holiday Village. This year's village features a dinner buffet with festive music, Christmas-themed activities, a visit from Santa Claus and a holiday movie shown with hot chocolate and popcorn. Halona Kai Holiday Village is located at Hyatt Regency Maui Resort in Kaanapali. See this link for more information and to book tickets.
Kiss your loved one under the Mistletoe at Montage
Montage Kapalua Bay invites guests and locals to step under the mistletoe and snap a special photo once again this year. Mistletoe at Montage will be located at the resort's entrance. If you share your photo publicly on social media with the hashtages #MontageMistletoe and #MontageMemory, your photo might be featured on the resort's Instagram account. While you're there check out Mrs. Claus' gingerbread collection in the hotel's lobby. See more information about Mistletoe at Montage as well as other special holiday options at this link.
—
We recommend you speak to your hotel's concierge for more options that will be held onsite or nearby your accommodation.  Also, pick up a copy of the Maui News when you are on island for additional restaurants and holiday activity suggestions.
The holiday time is a popular time to visit Maui. As such, be prepared by reading our advice — What you need to know about planning a Hawaii vacation around a holiday. If this is your first visit to Maui, check out our popular Maui vacation planner to help you make your itinerary.
We hope you'll have a wonderful Christmastime on Maui. While you're there, make sure you know how to wish someone a Merry Christmas in the Hawaiian language.
If you'll be staying on Maui through New Year's Eve, check out our guide for possible Maui New Year's celebrations.