Best Maui Restaurants for your Maui Vacation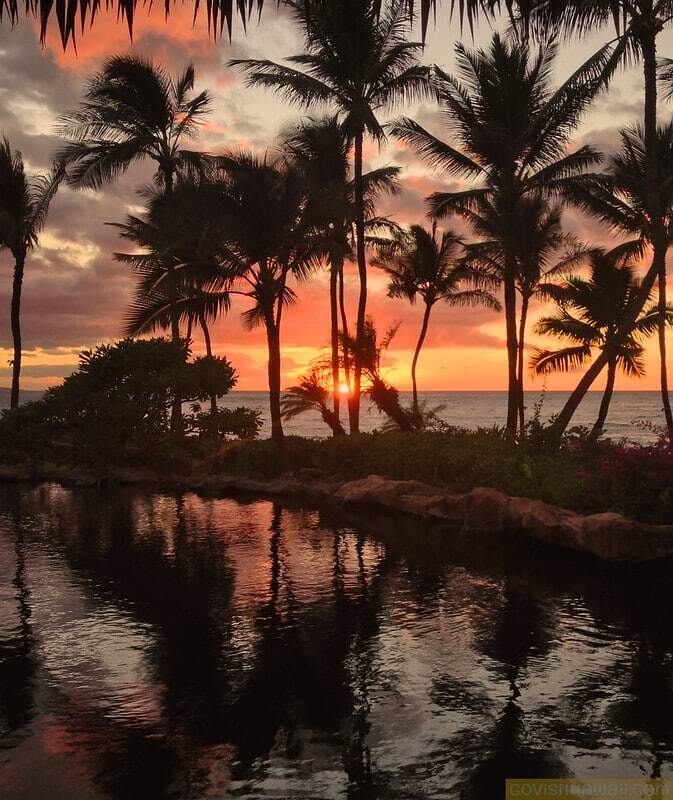 Since we've had the opportunity to visit all the islands, we've noticed Maui has more than its fair share of great Hawaii restaurants. On top of the ono (delicious) food, many of Maui's restaurants also have beautiful views to enjoy while dining. That's definitely a bonus to enjoy when you are on a Hawaii vacation!
So, how do you find the best restaurants in Maui? It's really not that difficult. There are lots of great resources that we'll explore here. We'll start with our own recommendations. We really do our restaurant research when we visit Hawaii. We want to be able to provide you with a useful list for you to enjoy on your Maui vacation.
Go Visit Hawaii Picks
The following restaurants are ones that we particularly like. (Just a reminder, we're not compensated in any form for choosing these restaurants. We like these restaurants based on our experience.)
Restaurants with nice, ocean views: Most people go to Maui for the amazing scenery. When we go to Maui. we love combining great food with beautiful scenery. Though Maui has many great restaurants with lovely views, these are our favorite restaurants with excellent views. We'll organize this list by island geography with an emphasis on the major resort areas of West and South Maui.
West Maui (Kapalua, Napili, Kaanapali, Lahaina, etc.)
South Maui (Kihei, Wailea, Makena)
At the Grand Wailea, Humuhumu (shortened) or Humuhumunukunukuapua'a sits on a salt pond beside of Wailea Beach. The sunset views framed by swaying palms makes for a lovely setting.
Celebrity Iron Chef Morimoto has a restaurant in Maui. It's Morimoto Maui at the Andaz.
We normally put an emphasis on Hawaii regional cuisine for this list, but we make an exception with the Mediterranean cuisine at award-winning Sarento's on the Beach, located at the Days Inn in Kihei.
Other Maui locations with ocean views
Mama's Fish House in Paia has a nice ocean view. It's the one restaurant that your friends who've been to Maui will likely ask you if you went to Mama's Fish House.  They have very good food on a beach front setting. Their seafood is so fresh that the menu changes daily to tell you which fishing boats delivered the day's catches. It is pricey, though. It's easy to over order here, so beware of that for your waistline and wallet's sake. I'd caution you to order just a course at a time as the portions tend to be generous. To avoid crowds, I like dining here either very early or very late in evening.  See my review on Mama's Fish
Breakfast & lunch only places with good views
The Gazebo Restaurant is extremely popular for breakfast. People often report waiting for at least 45 minutes or more for a table. We thought it was okay, though maybe not worth the wait. Lot's of people do think it's worth the wait. Servings are extremely generous and the staff is friendly. We were told that the folks run Gazebo also own Koa Seaside Grill that's located waterfront in Lahaina, with the same great food but without the crazy wait. Gazebo doesn't have a direct website, but here's a link to their Yelp reviews.
Delicious Maui restaurants without prominent ocean views: Every great Maui restaurant can't boast direct ocean views. There are plenty of wonderful, open-air restaurants with pleasant environments and/or views. We recommend the following restaurants for their great food and atmosphere.
West Maui (Kapalua, Napili, Kaanapali, Lahaina, etc.)
South Maui (Kihei, Wailea, Makena)
Monkeypod Kitchen in Wailea serves fresh, tasty, locally-sourced food at relatively reasonable prices. Monkeypod is one of Peter Merriman's restaurants and in our opinion, it's his best and also his least expensive. Save room for one of their cream pies that are made fresh daily.
Nick's Fishmarket in the Fairmont Kea Lani in Wailea offers a lovely open-air setting with white linen-covered tables under a trellised-canopy and the stars. Save room for dessert, because you've got to see and taste their flaming strawberry dessert. This is a great restaurant to celebrate a special occasion.
Caffe Kihei is a popular breakfast spot in Kihei. They're located across the street from the beach.
Other great Maui restaurant choices are: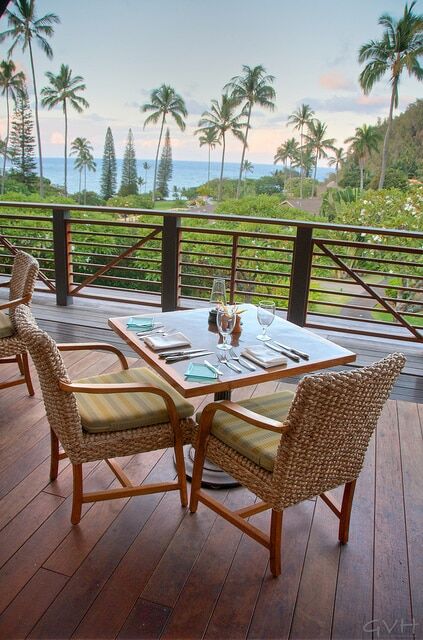 Online Resourses and Apps
Yelp
You can research lots of reviews from Yelp.com before you go to Maui. Also, you can download their app to your smart phone to find restaurants while you're on Maui. Over the years, Yelp has become our go-to for finding restaurants at home and when we travel. You can use their search features to better help you find what you want, where you want it and when you want it.
TripAdvisor
Hundreds of TripAdvisor members have reviewed and rated Maui restaurants. You'll find a mixture of reviews written by local residents as well as visitors. I'll organize TripAdvisor reviews by geography and concentrate on the areas where you'll likely be staying or sight-seeing.
TripAdvisor's West Maui Restaurants (includes Kapalua, Kaanapali, and Lahaina)
TripAdvisor's South Maui Restaurants
TripAdvisor's Central Maui Restaurants
TripAdvisor's East Maui
TripAdvisor's Upcountry Maui
Guidebooks
I've found the restaurant recommendations in the Maui Revealed Ultimate Guidebook to be reliable, though very limited in the number of restaurants they include.
——————————-
There are a couple of restaurants that I wouldn't recommend to friends and family. So I'll post those in the comments.
Please note that sometimes restaurants will change websites, menus and/or even close all together with little or no notice. So, if you clicked through to some links, they may have been changed without any notice.
Going to other Hawaiian Islands? Check out our recommendations for Kauai restaurants, Oahu's restaurants and Hawaii's Big Island restaurants.