Lt. Gov. Green's October 1st press conference discussing Hawaii's new COVID-19 pre-travel testing program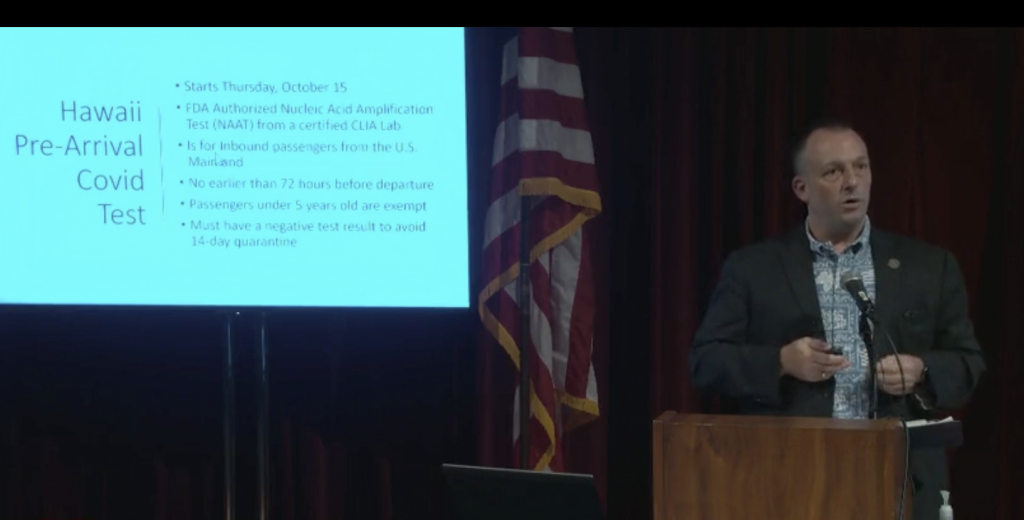 We've watched and rewatched Lieutenant Governor Green's October 1st press conference outlining details of Hawaii's COVID-19 pre-travel testing program. We've summarized the press conference below. Welcome to bullet point city!
The lieutenant governor described the content of his press conference as  "…the basic, rock-solid information of what it will look like come October 15th." Some of the information, you probably already know, but some of it is new information.
Hawaii's pre-travel test plan, in order for visitors to be exempt from quarantine, will work as follows:
Starts Thursday, October 15, 2020
For inbound passengers from the U.S. Mainland only at the start. International passengers will be addressed later.
Tests must be FDA Authorized Nucleic Acid Amplification Test (NAAT) from a certified CLIA Lab. No antibody or antigen tests will be accepted at this time.
The test can be taken no earlier than 72 hours before the departure of the last leg of the traveler's flight itinerary. Hawaii will be accommodating to travelers with air travel delays that are out of the traveler's control.
Children ages four and under will not be required to be tested. Therefore, children ages five and up must be tested.
The test result must be negative to be exempt from the 14-day quarantine. (If the test result is positive, the person should not travel. Green noted the person should defer their travel, reschedule or get a refund. He also noted that that the airlines have been generous in theses circumstances when people are sick.)
ADDED STIPULATION AFTER THIS PRESS CONFERENCE:
Pre-travel testing must be done by an approved testing partner. Check hawaiicovid19.com/travel for the list of approved partners.
Here's how travel to Hawaii is designed with the new procedures and assuming everything works as planned:
After booking travel to Hawaii, all persons ages 18 and up must register their travel plans at https://travel.hawaii.gov. (This is the Safe Travels form.)
No earlier than 72 hours before departure time of the final leg, all persons ages five and up must get tested by the approved method.
Within 24 hours before travel, travelers must log into their Safe Travels account and complete the Travel Health Questionnaire. Then a QR code will be provided by the system.
Assuming the traveler receives a negative test result before arrival, the person uploads their result into their Safe Travels account. Per https://hawaiicovid19.com/travel/ travelers are asked to maintain proof of their negative test results.
In Hawaii, all visitors are to wear a mask and socially distance.
See this flowchart for all of the options.
Of course, there are several more "what if" scenarios through the new procedures. The important ones to highlight are:
If a visitor does not receive their test result by the time they arrive in Hawaii, they must quarantine in a hotel or motel until they receive a negative test result. When they do receive a negative test result, they are to upload it into their Safe Travels account.
If a traveler receives a positive test result after arrival, they must quarantine for the full duration of their disease.
If a traveler does not pre-travel test, they must quarantine for 14 days.
As far as trusted testing partners, the lieutenant governor provided these details and insights.
Walgreens, CVS and Kaiser are all approved testing partners. The cost of the test is the responsibility of the traveler. Green indicated that Kaiser has said they will offer testing for their members at no cost. Check https://hawaiicovid19.com/travel/ for the approved list of testing partners.
As the start of testing will not be relevant until October 12th, the testing partners may not have much if any information currently offered on their websites or storefronts until closer to the time when tests can be taken.
For travelers with children ages five years and up, they will need to check with testing partners for any age restrictions. It appears that some testing partners may test children ages seven and older.
Eventually, https://hawaiicovid19.com/travel will be uploaded with a matrix of testing partners and age requirements.
There will be test-at-home partners with mail-in testing, but the process of obtaining the test sample must be observed via telehealth.
Some airlines have announced testing options available from a handful of major U.S. cities. These testing options are approved for travel to Hawaii. Some of these options may include mail-in testing, drive-through testing, same-day testing. Some testing may take place in the vicinity of the airport or at the airport. More testing options/locations/airline options are expected in the future. Here's what's been announced so far:
—
Other interesting information that was shared in the press conference about reopening tourism are:
At the start, at best, Hawaii is only expecting 5,000 to 8,000 visitors arriving per day. Note that this is down from 30,000 to 35,000 prior to COVID-19.
The lieutenant governor estimates that perhaps one in a thousand arrivals may actually have COVID-19 that was not found in the testing and screening process.
A voluntary, second test may be offered to visitors once they are in Hawaii. This test will be used to verify that the systems are limiting the virus from being brought in by visitors. This thought/plan is under development.
The lieutenant governor hinted that some of the islands may adopt further requirements. The island/county mayors and the governor are currently discussing this issue. (See our explanation of how the island counties are organized.) This is the current wildcard in the matter.
Multi-island travel may become complicated, especially if the partially re-instated, inter-island quarantine is still in place. See this link for inter-island quarantine requirements.
We encourage you to watch and listen to the October 1st press conference for yourself. With thanks to Hawaii News Now, we've embedded the press conference video:

Note that all the information contained in this article is accurate at the time of publishing on October 2, 2020. Many aspects are very much subject to change.
Yet another, "larger" press conference is planned for Tuesday, October 6th.
For further explanation of the above information as well as other questions, you may have, please read through the many questions and answers at https://hawaiicovid19.com/travel.