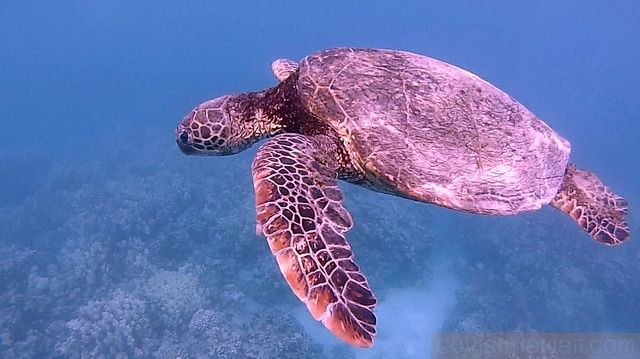 For many first time visitors to Hawaii, seeing Hawaiian green sea turtles (honu) is a vacation bucket list item. No matter how many times we've seen them, it's still a thrill for us with each new encounter.
Before we discuss where you might see honu, it's very important to advise you that they are legally protected under the Endangered Species Act. From NOAA, the guidelines for viewing green sea turtles state:
If you see sea turtles out basking (sleeping) on the beach or in the water while snorkeling, admire them from a reasonable distance of 10 feet (3 meters).
Please do not attempt to touch, feed or harass sea turtles.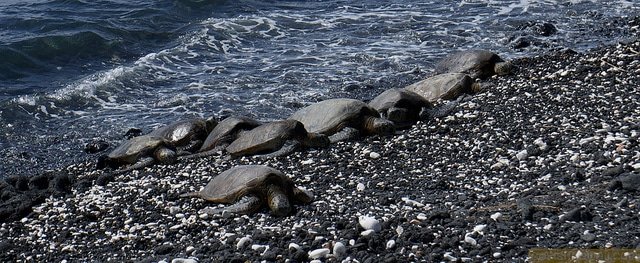 Some of the common turtle behaviors you might observe are:
resting on the shoreline
bobbing their heads up for air in the ocean
if you're snorkeling, you might observe them feeding
Honu can be found almost anywhere around the islands but there are certain places that are pretty good bets in terms of catching a glimpse of them. . Here are suggestions:
General
– Go on a snorkel tour that advertises seeing green sea turtles. Those tour companies know where turtles tend to congregate for feeding or cleaning.
Kauai
– The south shore is more known for turtle hang outs. This Kauai.com article explains some of the better places to view them.
Oahu
– Laniakea Beach on the north shore is a well known place where honu come to feed and rest.
– You may see honu on the beach or in the ocean around Waikiki. One reader captured some really neat photos of honu from Waikiki.
– Sea Life Park has honu in their exhibits.
Maui
– Black Rock on Kaanapali Beach is a snorkeling spot where honu hang out. Always check for safe ocean conditions before snorkeling.
– There's a place (or places) known as "turtle town" which is generally believed to be off shore at Maluaka Beach in the Makena area. Several snorkeling companies can take you to one of these turtle towns. Some snorkeling tours include snorkeling at both Molokini and a turtle town. Unless you are a very strong swimmer and you know the patterns of the ocean, I don't advise you go snorkeling on your own here.
– Maui Ocean Center has several juvenile honu that are very easily observed.
Hawaii (Big) Island
– The Kohala Coast might be one of the most abundant areas for Hawaiian green sea turtles. We've seen many both above and below the water. We have seen them from many snorkeling tours as well as from the beaches and ocean around the Fairmont Orchid, Hilton Waikoloa and the Mauna Lani Bay Hotel.
– The Mauna Lani Bay Hotel has salt water lagoons that shelter juvenile honu. It's very easy to observe them here.
– Turtles come to Puuhonau O Honaunau, the place of refuge, and to the nearby bay.
– On the south side of the island, the beautiful black sand beach at Punalu'u is a place where turtles tend to rest.
—
This list is not meant to be comprehensive. Instead, it's meant to highlight some of the better sites to observe turtles. Where else have you seen turtles in Hawaii?