Detailed review: Grand Hyatt Kauai Resort & Spa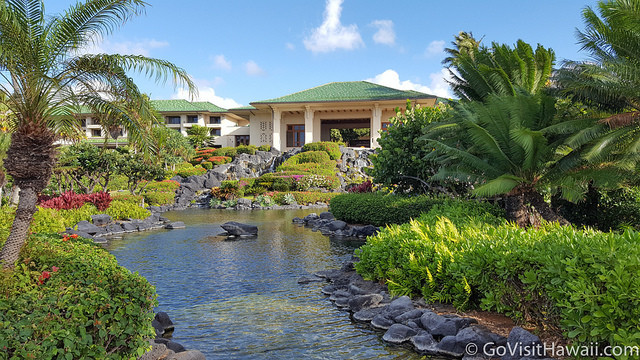 On the sunny south shore of Kauai, Grand Hyatt Kauai Resort and Spa reigns as the area's top luxury hotel. Situated on 50 beautifully-landscaped, oceanfront acres, this resort has really embraced their sense of place on the island with the moniker the garden isle. As we walked around the resort, there were so many tropical flowers, trees and shrubs that caused us to pause and snap a photo.
Location
Grand Hyatt Kauai Resort is located in the Poipu Beach Resort area, which is often referred to as sunny Poipu because the south shore tends to get more sun, especially in the wetter, winter months. (Read more about Kauai weather patterns.)

This hotel fronts picturesque Keoniloa Beach, which is more commonly known as Shipwreck's Beach. This long sandy beach is beautiful for walks and sunbathing. As safe ocean conditions allow, it's good for surfing and boogie boarding, but it can be a bit rough for swimming. During our brief stay in September, the flag that indicates swimming conditions was always red, meaning conditions were hazardous. Though the ocean may have been rough for swimming, that was not a problem as we had more than enough swimming options in the resort's inviting swimming pools.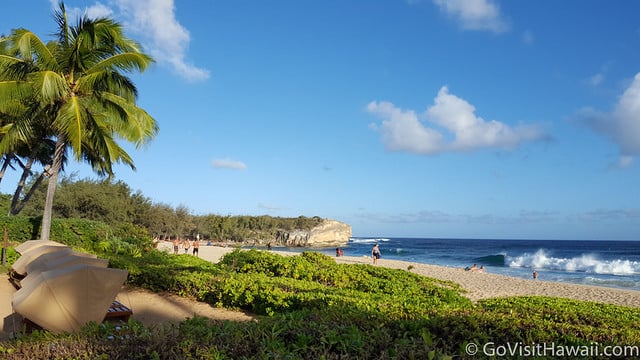 Rooms
The rooms are nicely decorated with a blend of the warm and soothing colors of Kauai. The resort uses a lovely fern motif which is carved into the dark wood headboard.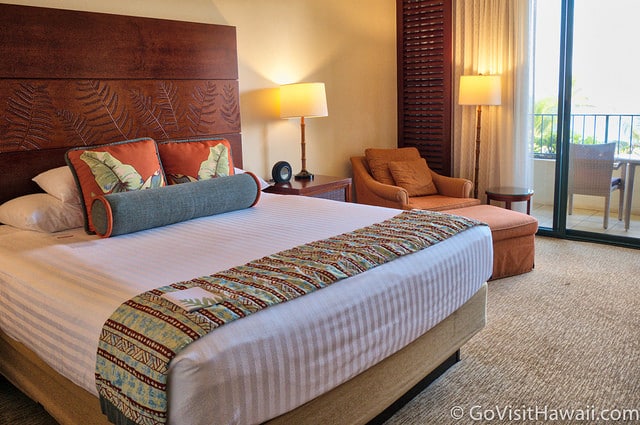 The rooms are furnished with a sitting area, a desk area and chest of drawers with a large, flat screen television.
Each room has a furnished, private lanai (balcony) to enjoy the fresh Pacific air and take in the garden or ocean views.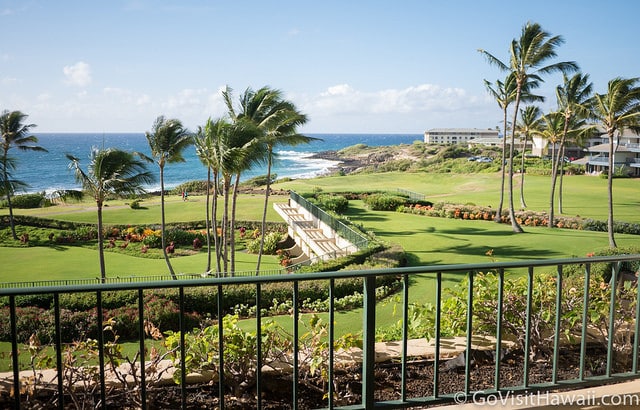 The marbled and tiled bathrooms feature a dual vanity, a glass-enclosed, step in shower and separate water closet. We really liked the shower head options with a rain shower and a handheld fixture.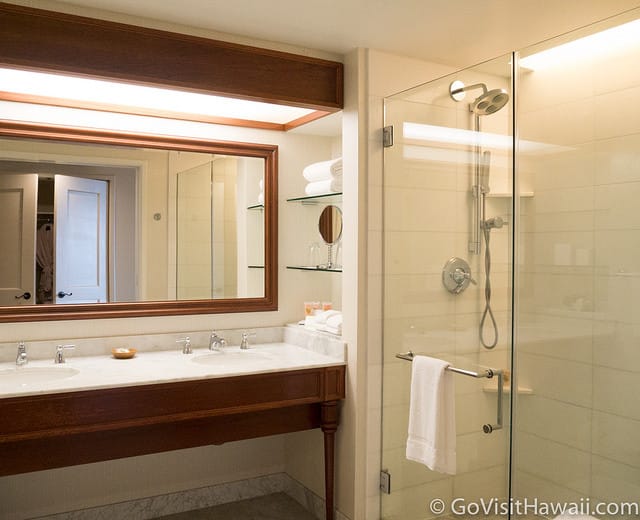 Spa-inspired toiletries had lovely tropical scents — a blend of coconut and mango.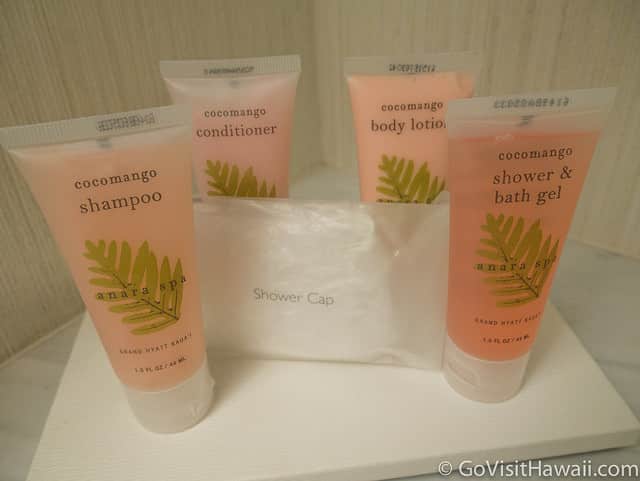 Other in-room amenities included bathrobes, hair dryer, small refrigerator, in-room safe, iron and ironing board and in-room coffee maker with Hawaiian coffee.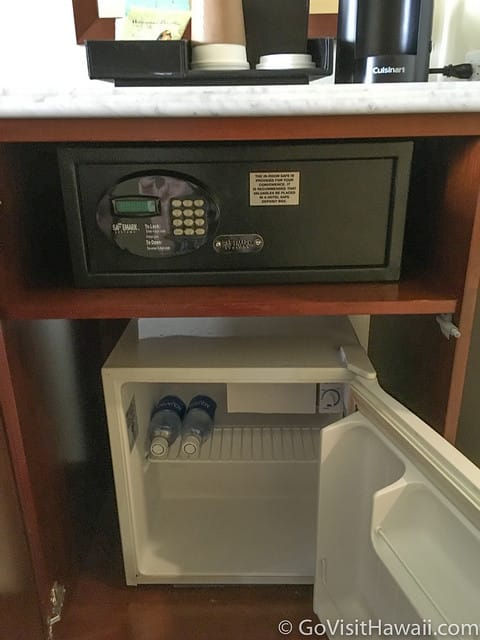 Housekeeping was provided once daily as a standard. Turndown service was offered upon request.
Though our days were often packed with activities and research, we enjoyed coming back to our relaxing room.
Resort Amenities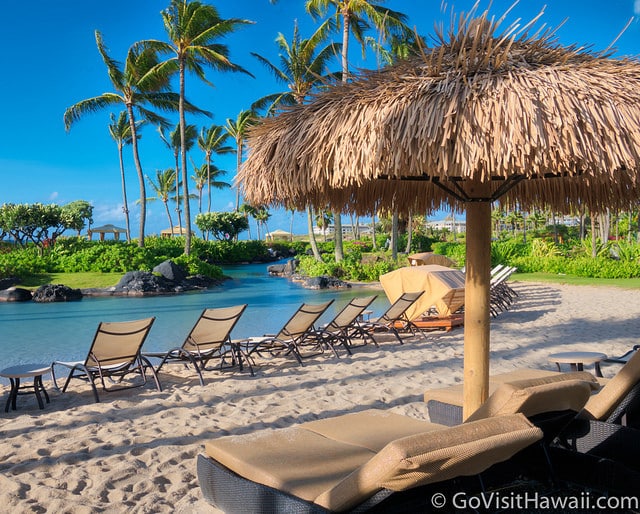 Though our schedule was busy, we managed to carve in a few hours to enjoy the many pools and they sure were nice!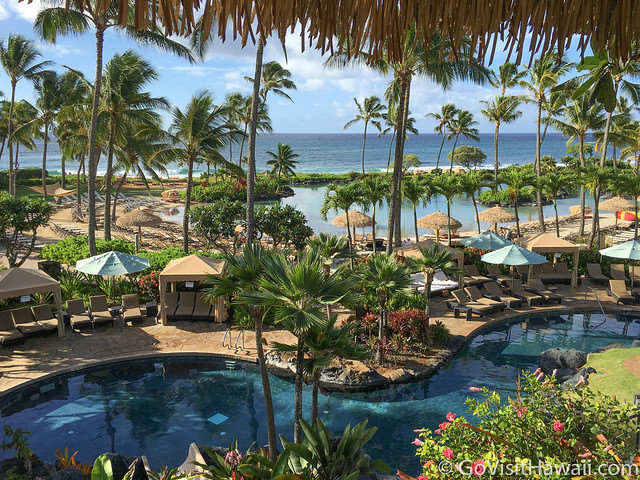 There's a large, sandy bottom saltwater lagoon, lazy river, waterslide, adult pool and more! Without a doubt, the Grand Hyatt Kauai Resort has the best pools in all of Kauai.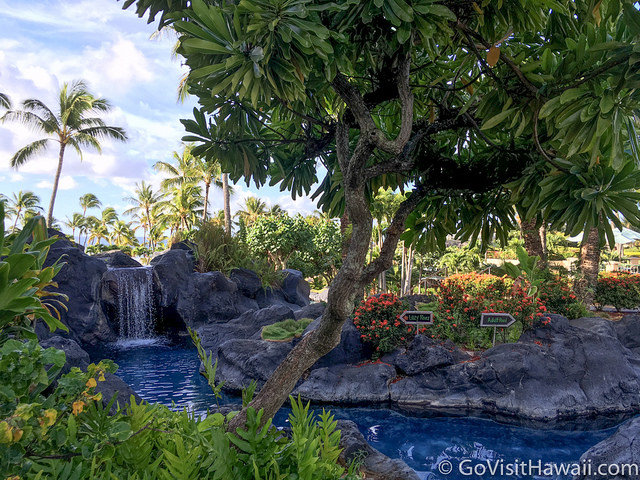 Pool and beach activities aren't the only things to keep you busy. There are Hawaiian cultural activities, golf, tennis, fitness center, guided fitness walks, entertainment and more. For more information, see this list of resort and island activities.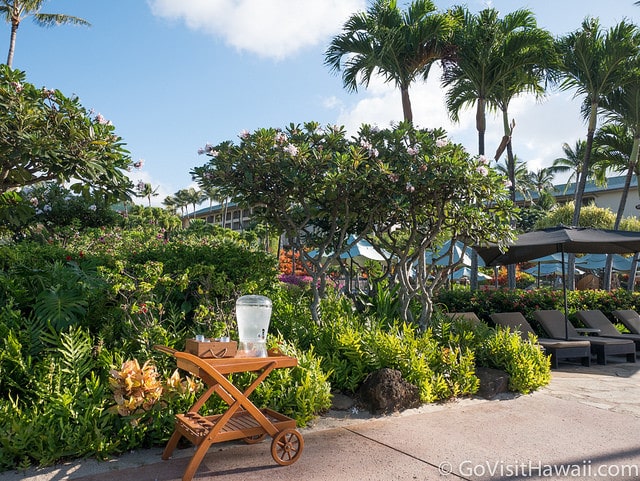 Plumeria trees, gingers, ferns and numerous hibiscus surround the pools and lounging areas. This landscaping provided privacy and a nice separation between pools.
Dining
Our favorite Kauai restaurant for a romantic or special occasion dinner is at Grand Hyatt Kauai Resort. It's Tidepools, which is open for dinner only. We like it so much that we dined there two nights in a row. Even if you're not staying at the resort, it's worth the trip, though a bit on the expensive side.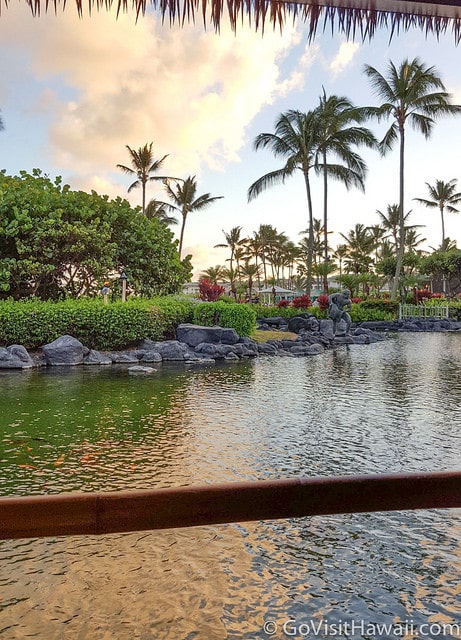 Our first morning we grabbed a lighter breakfast of Starbucks beverages and pastries from Seaview Terrace which has beautiful ocean views. Unfortunately, the birds were incredibly aggressive here. While I was lifting a banana and macadamia nut muffin to take a bite a bird swooped in to grab it right out of my hand. It startled me and I let go and that was the end of my tasty muffin.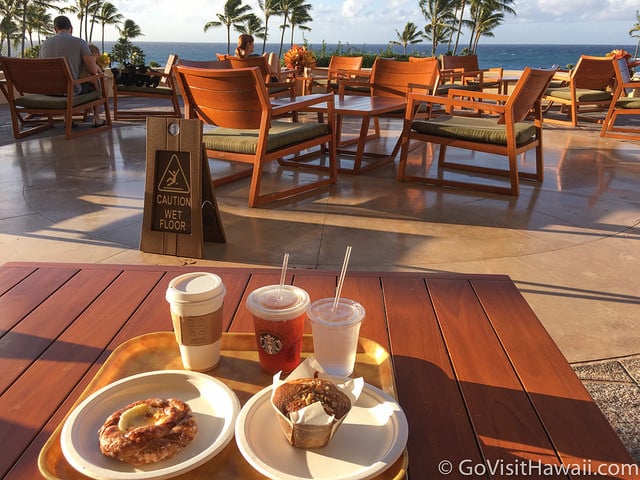 For our final morning, we splurged on a buffet breakfast, which was $34 per person, at Ilima Terrace one morning. It was quite crowded and not as relaxed as we like to enjoy at breakfast. The buffet was fine with all the usual American, Hawaiian and Japanese breakfast items. With the open air terrace, birds tend to take advantage of unguarded plates.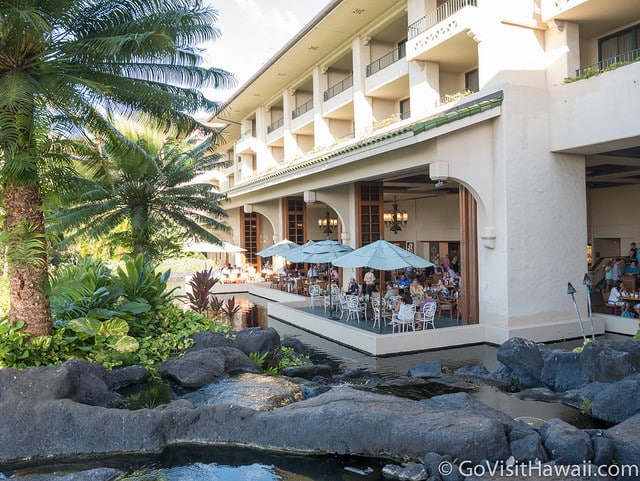 In the evening, Ilima Terrace is a nice place to watch sunset while listening to live Hawaiian music.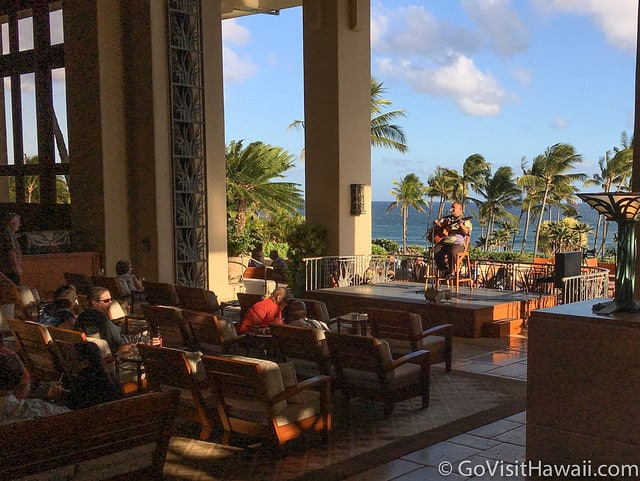 For the full slate of restaurants at Grand Hyatt Kauai Resort, see this link.
Outside of the resort, there are plenty of wonderful restaurants in the Poipu area.
Anara Spa
While we did not have the time to enjoy a rejuvenating spa treatment during our stay, I have enjoyed a massage in an outdoor hale on a previous visit. Anara Spa is one of the best in Hawaii and our favorite so far on Kauai.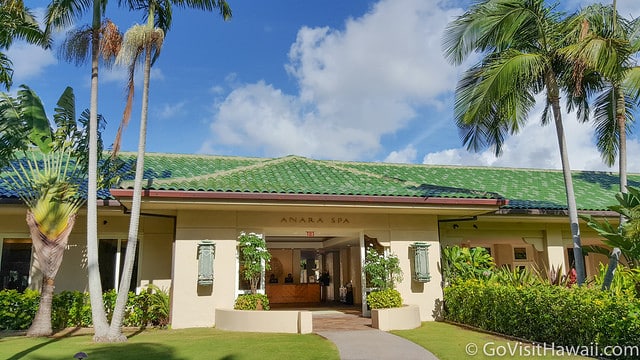 Videos and Photos
Watch our video overview of Grand Hyatt Kauai Resort and this video of Kauai scenery for a taste of the island.


For more of our photos see this link.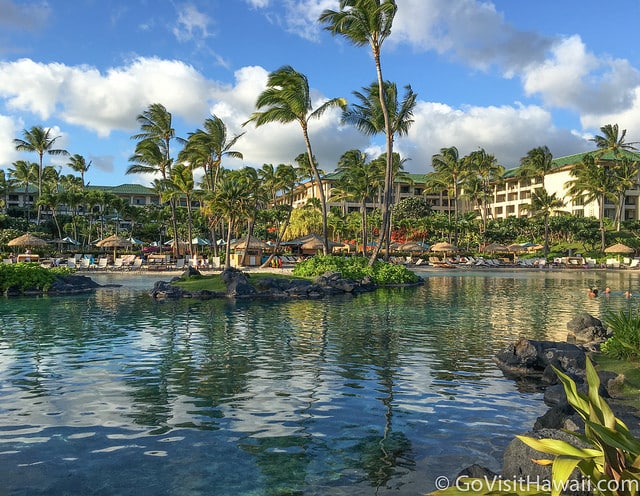 Rates and resort fee
As a higher end hotel, this resort commands higher than average hotel rates. While the average hotel rate for Kauai hovers in the $250 to $300 range, the rates at Grand Hyatt Kauai Resort typically go for around $500 per night. If your budget allows, this resort is worth the splurge. If you are a member of the Hyatt reward program, the Grand Hyatt Kauai Resort is a good one to save your points to redeem for a stay.
As you probably know, most hotels are charging daily resort fees and the Grand Hyatt Kauai Resort is no exception. During our stay in September 2017, the fee was $30 per day and included use of resort amenities such as self-parking, bottled water, use of laundry facilities, lei greeting and more. Fees and amenities are always subject to change, so be sure and verify current policies applicable for your stay.
Final Notes & Thoughts
As we were visiting Kauai on a press trip arranged by the Kauai Visitor Bureau, our accommodations were hosted. As always, we only provide the very same opinions, insights and advice as what we would give to our friends and family.
For more opinions about Grand Hyatt Kauai Resort and Spa, read TripAdvisor reviews. There are literally thousands of TripAdvisor reviews for the Grand Hyatt Kauai there.
For more information about the Grand Hyatt Kauai Resort and Spa, see their website.