Which Waikiki hotels have the best pools?
A great pool can be a big consideration for choosing the right Waikiki vacation hotel.  Of course you'll have Waikiki Beach at your fingertips, but it's always fun to have an attractive pool to enjoy.
With Waikiki being the oldest resort area in Hawaii, real estate is extremely hard to come by. Resorts have little to no room to expand with fancy schmancy pool areas. In fact, most Waikiki pools are exceptionally underwhelming in comparison to the size of the resorts.
All that being said, there are three Waikiki hotels with pools that excel above the rest – Hilton Hawaiian Village, Sheraton Waikiki and the Royal Hawaiian.
I'll provide some pool descriptions, but I'll mostly let the photos do the talking and they've got lots to say. Just be prepared that you're probably going to have an uncontrollable desire to book a Waikiki vacation after you see them.
Royal Hawaiian and the Sheraton Waikiki share the Helumoa Playground that features two fresh water swimming pools, a 15-foot high by 20-foot long waterslide and two whirlpool spas. The outstanding views of Waikiki Beach enhance the entire setting.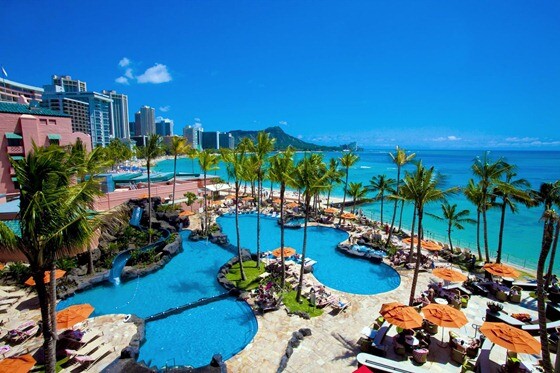 Though the Helumoa Playground is shared between these two adjacent hotels, Royal Hawaiian and Sheraton Waikiki, the infinity edge pool at the Sheraton is for the enjoyment of Sheraton's guests only.
Now let's move a bit west down Waikiki Beach to check out the Hilton Hawaiian Village. This resort offers five pools plus the Duke Kahanamoku Lagoon. The following montage photo shows scenes from each pool and the lagoon.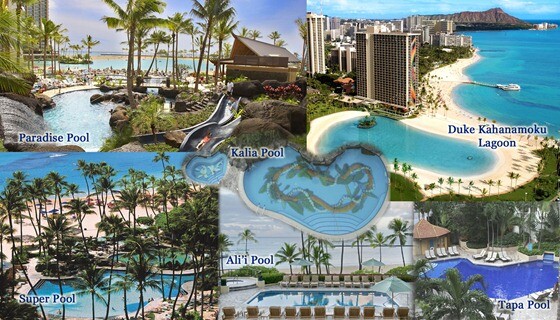 I want us to take a closer look at two of the Hilton Hawaiian village. Let's start at Paradise Pool. Here's how the resort's website describes Paradise Pool:
Come enjoy the splashing fun with slides, waterfalls, spas and spectacular views! The Paradise Pool is the resort's newest pool and is a 5,000-square-foot family activity pool that boasts the longest slide in Waikiki and overlooks the Duke Kahanamoku Lagoon. The aquatic playground is comprised of a two-tiered, freshwater swimming pool bordered by lava rock formations, meandering streams and bridges and lush, tropical landscaping. The pool features four slides including a 77-foot lava tube slide, three waterfalls and two heated spas.
Does that sound like a tropical playground for all ages or what? We stayed at Hilton Hawaiian Village earlier this year and now I am kicking myself that I didn't have the time to enjoy this aptly named Paradise Pool.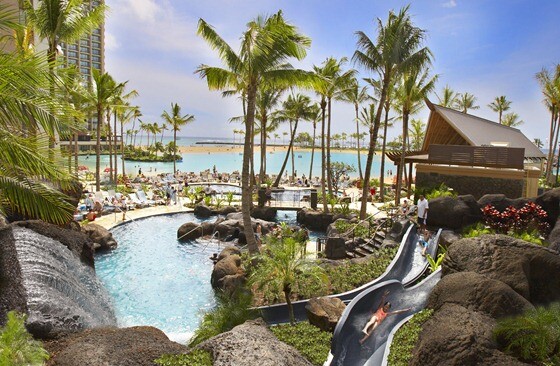 The other Hilton Hawaiian Village pool that I want to highlight is their Super Pool. This 10,000 plus square foot pool offers great views of Waikiki Beach.
As you can see from these photos, these Waikiki hotel pools are truly top notch. Who's ready to book a Waikiki vacation now?