Top Hawaii food & farm tours to put on your Big Island vacation menu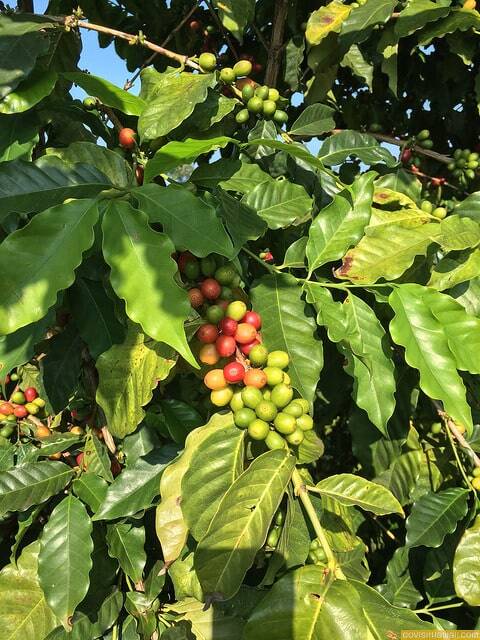 Hawaii's climate and volcanic soil create a great environment to grow unique crops that don't typically grow on the US mainland. The climate diversity of Hawaii (Big) Island, in particular, provides the conditions to grow these special foods. As you are making your sightseeing and activity plans for your Big Island vacation, you might want to consider including a tasty food tour. Let's take a look at these top food and farm tours.
Coffee Farm Tours (free)
If you like coffee, you'll enjoy a touring and tasting one of the of the world-famous Kona coffee farms. We recommend the Greenwell Farms coffee tour because the guided tours are interesting and the price is free. They also offer free coffee tastings.
Chocolate Farm Tour (paid)
We had no idea how cacao grew or how much time and processing is required to create a chocolate bar from a cacao pod until we toured the Original Hawaiian Chocolate Farm. The tour costs $15 and includes chocolate samples.
Honey Farm Tour (free)
Learn about bees and beekeeping via tour at Big Island Bees. They have a museum and honey tasting room
Macadamia Nut Farm/Factory Tours  (free)
Hawaii is well known for producing macadamia nuts and the Big Island offers a couple of easy and options to visit mac nut farms and factories.
On the Hilo side of Hawaii Island, you can drive through a macadamia nut orchard on the way to the Mauna Loa Visitor Center where you learn more about processing and if you time it right, see the actual processing via their self-guided tour.  There is no charge to visit and last time we were there, we got to try a free samples.
On the Kona side of Hawaii Island, the Hamakua Macadamia Nut Factory located in Kawaihae offers a free, self-guided tour of  their macadamia nut factory. They also offer free samples of many different flavored macadamia nuts.
Vanilla Farm Tour (paid)
Did you know that the vanilla plant is an orchid and blooms only open for a day? We learned that and a whole lot more at the delicious Hawaiian Vanilla Farm Tour and Lunch on the Hamakua Coast of Hawaii Island.
—
Itinerary Planning Notes:
Have you visited a farm or food tour on the Island of Hawaii?