Kohala Coast Waterfall Adventure with Hawaii Forest & Trail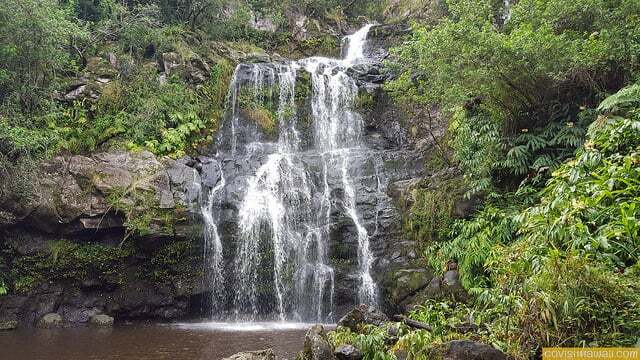 On our recent Hawaii (Big) Island visit, we spent a day of adventure hiking through a Kohala nature reserve that's abundant in waterfalls. We loved the curvy, rainforest paths that led from one pretty waterfall to the next.
We started our day by meeting our guide, Mateo, at the Hawaii Forest & Trail office in the plantation town of Hawi. From here we boarded the rugged, open air, six-wheel-drive Pinzgauer for a breezy, scenic drive to the starting point of our Kohala Waterfalls Adventure on a private nature reserve.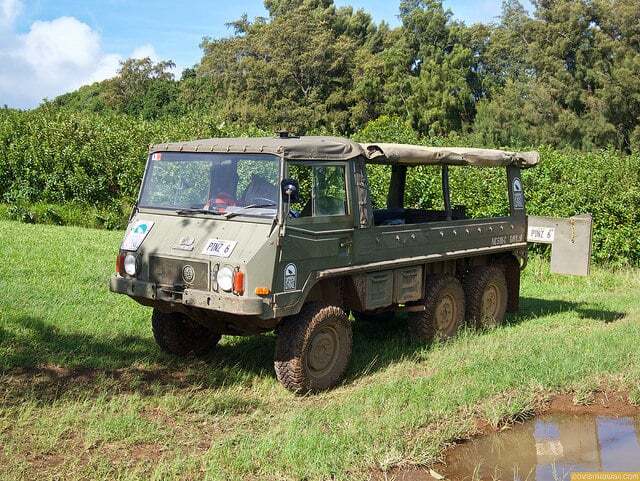 We were given backpacks with a full water bottle and towel to use plus granola bars to keep us energized. We were also offered walking sticks, which really helped us navigate through the trickier parts of the trail.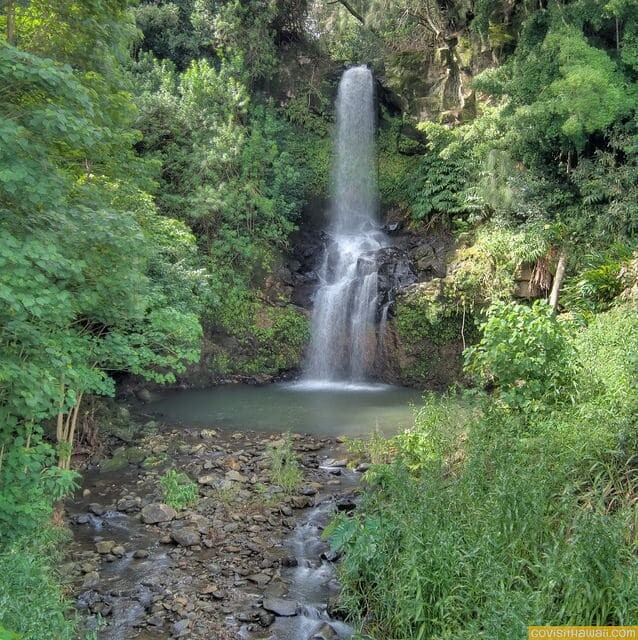 The total hiking distance is approximately 1.5 miles, but we never got winded as we stopped many times to admire the waterfalls, learn about the flora as well as the history of the region. The tour isn't very strenuous, but you do need to be able to walk on uneven surfaces.
As far as the history goes, we saw irrigation ditches and tunnels that were built in the early 1900s for the sugar cane plantations, but are now used for part of the island's water supply. We also saw a Hawaiian agricultural terrace site that is estimated to be one to two centuries old.
If you like waterfalls, you'll love this tour. We were promised to see at least six different waterfalls and that promise was kept. We may have seen more.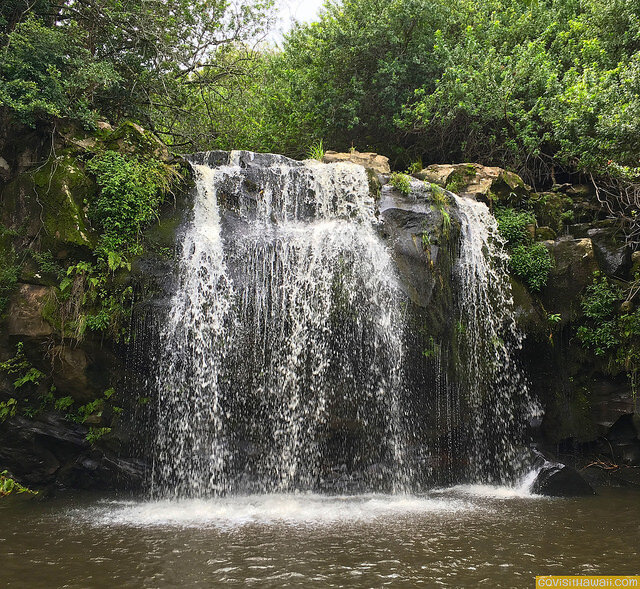 One of the many highlights of the tour was getting to take a refreshing swim at one of the last waterfalls. The rainforest surroundings at a plunging waterfall made it an idyllic setting for a swim!
After the hike, we boarded back on the Pinzgauer to go to our lunch spot with a view of the stunning Hamakua coastline. After lunch we headed back into Hawi. Since Andy and I met our guide in Hawi, we were free to go as we pleased. For the guests who opted for transportation, they had the opportunity to explore the former sugarcane plantation town of Hawi.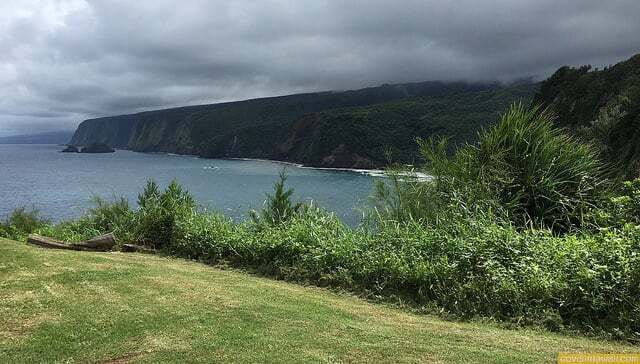 We really enjoyed our Kohala Waterfall Adventure tour. It was scenic, interesting, and lots of fun, too. You can view our photo collection and watch our brief video overview with pretty waterfall footage.

What to know when you go:
A hiking-style sandal or shoe or a sneaker with good tread is a must as there were some short muddy/slippery areas. Ideally, a sandal-style hiking shoe is best so that you can wear it at the swimming hole. The lava rocks that you have to walk over to get in the water can feel jagged and rough to bare feet.
Walking sticks were offered. Don't pass up on them as they're really helpful, especially over slippery areas of the path.
Towels, water lunch and snacks are provided.
When we go into rainforest areas in Hawaii, we wear mosquito repellant. We're not sure if we would have been bitten if we didn't, but we'd rather be safe than sorry.
Wear a swimsuit under your clothing, if you want to swim at a waterfall. We recommend a dark-colored swimsuit as the almost tea-like streams can slightly stain a swimsuit.
Wear sunscreen, hat and quick drying clothing.
There's an option for transportation from Kailua-Kona and Waikoloa. We opted to drive ourselves from the Kohala Coast to Hawi, though.
Kohala Waterfalls Adventure starts at $200 for adults. The price for children is less. See this link for current pricing and real-time availability through Hawaii Forest & Trail's FareHarbor booking engine.
Have you taking the Kohala Waterfalls Adventure tour on Hawaii Island? How was your experience?