July 4th fireworks & events in Honolulu and around Oahu 2015
See the 2018 July 4th update at this link —> July 4th 2018 Fireworks & Events for Waikiki, Honolulu, Oahu
Note that the list below is from 2015 for reference purposes only. Again, go to the above link for the current year's list.
—
2015 July 4th
Oahu is a great place to celebrate July 4th. You'll find superb fireworks viewing and traditional events with a splash of Aloha. Here's what you'll find for Saturday, July 4th, 2015.
July 4th Fireworks and Picnic on the Pier by the Might Mo in Pearl Harbor
The Battleship Missouri Memorial hosts live music and fireworks at the Picnic on the Pier. This event is held at Pier Foxtrot 5 on Ford Island in Pearl Harbor where the Mighty Mo is berthed.
Ticketed guests are invited to bring a picnic to enjoy the evening prior to the fireworks show.  Live music will be performed by Chris Salvador. Raffles and kids activities will also be available.
The fireworks show begins at 9:05pm. Pre-sale tickets cost $10 for adults and $5 for children. If purchased at the door, tickets are $5 more. See this link for more information and to purchase tickets.
July 4th Fireworks at Ala Moana Beach Park (near and potentially viewable from Waikiki Beach)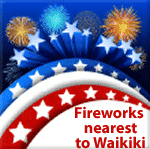 Ala Moana Center has traditionally hosted Oahu's biggest fireworks show. The fireworks displays launch from three platforms show starting at 8:30 pm at Ala Moana Beach Park. This show is free and open to the public.
Tune in to KSSK (92.3 FM) for music to accompany the fireworks display.
Prior to the big fireworks show, shoppers can enjoy 20% savings at over 75 participating stores with the 4th of July Savings Pass. Ala Moana Center will also offer free entertainment starting at 3pm from Centerstage. 
Ala Moana Center is located at 1450 Ala Moana Boulevard in Honolulu. To get there from Waikiki, you can drive, take the bus or trolley or walk. See this link for transportation options.
Traditionally, these fireworks set off from Magic Isle at the tip of Ala Moana Beach Park. As such, the fireworks are potentially visible from various locations surrounding Ala Moana Beach Park. Take a look at this Google map link with Magic Isle indicated to help you visualize potential viewing points from the various beaches of Waikiki. For more specific information, politely ask the concierge at your hotel resort for more viewing advice.
For some alternative views of the Ala Moana Center July 4th fireworks, consider these options:
The Star Of Honolulu is offering a number of dinner cruises to see the fireworks and Honolulu city lights from the ocean. Pricing starts at $148 per adult and $104 per child. See this link for Star of Honolulu July 4th fireworks cruise options. We recommend you book quickly if one of these cruises is of interest to you. We also recommend taking advantage of their transportation from Waikiki for the ease and convenience.
The Dolphin Star catamaran is offering a cocktail fireworks cruise with pricing starting at $62. See this link for more information. Just like the sister company the Star of Honolulu, we recommend you book quickly if this cruise is of interest and take advantage of the transportation option from Waikiki for ease and convenience.
Check with your concierge for more options
July 4th Fireworks and Celebrations at Turtle Bay on Oahu's North Shore
Turtle Bay Resort will host live music, food and a floatilla beach party. The fireworks show is set to begin at 8:30pm. The event is free and open to the public. Food will be available for purchase. A parking fee of $5 per car may apply. Turtle Bay Resort is located at 57-091 Kamehameha Hwy in Kahuku on Oahu's North Shore. See this link for more details.
Kailua July 4th Fireworks & Airshow
The town of Kailua hosts an airshow at 6pm, Marine Corps Marching Band performance at 6:30pm and fireworks display at 8pm at beautiful Kailua Bay. See this link for more details including instructions of where to park and where to view the air and fireworks shows. If you plan to view this show, consider making a donation to help pay for the event.
Oahu Military Celebrations for July 4th
The 44th annual 4th of July Spectacular is open to Department of Defense ID cardholders and their guests. This event includes games, pony rides, food booths, live bands, fireworks and more. Featured musical guests include Michelle Branch and Collective Soul. Fireworks are set to display at 8:30pm. For more details see this link.
4th of July Celebration at Ward Field Sponsored by USAA is open to all military-affiliated personnel and their sponsored guests. The celebration will be held at Ward Field starting at 3pm including live entertainment, a petting zoo, Xpress Train and more. At 5pm, special guest Dishwalla performs followed by OAR at 7:30pm. The fireworks display is set for 9pm. For more details see this link.
Ko Olina July 4th Fireworks?
Contact the concierge or front desk at your Ko Olina hotel for exact location and time of fireworks.
—
Notes:
We are verifying

have confirmed

that the Friday Night Fireworks show from the Hilton Hawaiian Village will take place as usual on Friday, July 3rd.
More events may be added. Check back for updates.
All events are accurately reported at the time of publishing. Please note that events are subject to change without notice.
If you are a journalist or blogger using this post for researching an article you are writing, kindly do what's proper and provide a link back to Go Visit Hawaii. This work is a result of many hours of my very own research, long distance phone calls, emails, contacts, etc.
Have a safe and happy July 4th!