The Andaz resort at Wailea – where modern design meets Maui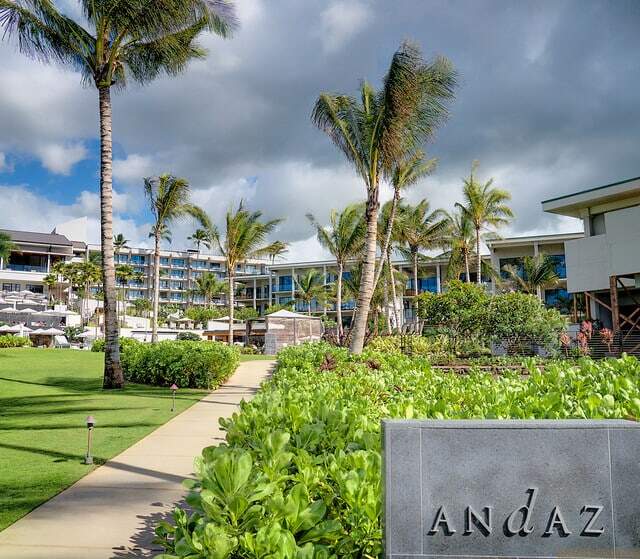 Hawaii's first Andaz property, Hyatt's high-end hotel brand, is Wailea's newest hotel. We had the opportunity to stay at this resort. We left with the impression that it's really a unique hotel in Hawaii — very modern and eco-conscious with useful amenities.
Location
Andaz Maui at Wailea has a beautiful oceanfront location by Mokapu Beach Park within the Wailea resort area. See this Google Map to explore the area.
The beachfront path in front of the resort hugs the colorful Wailea coastline. It's popular for scenic morning walks.
Shopping, golf, tennis, spas and restaurants are all within easy walking distance. If you're not up for a walk, the resort provides a complimentary shuttle service within Wailea.
If you are visiting Maui during some of the rainier months, chances are that rain won't ruin your vacation. That being said, if you'd like to minimize the chance of rain, Wailea is a great bet as it's one of the sunniest resorts on the entire island.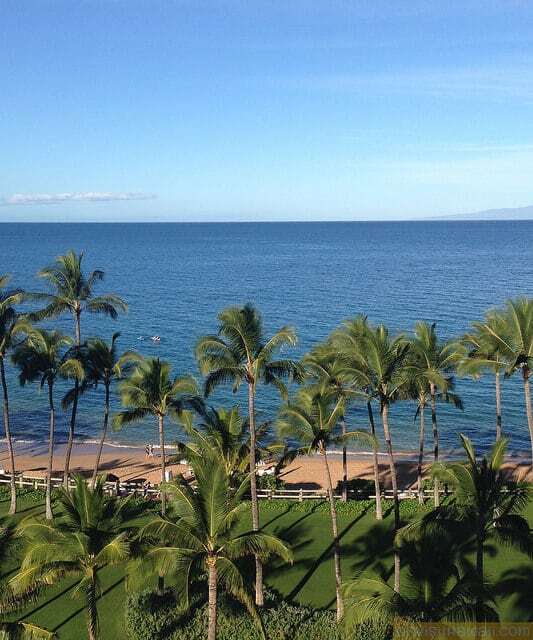 Arrival
The check in process is very pleasant. We were greeting with very nice leis. I was giving a fragrant tuberose lei and Andy was given a nice masculine kukui nut lei. We were given refreshing chilled towels as well as a delicious lavender lemonade.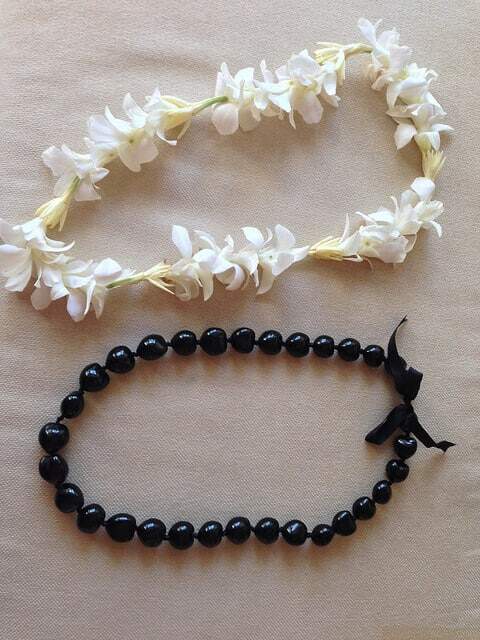 Rooms
Andaz Maui at Wailea offers a variety of rooms — from a standard hotel rooms and suites to villas. Some accommodations even have their own private hot tub or plunge pool. We stayed in a ocean view room.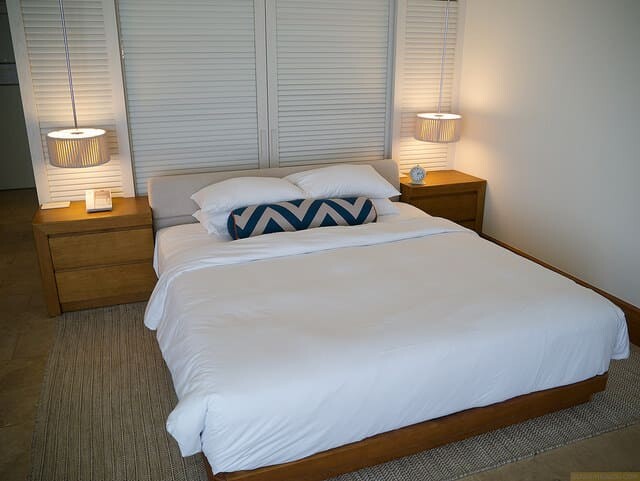 The room design flows with the sleek and clean contemporary style of the entire resort. The space of the rooms are used very efficiently reminding us of European hotel rooms. The rooms weren't tiny, but they are slightly smaller compared to other Hawaii luxury resorts.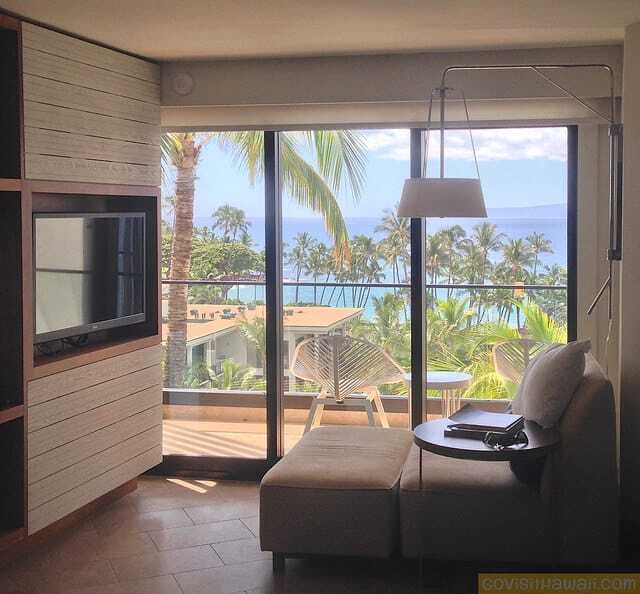 The bathrooms feature an oversized rain shower with sliding shades that can be moved to provide outdoor and, if your room permits, ocean views.
The vanity has one sink with ample space around it for toiletries. The bathrooms are somewhat compact with access to the closet and a water closet doors opening to the room.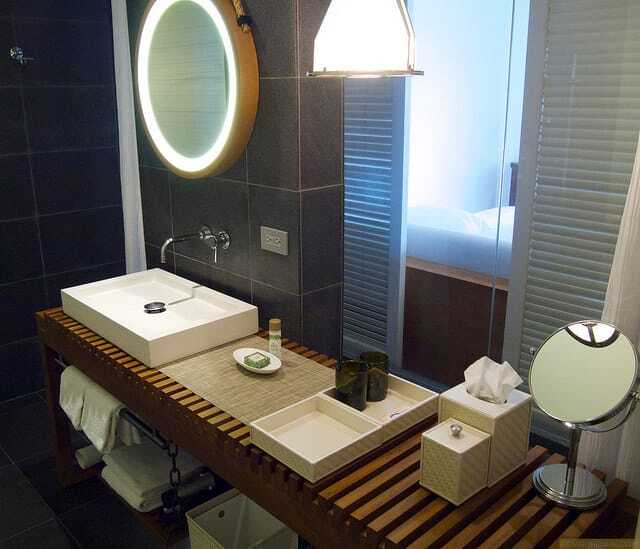 Each room has a private lanai to better enjoy the views. Though the lanai chairs are stylish and fit the modern decor, they were not comfortable.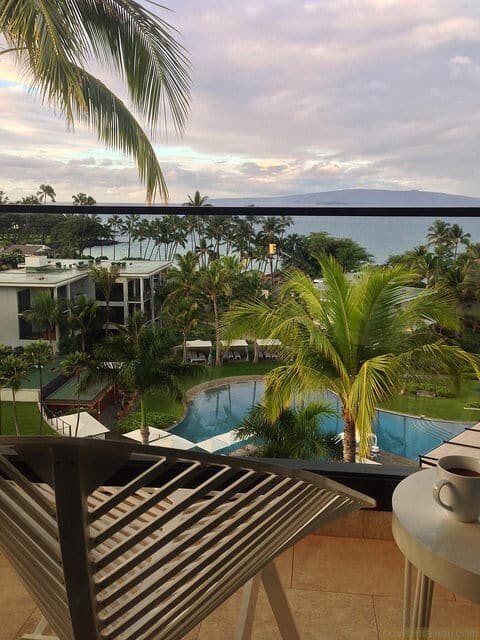 Unique amenities
Andaz Maui at Wailea offers some special amenities that set them apart from other luxury Hawaii resorts. You can check out the full amenity listing of a standard room here. Some of the most impressive amenities include:
– Complimentary local-flavor snacks — we enjoyed Maui Style potato chips and Anahola Granola bars.
– Complimentary non-alcoholic juices and sodas stocked in the room's refrigerator.
– Reusable water bottles are given to guests to use during their stay and then take home as a souvenir. Water stations are located on every other floor.
– The toiletries are a blend of all natural and organic ingredients with Hawaii inspiration — Malie brand Kokee scent.
– While very few Hawaii resorts can boast about their one infinity pool, Andaz Maui at Wailea has multiple infinity pools — if I remember correctly four in total.
– A suite with lockers, a lounge and three private bathrooms is available for guests to use after check out.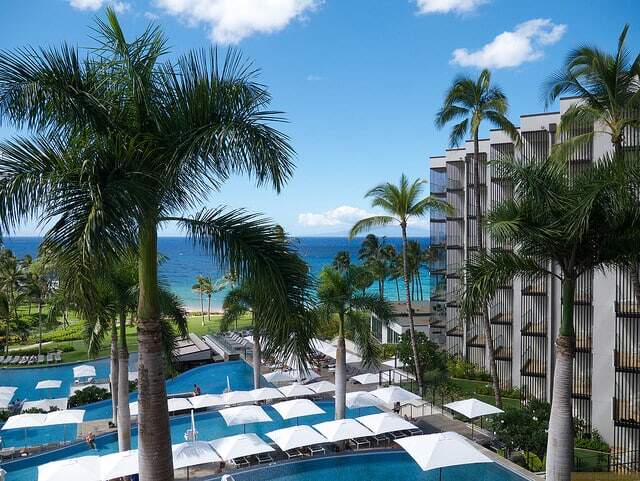 Dining at Andaz Maui at Wailea
The resort offers multiple restaurants and a convenient market.
– We enjoyed an excellent dinner at Morimoto Maui by Iron Chef fame, Masaharu Morimoto. The sunset view from here was gorgeous. 
– Bumbye Beach Bar offers views above the cascading pools and beyond to the ocean. We dined here a couple of times for lovely lunches. We were impressed that when we decided to share a sandwich, the waitress served the sandwich neatly divided onto two separate plates for us.
– Though we did not have an opportunity to dine at Ka'ana Kitchen, we've heard great things about them from our local friends.
– Mokapu Market offers a great selection of sundries, snacks and light breakfast and lunch items. Many items are locally sourced.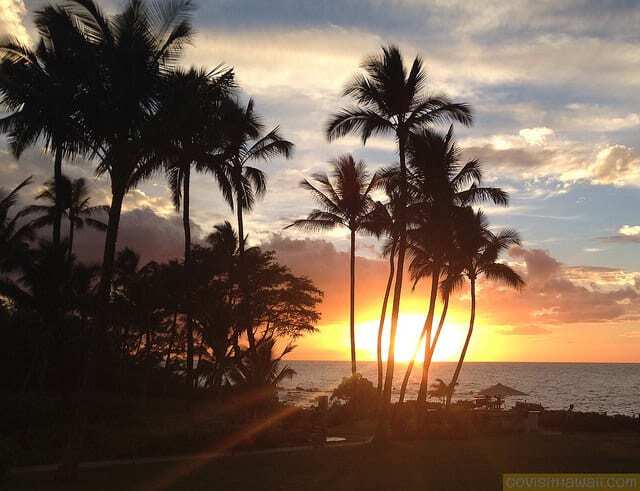 More mentionables
– We we stayed here there were no resort fees. In 2015, they began adding a resort fee.
– The friendly beach staff can help you with complimentary use of loungers, umbrellas and towels at the beach.
– There is one adult-only pool that's separated away from the cascading infinity pools.
– One pool was more shallow and kid-friendly.
– The resort has an onsite spa.
– The rooms have two sets of blinds — a privacy blind and a black out blind. Both are controlled by bedside touch buttons.
– Instead of the standard hotel guide book, all the hotel information is available with a touch of a button through the smart TV.
– We felt like the resort attracted affluent folks in their twenties, thirties and forties.
– Because of the higher end accommodations (suites and villas) this resort does attract celebrities. We saw a celeb during our stay.
– As Andaz is a luxury brand and Wailea is a very posh area, rates at Andaz Maui at Wailea reflect that. From a quick Trivago check, the lowest average rate I found was $624 per night. This rate is higher than average compared to other luxury Wailea hotels.
– View more photos from our stay at Andaz Maui at Wailea.
– View our brief (1 min 16 sec) video tour:

For more reviews on this resort, see TripAdvisor reviews for Andaz Maui at Wailea. Have you stayed at Andaz Maui at Wailea? How was your stay?