In honor and memory of Mr. Buzzy Sproat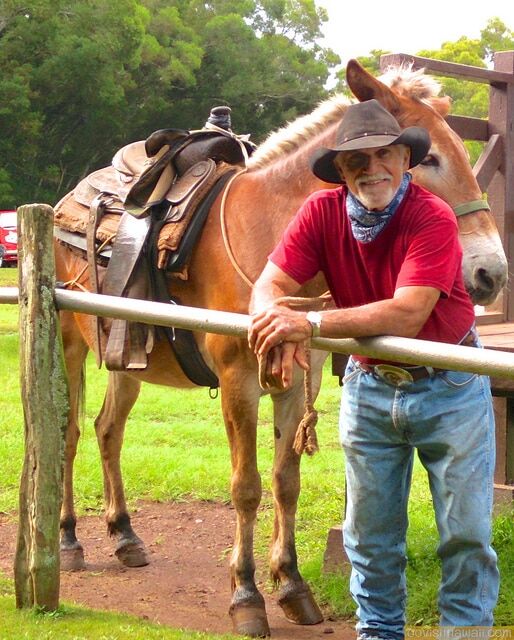 We were very sad to hear the news of the passing of Mr. Buzzy Sproat. It was this time last year that I had the honor of meeting him on the island of Molokai for the mule ride down to Kalaupapa. Within seconds of being around this softly spoken man, I knew I liked him. His warmth and wit were instantly charming.
Buzzy pioneered the mule ride from "topside" Molokai down the cliffs to the "leper colony" at Kalaupapa. Though his experience and expertise as a Mule Skinner are truly legendary, Buzzy didn't have a single hint of any arrogance. He was as humble as any man I've ever encountered.
If Olympic medals were earned for patience, I'm sure Buzzy would have numerous gold medals. Just about every person in our group expressed their fear of riding their mule down the steep cliff. He kindly listened to these fears and disarmed us of our trepidation one by one with his gentle wit and encouragement.
I was amazed that I never saw Buzzy hold on to his saddle.He knew he could completely trust the mule he had trained so well. He would bobble on top of his mule with his arms relaxed by his side as he whistled the song "What A Friend We Have In Jesus."
I'm sharing this excellent video featuring Buzzy that was created two years ago with thanks to the Molokai Visitors Association facebook page.
(Email subscribers: if the video does not appear in your email, click here to view it in this blog post.)
I count it a blessing and a honor that I met Buzzy Sproat. I pray for comfort for his family and friends. He will most certainly be missed.
[P.S. In case you are wondering, Buzzy had been semi-retired. His family has and will continue to be a part of the mule ride operation.]