Is May a good month to vacation in Hawaii?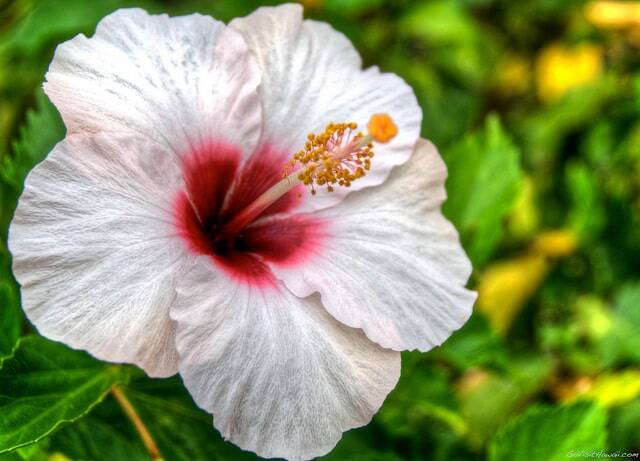 Is the month of May a good time to vacation in Hawaii? We'll examine the details, but I'll quickly cut to the chase and let you know that May is one of the best times to go to Hawaii. The weather is generally good, occupancy is down and costs are relatively inexpensive.
 What's the weather like in Hawaii in May?
May's weather is usually quite nice. Daytime high temperature average in the low to mid 80s F. Nighttime temperatures only dip into the lower 70s F.
The average ocean temperature starts to warm up in May and is certainly pleasant enough for swimming. For more details see our article on Hawaii's ocean temperatures throughout the year.
By May, average rainfall levels are dramatically lower as compared to the rainier winter months. The typical rain pattern in Hawaii is that most precipitation falls at night. Daytime showers are usually brief.
Here are the average rainfall levels by island for the month of May:
Kauai – 2.07 inches – This measurement is based on Lihue's averages per Weather.com. Lihue is located on the southeastern side of the island and is not as wet as the North Shore, but not as dry as the South Shore.
Oahu – 0.99 inches – This average is based on Honolulu's rainfall per Weather.com. North Shore rainfall will be a little higher, while Ko Olina's rainfall will be slightly lower.
Maui – 0.74 inches – This average is based on Kahului's rainfall per Weather.com. Kahului is where Maui's main airport is, but it's not typically considered a resort area like Wailea, Lahaina, Kaanapali and Kapalua. Kahului's rainfall tends to be a bit higher than all the resort areas, with the exception of Hana on east Maui.
Hawaii, the Big Island – 0.71 inches – This average is based on Kailua-Kona's weather per Weather.com. Kailua-Kona is a popular resort area. Further north on the Kohala Coast, the weather tends to be even drier with only about 10 – 12 inches of rain for the entire year! Hilo, on the east side of Hawaii Island, is another story though, with an average of 8.12 inches of rainfall for May per Weather.com.
Lanai – 2.17 inches – This average is for Lanai City in Lanai's upcountry/highlands, which tends to get much more rain that the island's sunny, beach resort at Manele Bay. Data sourced from Weather.com.
Molokai – 0.53 inches – This average, per Weather.com, is for the airport just west of Kaunakakai town. Weather towards the east side will be rainier.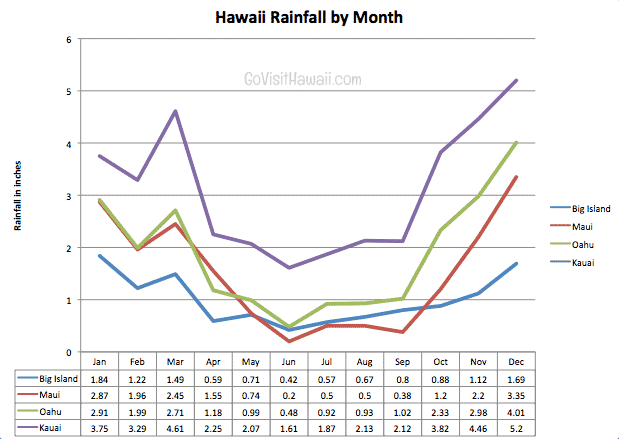 Is May a crowded time to visit Hawaii?
As a whole, May is one of the least crowded months to visit Hawaii. Though May is generally very uncrowded in May, there are a couple of minor exceptions worth mentioning.
Waikiki Beach can be a popular destination among Japanese people for Golden Week, which is a series of holidays starting April 29 and lasting through May 5/6. We have visited the islands during this time and we didn't find them to be overly crowded.
Memorial Day holiday (the weekend including the last Monday of May) is a fairly popular time to visit.
The following chart from our Hawaii visitor data analysis shows the visitor arrivals to Hawaii per month. As you can see May arrivals are below average.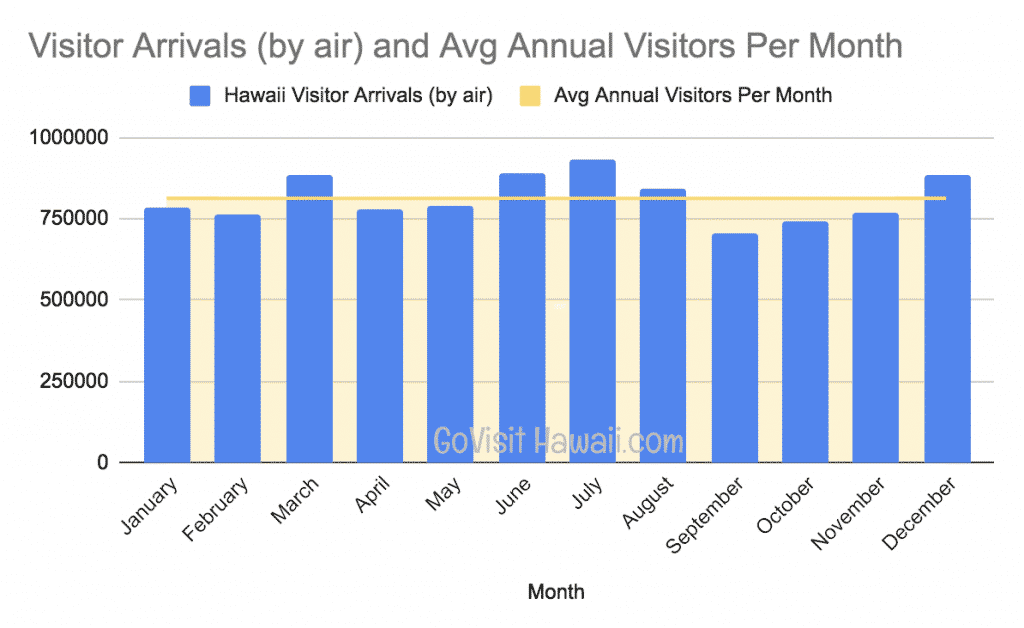 Is May an expensive time to go to Hawaii?
With the exception of Memorial Day weekend, May is an inexpensive month for accommodation costs per Hawaii hotel cost data. May is one of the cheapest times of year to visit Hawaii.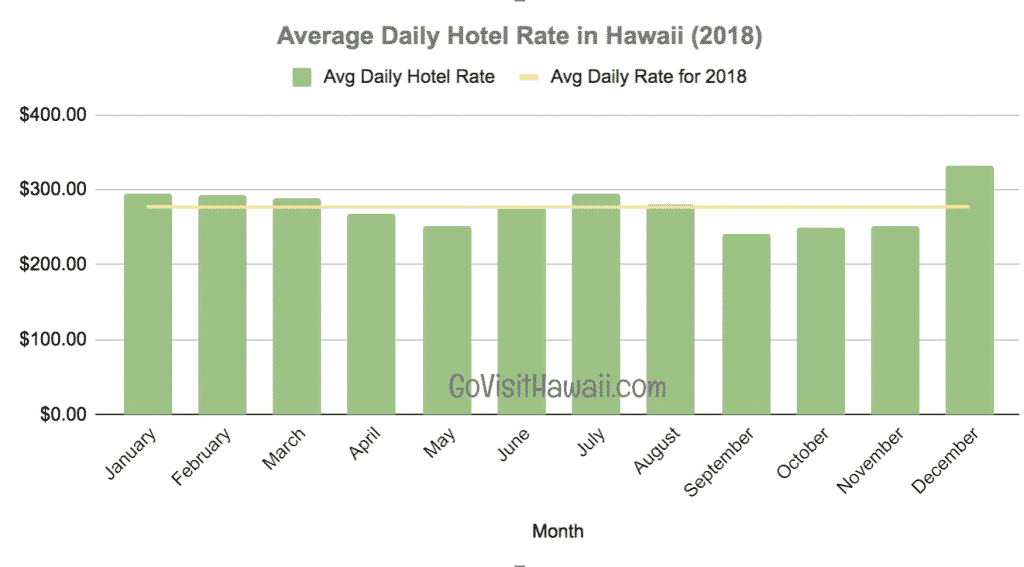 Airfare can be more difficult to predict. From our observations, flight costs aren't outrageous for May, with the exception of Memorial Day weekend. See our strategies for finding the best airfare to Hawaii.
Are there any special reasons to visit Hawaii in May?
The first day of May is designated as Lei Day, which is a celebration of the Hawaiian lei and culture. You'll find various Lei Day celebrations throughout all the Hawaiian Islands.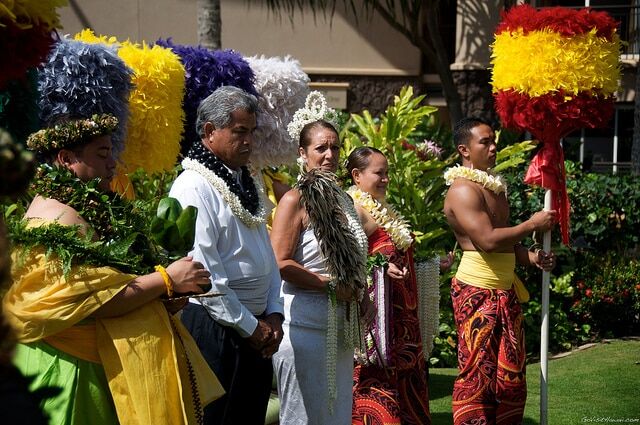 Other top Hawaii festivals and celebrations that are usually held in May are as follows:
Top Oahu festivals and celebrations typically held in May
– Waikiki SPAM Jam celebrates Hawaii's love affair with SPAM.
– Mele Mei is a month-long celebration of the unique music of Hawaii.
– Memorial Day is honored in Oahu at Punchbowl and via the Lantern Floating Festival. See our page for Memorial Day Events in Oahu, which we update each May.
Search for events on GoHawaii.com for additional festivals that may be happening during your stay. Also, we publish a list of the top festivals at least a month or two before each new quarter. Subscribe to our free updates to stay on the pulse of the very best Hawaii vacation news.
—
This article about visiting Hawaii is May is part of a larger series on how to choose the best time for a Hawaii vacation. Learn more about other months here.
Have you been to Hawaii in May? Where did you go? How was your visit?