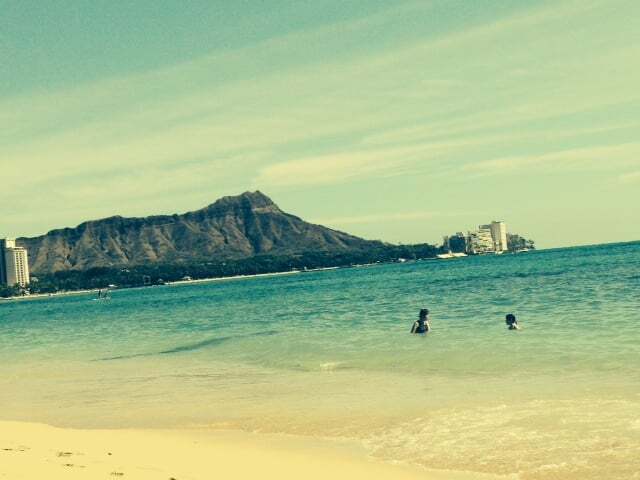 Today's featured Aloha Friday Photo comes to us from Kathy Lelack-Green of Salem, Oregon. Kathy was the winner of the Embassy Suites-Waikiki Beach Walk stay that we gave away earlier this year. She sent this Waikiki Beach photo with a very neat vintage effect that she took during her recent stay.
Kathy said that she and her husband were having a wonderful time and they appreciated the "opportunity to experience the magnificence of Hawaii."  She shared that doing yoga at the Embassy Suites was a real treat. They also enjoyed hiking to Manoa Falls and, of course, some Waikiki Beach time. They also went to Duke's Waikiki to hear Henry Kapono perform. Ah, Kathy's plans all sound fantastic! Don't they?
Kathy also shared a tip about a new taxi-like service called Uber. Though Uber has been available in other major US cities for a while, it's only been in Honolulu for a few weeks. Kathy indicated that Uber car service was convenient and their prices were competitive with taxis.
Mahalo again to Kathy for sharing her photo, experiences and travel tip with us!