Kohala Coast Luxury at The Fairmont Orchid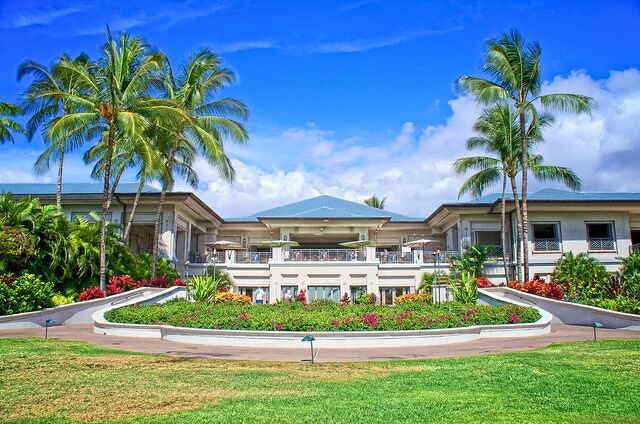 We recently stayed at The Fairmont Orchid for four nights and oh how we wish we could have stayed longer!  Why? There's lots to love as we will illustrate in the following photos and video.
Located on the beautiful Kohala Coast
The resort sits on more than twenty acres along the famed Kohala Coast of Hawaii, the Big Island. The shoreline is divided into two distinct areas — a coral and lava rock covered ocean edge and sandy lagoon. We always saw at least one honu (sea turtle ) resting on the lava rock and coral.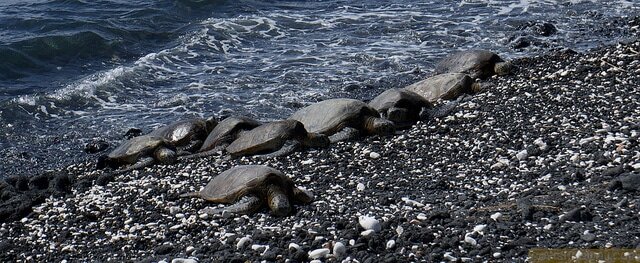 The protected sandy lagoon offers a great launching point for snorkeling, kayaking and standup paddle boarding.
We enjoyed kayaking past the protected lagoon out into Pauoa Bay. It was a very pleasant way to get some morning exercise.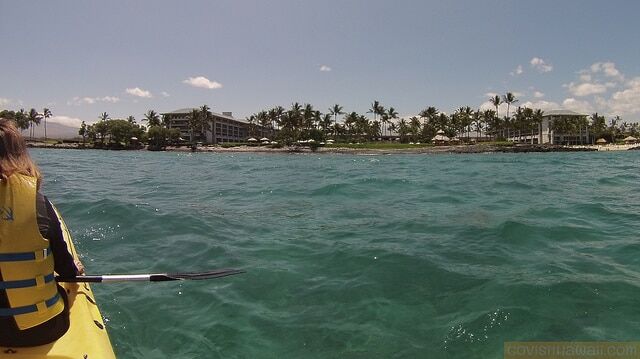 From kayaking, we could tell that snorkeling would be very good. We grabbed some snorkel gear and within seconds, we were swimming with honu!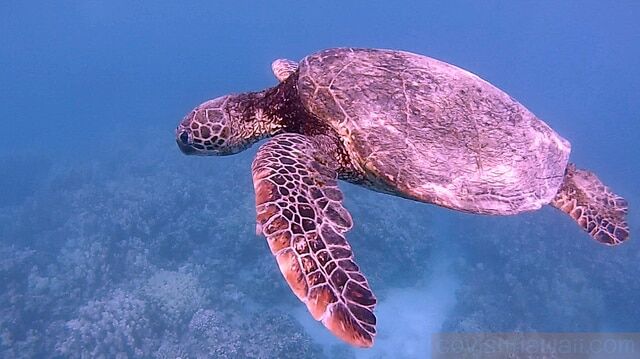 Kohala Coast sunsets are spectacular. We took the following sunset photo from our table while dining at romantic Browns Beach House at the Fairmont.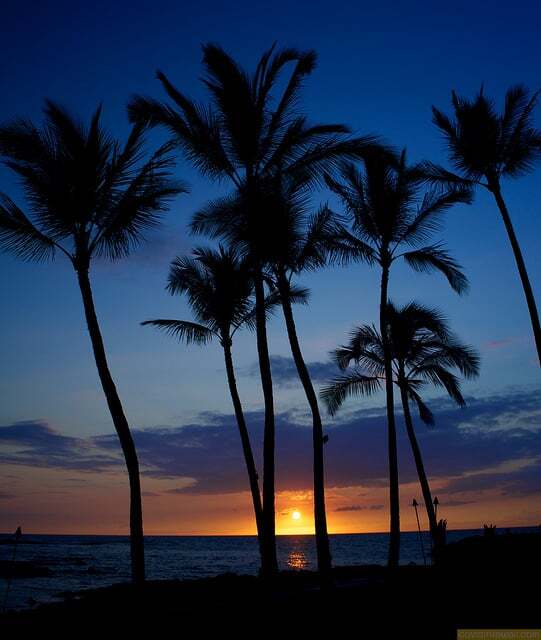 Luxe rooms
The recently refurbished rooms were extremely comfortable and spacious. At the end of each day, when we returned to the room, it felt like returning to a home away from home.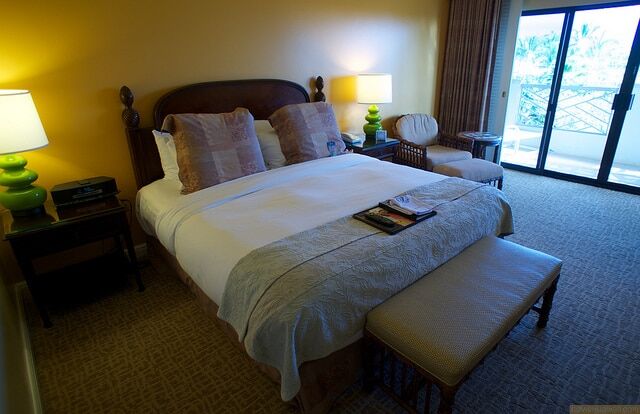 The marble bathrooms included both a step-in shower and separate bathtub. The double sink vanity offered plenty of space in addition to the cabinetry with storage space, which allowed us to keep our things tidy and organized during our stay.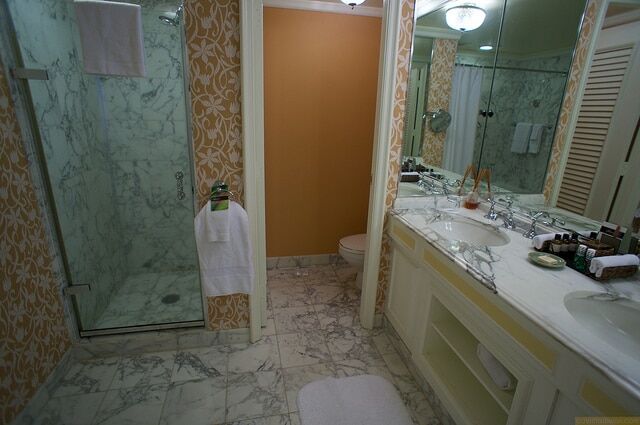 Fluffy towels and bath mats along with Le Labo brand, rose scented toiletries added extra luxury.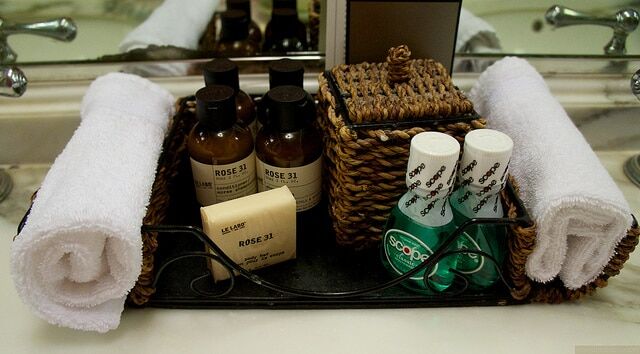 Other great in-room amenities included bathrobes, Keurig one-cup coffee makers and a phone, iPod, tablet charging station built into the nightstand.
Fairmont Gold level is golden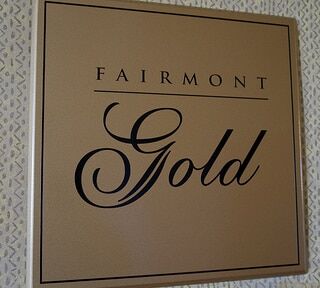 We were upgraded to the Fairmont Gold on the 6th floor which was such a treat. When we arrived to check in we were warmly greeted with kakui nut leis and escorted directly to the private Fairmont Gold reception desk. This personal touch from the start made us feel welcomed.
The Fairmont Gold lounge was stocked with complimentary (non-alcoholic) beverages and snacks. In the mornings, the lounge was stocked with fresh tropical fruit, yogurts, cereals and a hot item of the day such as a breakfast crepe.
In the afternoons, the lounge was stocked with cheese, appetizers and snacks. Alcoholic beverages were available on an honor bar system.
The Gold Floor staff were very friendly and helpful. They helped us arrange a day rental of a private oceanside hale and a late checkout with a fee. They were also happy to provide dinner recommendations and reservations as well as activity suggestions.
The pool and oceanside services
Complimentary loungers were available around the pool and at the beach. For an upgrade, cabanas for two could be rented for the day. If I remember correctly the fee was approximately $50 to $75 per day depending on location. The rental fee included an insulted basket cooler filled with water, chips, macadamia nuts and fruit.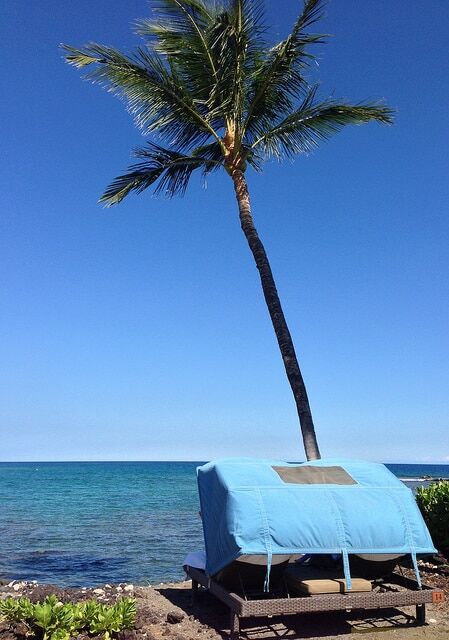 We splurged on a rental of a private oceanside hale for a day for approximately $200. That included much more privacy and a basket of snacks, fruit and drinks.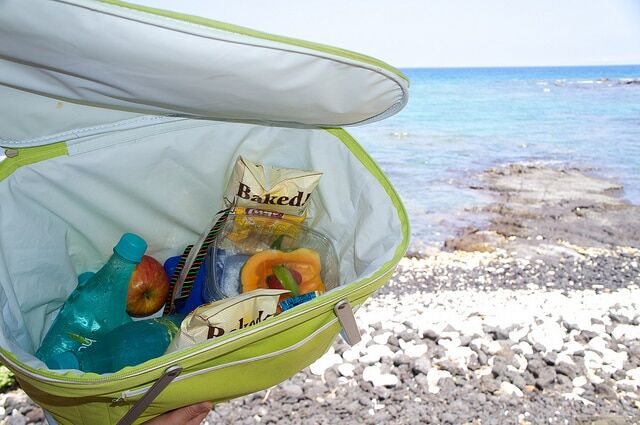 Servers were available throughout the poolside area to serve food and drinks.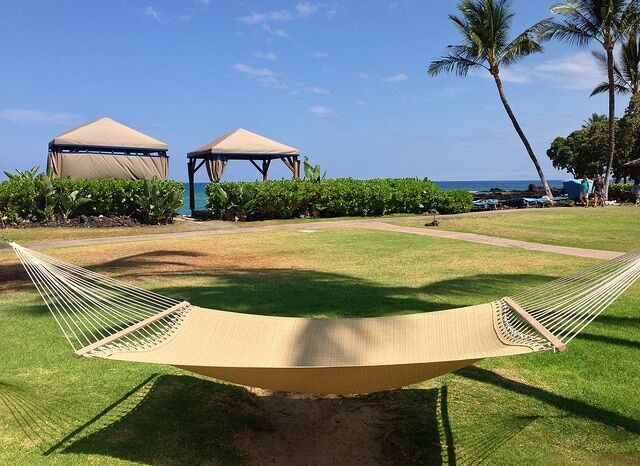 Restaurants
The resort offers a nice range of restaurants from very casual to fine oceanside dining. Brown's Deli offers quick, takeaway meals for breakfast and lunch. Luana Lounge offers small plates while unwinding at the end of the day. The tables at Hale Kai sit in the sand. One of our favorite romantic restaurants on the island is Brown's Beach House.
Other great restaurants are available within the Mauna Lani Resort. Some are within easy oceanside walking distance.
Resort amenities and services
Though we didn't have time to schedule a spa treatment, the resort's Spa without Walls looked fantastic. What does a spa without walls look like? Here's a photo of an oceanside spa hale.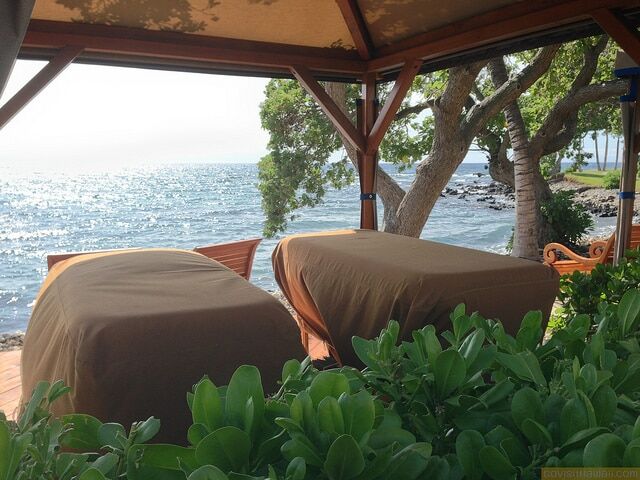 Other spa hales were strategically tucked into the tropical grounds by waterfall features.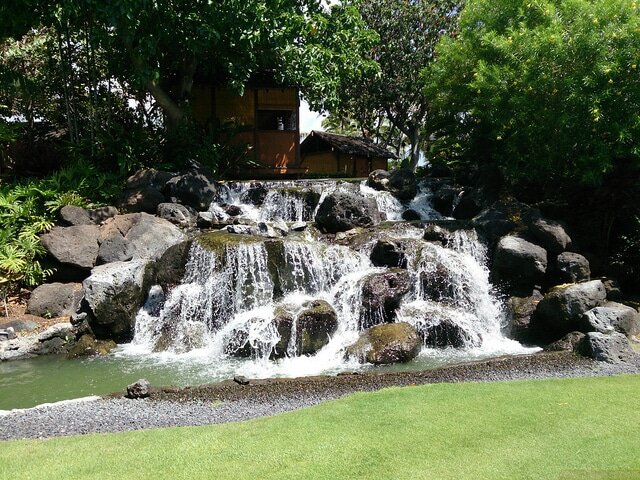 Van shuttle service was conveniently available to shuttle guests throughout the Mauna Lani resort — to the Shops at Mauna Lani, resort golf courses, the Mauna Lani Bay Hotel and the Mauna Lani Beach Club.
The fitness center looked very well kept with up to date cardio and strength equipment.
Video tour 
Please enjoy our short (1 minute 51 second) video tour of The Fairmont Orchid.

(Email subscribers: click here to view the video embedded in the post.)
More good stuff to know about Fairmont Orchid
– Access more reviews of this resort via this TripAdvisor link.
– See more photos from our stay at The Fairmont Orchid.
– The resort has recently implemented a daily resort fee that includes wifi service, self-parking, local and domestic long distance calls, fitness center access, and one-hour snorkel equipment rental plus great cultural activities like outrigger canoe rides and cultural hikes.
—
Note that amenities, policies and pricing is very much subject to change. Check the website for Fairmont Orchid for all their current information.