Big announcement! Travelzoo partners with Go Visit Hawaii to provide Hawaii deals

We're very excited to announce that Travelzoo is partnering with Go Visit Hawaii  to provide amazing deals to help you experience more Hawaii with less money!
You'll find deals on pampering spa treatments, fun activities, local entertainment, restaurants and Hawaii hotel (getaway) stays. Whether you're a visitor or a kama'aina, you'll find great Hawaii deals to help you save as you explore the islands.
With over 26 million subscribers worldwide, Travelzoo is the largest publisher of deals on the Internet. Their team spends hours researching, evaluating and testing every single offer they publish to ensure it the best deal out there, is accurate, available and easy to book. On average Travelzoo deals save at least 50% off the original price.
Go Visit Hawaii is the first Hawaii travel site to partner with Travelzoo. Annalisa Henderson, Senior Parnership Manager at Travelzoo, says
"Travelzoo is pleased to be partnering with Go Visit Hawaii. We pride ourselves on being a trusted publisher of travel, local and entertainment deals, and Go Visit Hawaii's similar philosophy in being a trusted advisor for their audience makes the partnership a natural fit."
You can check out the current deals at GoVisitHawaii.com/deals or by clicking on the Deals tab from the orange navigation bar at the top of Go Visit Hawaii.
The following image shows a sampling of the current Hawaii deals powered by Travelzoo. You can save on 50% off a two-hour underwater scooter and snorkel excursion, 50% off an Oahu sunset catamaran cruise and 58% off a massage and facial in Waikiki.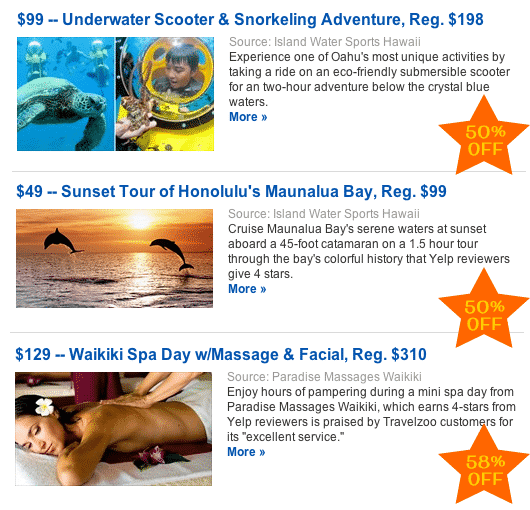 The deals will change frequently. At the moment, the deals page has an Oahu and Maui flavor, but there will be deals for the other islands as well. We recommend you check the deals page regularly. We'll also highlight deals we think are extra, extra special.
We are pleased to be able to provide a new way to help you save money while traveling in Hawaii! Bookmark GoVisitHawaii.com/deals page to keep up to date on the current deals.