Long-haul flight tips to and from Hawaii: Choose best flights & seats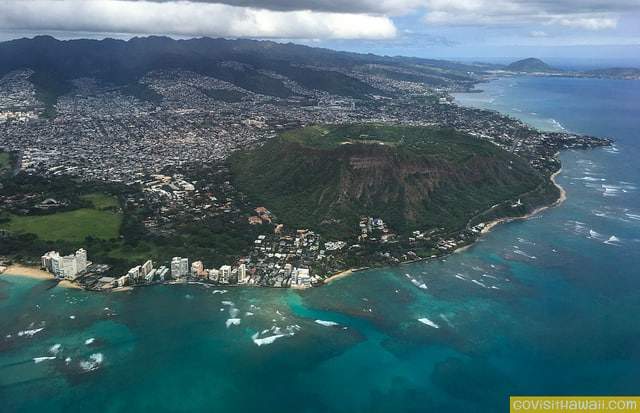 The first post in our new series of Hawaii flight tips starts the important first step of choosing the most comfortable flights and seats.
Let me preface this post by saying airline seats, especially economy/coach seats, are not known for comfort. So, our advice in this article is aimed at making an uncomfortable situation as comfortable as possible.
Please note that each airline has their own policies. Our advice is based general policies that we've observed and experienced.
Choose your flight wisely
The process of getting the best possible seat starts at the booking stage. It's important to consider your options before you purchase. Our top priorities when choosing flights to Hawaii are:
Minimize connections. By minimizing connections, we also minimize total travel time. We want to get to Hawaii as quickly as possible and the less time spent in airports and on planes, the better. With flight delays seemingly on the rise, less connections also translates into less opportunities for a delayed or cancelled flight.
For the longest flight, we try to choose a flight with an aircraft that's a 767 or larger. Why? Because 767s have a 2-3-2 seat configuration in economy/coach. So, we have a better chance of getting two seats together without having to sit in the dreaded middle seat. 757s usually have a 3 and 3 configuration in economy/coach cabin. The chances that one of us will have to sit in a middle seat for 6+ hours increases drastically in that configuration. Some airfare booking engines allow you to see seat availability. If not, check the airline's website for seat availability by entering the flight number and date into their availability checker. Another reason we look for larger planes is that if we should get upgraded to first or business class, the bigger the plane, the nicer the seats are in first and business class.
Choose your seat wisely
All economy seats are not created equally. I cringe at the thought of sitting in a middle seat in the back of the plane. That's the worst assignment, in my opinion. To get the best possible seat, try to get a seat assignment as soon as possible when/after you book your flights.
We recommend avoiding center seats, unless your family/group prefers to sit together in close quarters. We also recommend avoiding the back of the plane where you'll hear engine noise, which can be tolerable at first, but eight-hours worth might grate on your nerves.
Where are the best seats? Here are some useful tips for choosing your seat:
Obviously first and business class seats are the most comfortable on the plane, however they can be cost prohibitive for most travelers.
SeatGuru.com provides excellent analysis of airline seats. It tells you where the best and worst seats are and why. We always consult with SeatGuru as we're choosing seats.
Since we normally fly to Hawaii on 767s, we try to choose two seats together in a window and aisle. If we are unable to get a window and an aisle seat together, our next step is to look for two aisle seats near each other.
Exit row seats offer more space and leg room. If you luck into an exit row seat by the window, make sure you have warmer clothing that you can layer on as the seats by the emergency exit doors are chillier.
Bulkhead seats can be a blessing and a curse. The best part about a bulkhead seat is that you won't be cramped by the person reclining in the seat in front of you. You have more freedom of movement in bulkhead seats. They can also offer a little more leg room, though that's not always the case. The downside is that you have to find an overhead bin to stow every item you carry onboard for take off and landing, which can get tricky if you don't get to board early.
Economy seats that come with extra leg room, like American's Cabin Extra and United's Economy Plus, may cost slightly more. In our experience, we generally think the extra space is worth the spend to make the seating more pleasant.
What if you didn't get a good seat when you booked?
Approximately 72 hours before the flight, elite frequent fliers may be upgraded to first class. Start checking for better seat availability either online or by calling customer service within that 72 hour window. Continue to politely check at the gate.
Another trick is to check with a ticket and/or gate agent for the possibility to upgrade on the day of the flight. It may cost $200 or more, but sometimes that comfort is worth it — especially if you are on a red-eye flight. Also, even with the additional upgrade fee, often times the total price paid for your flight will be less than if you'd purchased a first class ticket in the first place. Over the years, we have successfully upgraded to Hawaii and beyond on United, Air New Zealand, Air Tahiti Nui and British Airways at the airport ticket counter.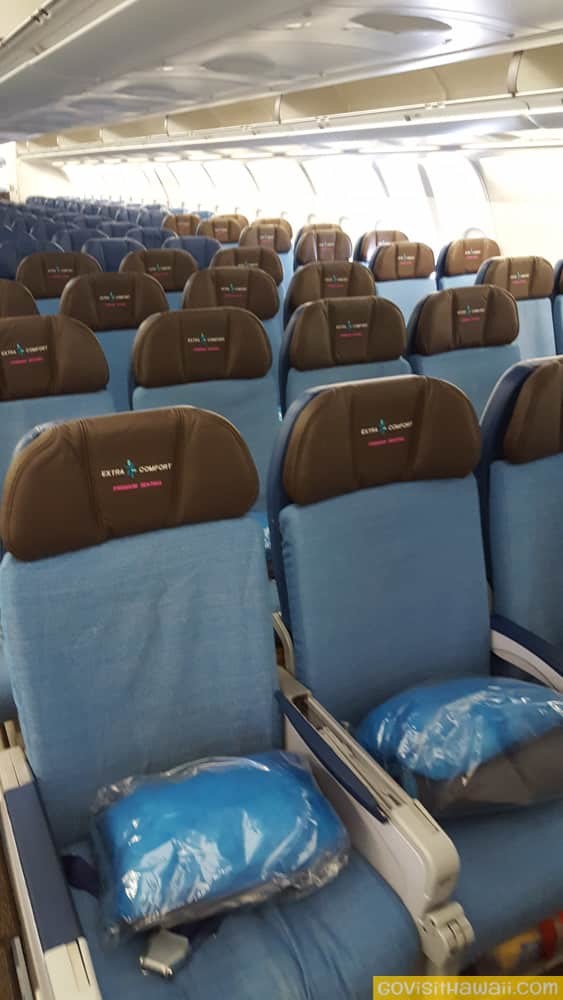 Tricks for making an economy seat more comfortable
As I previously mentioned, there's nothing inherently pleasant with economy/coach airline seats — especially when you're confined to it for the better part of 6+ hours. A couple of tricks we've used to make our seats more comfortable are:
Create your own lumbar support. We've used the fleece blankets and pillows that many airlines provide on long flights. You could use a rolled up sweater, shirt, etc to make your own lumbar support.
Keep yourself entertained and distracted. Bring reading material. Download a movie onto your phone or tablet. Listen to music. Bring (or purchase) earbuds to watch inflight movies if they're available.
If you hope to sleep on your long flight, bring neck pillow, eye mask, and ear plugs and/or earbud to listen to calming music.
If you are shorter, say 5'5″ and under like me, your feet may not comfortably rest on the floor. Use one of your carryon items, such as a backpack, as footrest.
Wear comfortable clothing and shoes you can slip off. We'll talk more about shoes and clothing further in this series.
Unless you are flying on Hawaiian Airlines, you will probably not get complimentary snacks or a meal. Most airlines provide food for purchase, but their pricy and options are limited. Bring snacks to keep your stomach happy during the long flight.
Bring water and non-alcoholic beverages to keep you hydrated. You'll need to either bring an empty reusable water container with you or purchase water after you've passed through security in the airport.
What other tricks have you used to get the best seats and flights to Hawaii?
—
See the other two articles in this series: