Contest: Predict the first humpback whale sighting for 2013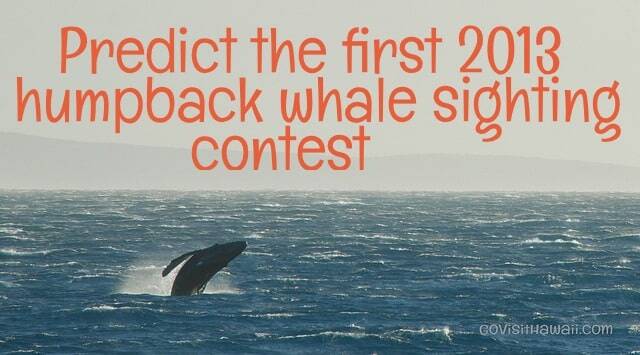 As Autumn and Winter are right around the corner, it's safe to say that thousands of humpback whales are making plans for their annual Hawaii vacation to give birth and breed. Some whales may even be en route from the Gulf of Alaska as we speak.
Though the humpbacks begin arriving in August, September and October, the peak season is from January to March, plus or minus a few weeks. The first humpback whale arrival triggers excitement around Hawaii. The season definitely makes Hawaii a special place to visit in winter months. Watching 40 ton whales leaping from the ocean and making a huge splash never gets old.
With last year's first humpback arrival being the earliest on record, August 30, we're not taking any chances with our annual contest for 2013. We're posting the 2013 contest in early August instead of early September as we have done in years past.
To assist you with your prediction, we're listing the first Hawaii humpback whale sightings in recent years:
2006 – October 11
2007 – October 7
2008 – October 8
2009 – October 20
2010 – October 20
2011 — September 26
2012 — August  30
The winner of the contest will receive this lovely, double-matted, 8″ x 10″, signed plumeria print by Hawaii artist Mike Carroll.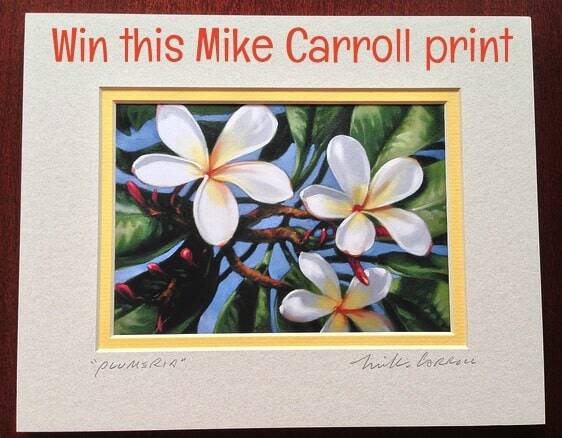 Here's how the 2013 contest will work:
Pick the earliest date you think the first whale sighting will be this year.  Enter your prediction in the comments for this blog post. (Sorry facebook friends, but this time only blog comments will be eligible. It's easier for me to keep track of all the guesses in one spot here on the blog.)
The closest prediction without going over will win a prize.
You must use a valid email address so that I can contact you when/if your prediction is correct. Note that your email address will not be visible on the comment.
In the event of a tie, I will randomly select a winner from the tied predictions.
We'll use Hawaii newspapers and news stations as our source to determine when the first whale has been seen this season.
One entry per person will be accepted.
Anyone from around the world is eligible to enter. One year our winner was from Milano, Italy.
Entries will be accepted through October 1, 2013.  In the event that the first whale sighting is before October 1, 2013, valid entries will accepted through the day before the reported sighting.
When do you predict Hawaii will have this year's first whale sighting? Enter your prediction in the comments!