Halawa Valley Cultural Experience & Waterfall Hike
Each bend around the narrow, winding road to Halawa Valley revealed a peek towards the green valley as well as the striking East Molokai coastline.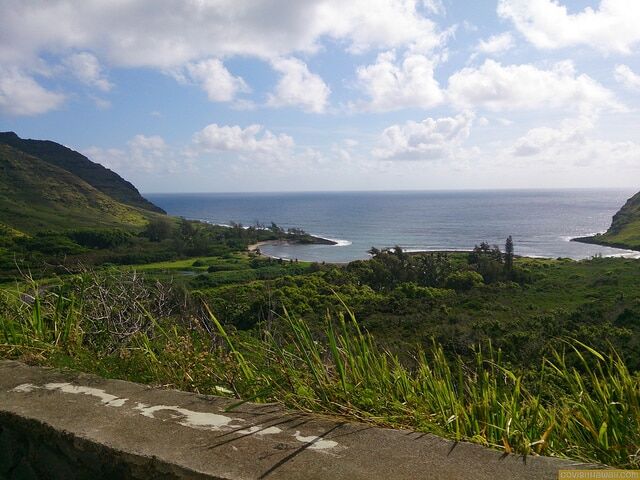 After reaching the end of the road (Highway 450), we met our guides at Halawa Beach Park Pavilion. There we signed waivers, then listened a briefing of the Hawaiian protocol we were about to experience.
We were also accompanied by Keoho Au of the Molokai Visitors Bureau. Keoho wrapped us in beautiful green kihei (a traditional Hawaiian cloth) with leaves printed on the fabric. Wearing the kihei made us feel like we were dressed for the occasion.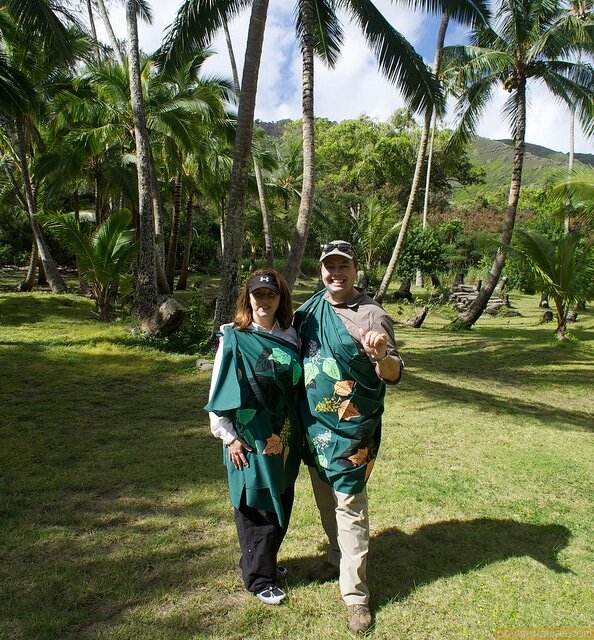 The Hawaiian protocol of approaching someone's land and requesting permission to enter
We followed our guide Gregory Kawaimaka Solatorio and his cousin Sean towards the valley. As we approached, Gregory blew the pu (conch shell) to announce our presence and approach. From a distance, we waited until we heard a response also by pu. This response meant that it was okay to approach so we walked closer.
Once the two parties could see and hear each other — approximately 50 yards apart, Keoho chanted in Hawaiian to tell the landowner who she was by ancestry and the purpose of our visit.
The landowner, Pilipo Solatorio, reverently and more affectionally called Anakala (uncle) Pilipo, chanted in Hawaiian. Though I understood very little of his chant, I did hear him saying, "E komo mai" which is the Hawaiian phrase for welcome. With this permission, we walked closer to Anakala Pilipo surrounded by his grandchildren practicing this traditional with him.
This Hawaiian protocol includes a ho'okupu — a ceremonial presentation of gifts offered to the landowner/chief. This tradition is much like the mainland etiquette of visiting someone and bringing a gift to thank them for their hospitality. Keoho had prepared the ho'okupu which I believe was fruit wrapped in banana leaf.
When we were within feet of each other, we practiced the honi — the Polynesian greeting of pressing foreheads together and breathe in each other's ha (breath of life.) We were also presented with a lovely ti leaf lei for good luck.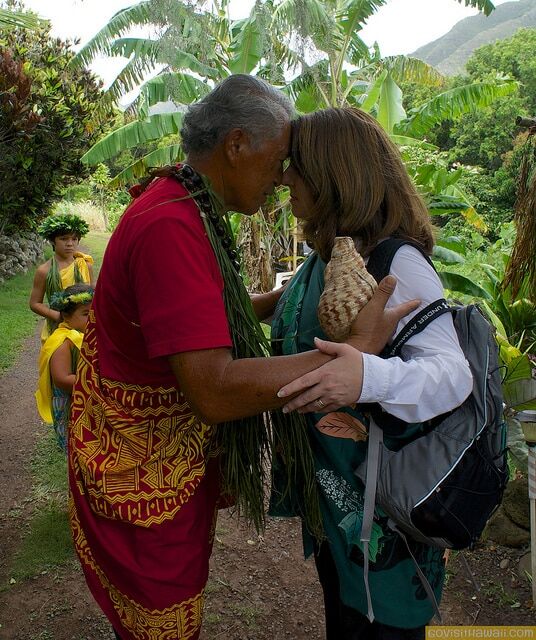 Talk story with Analaka Pilipo Solitorio
Anakala Pilipo invited us to come inside the Hale Ike O Halawa — a hale (house) designated to share knowledge about Halawa Valley.
Anakala grew up in Halawa Valley which was home to 5,000 Hawaiians at one time. Halawa Valley is thought to be one of the first Hawaiian settlements with the oldest Hawaiian artifact found in the valley dating back to 650 AD.
Halawa Valley had flourished as a home to Hawaiians over the centuries, but in 1946 a tsunami destroyed much of the valley and carried homes out to sea. Obviously, the population declined drastically after that tragic event.
As a child, Anakala Pilipo was chosen by his grandfather to be the cultural practitioner. As Anakala explained, the selection wasn't a random one. His grandfather observed the male grandchildren very carefully in order to select the grandchild that seemed to exhibit the most interest and potential to carry on the family's culture.
As Anakala shared insights about Hawaiian culture, his eyes would fill with tears at times. His passion to carry on the cultural traditions was very evident. This responsibility didn't come easily to Anakala. He didn't come to a full understanding of the honor and responsibility to carry on the traditions until he was 60 years old.
Anakala shares his grandfather's philosophy of blending Hawaiian ways with American culture and modern advancements. His grandfather told him to take what you can use and blend it to move forword. One example he gave was that he likes his weed eater which makes his taro farming much easier to do.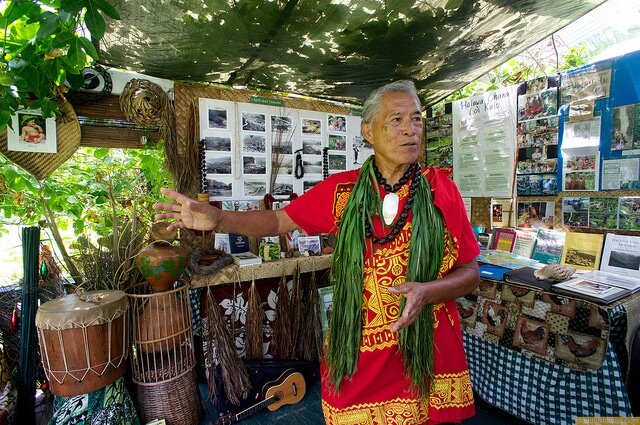 Hike to Mo'oula Waterfall
Though we could have listened to Anakala talk all day, we also had the waterfall hike in our plans. Anakala's son, Gregory, and nephew, Sean, guided us through this 3.4 mile roundtrip hike.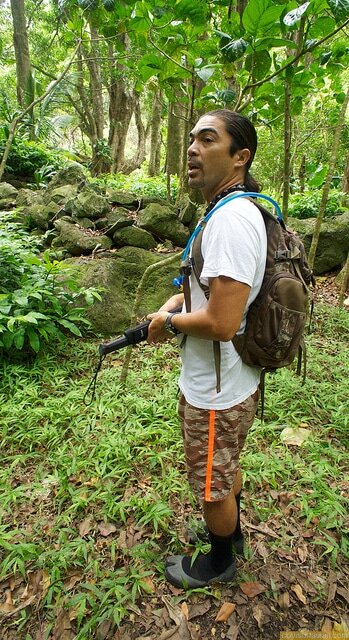 The hike was relatively easy with a gentle slope up to the waterfall. The only challenges were a couple of stream crossings.
As we hiked, Gregory highlighted some of the trees, plants and shrubs and their significance.
When we got to Mo'oula Waterfall, we relaxed and ate our lunch as we enjoyed the sights and sounds of the water dancing off the lava rock wall.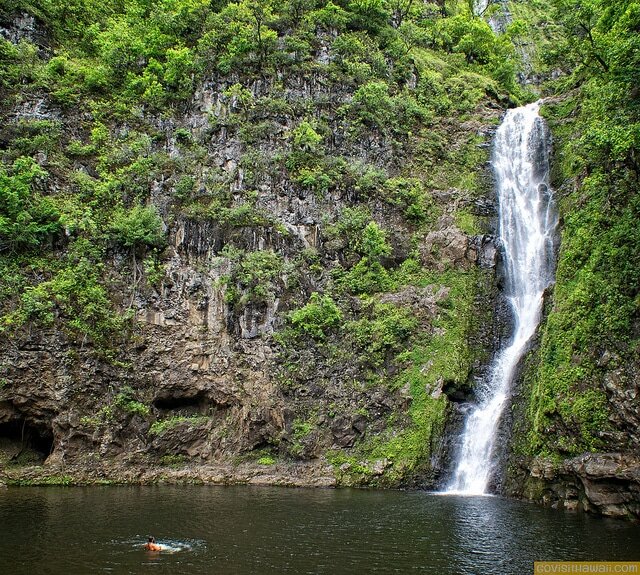 Video
Our video provides more insight to the Halawa Valley Cultural Experience & Waterfall Hike.
(Email subscribers: click here to watch the video on this Halawa Valley post page.)
When we set out to Halawa Valley, we knew we had plans to hike to a waterfall, but we experienced so much more.
What to know when you go:
– Halawa Valley is private property. You must make arrangements with the Solitorio family to take the hike. You can make these arrangements through HalawaMolokai.com, at the Fish & Dive Shop in Kaunakakai or at Hotel Molokai.
– The fees for the guided hike are $75 for adults and $45 for keiki (children) between the ages of 6 to 12 years old.
– Wear mosquito repellant! We wore long-sleeved shirts and long pants for additional protection.
– Wear shoes that are designed for walking on uneven surfaces and in water.
– Bring water.
– Bring a snack or light lunch to have at the waterfall.
– Wear a swimsuit and bring a towel if you want to swim at the waterfall.
– See more of our photos from visiting Halawa Valley