Top Hawaii July 4th Fireworks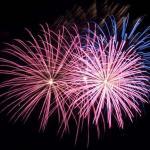 Hawaii sure knows how to celebrate a holiday. July 4th is no exception as you'll find spectacular fireworks displays filling the Hawaiian island skies.
If you're going to be in Hawaii for the 4th of July, we wanted to highlight the best places to catch fireworks displays on each island. Even if you'll be outside of Hawaii for the holiday, perhaps this list might be useful/inspiration to visit Hawaii for a future Independence Day.
OAHU
Oahu celebrates the holiday on both July 3rd and July 4th with big fireworks shows. Aloha Tower Marketplace in Honolulu hosts the July 3rd fireworks show. While the biggest July 4th fireworks show is hosted by Ala Moana Center in Honolulu and near Waikiki Beach. For details on these events and more see our post on Waikiki, Honolulu, Oahu July 4th Fireworks & Events.
MAUI
Lahaina is the place to be for Maui's biggest official fireworks show. For details on that event plus others, see our post Maui July 4th Fireworks and Events.
HAWAII, THE BIG ISLAND
On Hawaii Island, you have three excellent firework show choices in Waikoloa Beach Resort, Kailua-Kona and Hilo. Our recommendation would be to attend the fireworks display nearest to your accommodation. For information on Hawaii Island events, see our post July 4th on Hawaii, the Big Island.
KAUAI
The big fireworks show for Kauai is hosted in Lihue in support of Kauai Hospice. For more information on that, see Kauai July 4th fireworks.
—
While we're on the topic of fireworks, we thought we'd share our post on 10 tips for taking awesome fireworks photos on Hawaii or anywhere.
We wish you a safe and happy July 4th wherever you may be!