Fireworks & July 4th Events in Waikiki, Honolulu & Oahu 2013
**** UPDATE for 2016 —  Click this link for —> 2016 fireworks and events for July 4th on Oahu. ****
—
The following information is from 2013 for reference and informational purposes only. See our 2016 list of Oahu July 4th fireworks and celebrations.
If Waikiki is your destination for July 4th, we've prepared a comprehensive list of the top fireworks shows in and around Waikiki, Honolulu and the island of Oahu.
July 4th is an excellent time to be on Oahu. With fireworks displays, music and great food around the island, you'll find fun ways to celebrate Independence Day. There's so much going on for the holiday, that events actually begin on July 3rd!
Wednesday, July 3rd – Aloha Tower Fireworks – Honolulu
Aloha Tower Marketplace continues their tradition of fireworks and entertainment on July 3rd once again for 2013. Their pau hana (after work) event begins at 5pm with entertainment, live music by local favorite bands and food booths. This kid-friendly event includes balloon artists, face painting and a kid-friendly magician.
The main event — the Aloha Tower fireworks show — starts at 8:45pm. The pau hana and fireworks celebrations are free and open to the public from 5pm to 9pm.
After the fireworks, there's a paid event — Trinidad James and Luminox concert. The paid event starts at 10pm. Tickets start at $45 and are available on TicketMaster.com. For additional information on this event, call Aloha Tower Marketplace at 808-566-2337.
Parking in and around Aloha Tower Marketplace is very limited. If you'll be coming to the fireworks show from Waikiki, public transportation by TheBus would be your best bet. You can also get there via the Red Line Trolley, but you'd have to return via another method. See more transportation to Aloha Tower Marketplace details.
For some interesting and alternative Aloha Tower fireworks vantage points consider these options:
Our friend Dave from Oahu tells us that you can a great fireworks view from Sand Island State Recreation Area. From there you could watch sunset, have a picnic and watch the Aloha Tower Marketplace fireworks away from the crowds. If you opt to watch the fireworks from Sand Island, it's best to drive there, otherwise, you'd have a long walk to and from nearest bus stop. To create directions, see this google map.
Star of Honolulu is offering cocktail and fireworks cruises. For more information, check this link and/or call 1-800-334-6191. The additional $12 per person for roundtrip transportion in an air-conditioned bus to and from Waikiki is highly recommend for convenience.
Thursday, July 4th – Ala Moana Center Fireworks near Waikiki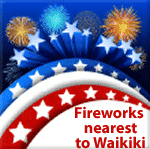 Ala Moana Center hosts one of the biggest July 4th fireworks shows in the state of Hawaii. The fireworks show is set for 8:30pm, though the evening festivities begin at 5pm with an Outdoor Concert on the Parking Deck at Mall Level 2 on the ocean side. Entertainers include Pacific Fleet Ceremonial Band, Lehua Kalima, John Cruz, Ho'okena, and Neasian N.I.N.E. This outdoor concert is scheduled from 5pm to 8pm.
The Ala Moana Center fireworks and outdoor concert are both free and open to the public. If you'd like to do a bit of shopping prior to the events, this shopping center is giving everyone a 20% savings pass to use at over 60 participating stores. For more information, see their website or call 808-955-9517.
Ala Moana Center is located at 1450 Ala Moana Boulevard in Honolulu. To get there from Waikiki, you can drive, take the bus or trolley or walk. See this link for transportation options. To generate your own driving, bus or walking directions see this google map link.
For some interesting alternative views of the Ala Moana Center July 4th fireworks, consider these options:
The Star Of Honolulu is offering a number of dinner and cocktail cruises to see the fireworks and Honolulu city lights from the ocean. Pricing starts at $50 per person. See this

link for the cruise options

. We recommend you book quickly if one of these cruises is of interest to you. We also recommend taking advantage of their transportation from Waikiki and Ko Olina for the ease and convenience. 

Additional options TBD
July 4th North Shore Fireworks and Celebration at Turtle Bay Resort
If you're stay at or around Turtle Bay Resort on Oahu's North Shore, you won't have to venture far to enjoy great 4th of July festivities hosted by Turtle Bay Resort. The celebration will be held near the resort's stables with gates opening at noon.  Food, live music and fun in the sun will highlight the day followed by a fireworks display at dark. See more about Turtle Bay's July 4th events.
Turtle Bay Resort is located at 57-091 Kamehameha Highway in Kahuku on Oahu's North Shore. For more information call 808-293-6000.
Neighborhood July 4th Parades and Fireworks around Oahu
The beach town of Kailua hosts their annual July 4th parade including 40 vehicles, 40 floats and four bands. The parade starts at approximately 10am at the intersection of Kainalu Drive and Palapu Street. The route will follow Kainalu Drive to Kailua Intermediate School. 

Kailua fireworks will light up the night sky from Kailua Beach Park at approximately 8pm. For more information, see this link.
Maunalua Bay near Hawaii Kai is making plans to host entertainment and fireworks. For more information see their website.
Miscellaneous Independence Week/Weekend Fireworks 
Friday July 5th – Waikiki Fireworks from Hilton Hawaiian Village is a wonderful Friday  night tradition. The fireworks display typically starts at about 7:45pm. See our Hilton Hawaiian Village fireworks post for tips for catching this show. 
Other events TBD
Military Celebrations for July 4th
July 4th Beachfest at Hickam Harbor from 11 am to 5pm 8:30pm. Update: this event has been extended and now lists fireworks at Weyand Field, Schofield Barracks!  This event is free and open to all military affilliated and DoD ID cardholders. For more information, see this flyer.
42nd Annual 4th of July Spectacular with One Republic and Switchfoot takes place at Scofield Barracks. In previous years, this event was open to the public, however, for 2013, this event is open to DoD ID cardholders and their authorized guests. See this link for more information.
Notes:
– Mahalo to all these sponsors and event organizers!
– All these Oahu events for Independence Day were accurately reported at the time of publishing.
– Updates and details will be provided as and when they are determined. You may want to bookmark this page to check back for additions and changes.
– Events are subject to change without notice.
– Many visitors anticipate there might be July 4th fireworks in Pearl Harbor. While that would make a great patriotic spot for July 4th, there are no Pearl Harbor fireworks planned.
– Have a safe and happy July 4th whether you're on Oahu or beyond!
If you are a journalist or blogger using this post for researching an article you are writing, kindly do what's pono (proper) and provide a link back to Go Visit Hawaii. This work is a result of many hours of my very own research, long distance phone calls, emails, contacts, etc.