Aloha Friday Photo: Aloha Rainbow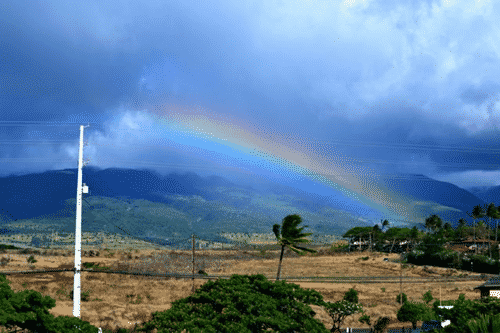 We love hearing your Hawaii vacation memories along with the photos you share for Aloha Friday Photos. The stories behind the photos adds extra life, interest and connection. Such is the case for today's photo that shared with us by Fidel.
Fidel and his family visited Hawaii for the first time in May last year. Here's what Fidel shared about his photo:
the rainbow shot was taken on our last afternoon in Hawai'i from the kitchen window of our resort (the Westin Ka'anapali Oceanfront Resort) as if Maui (and Pele) are bidding us "Aloha, until we meet again!"  That day was sunny, bright and warm.  The clouds rolled over the mountain as we were preparing to leave for dinner and I waited (to the chagrin of my family!) to take the photos.  Hula Grill was kind enough to honor our reservation when we came in late and sat us with a beautiful view of the ocean and the sunset (and more photos).
Ah, I can easily imagine this scene – being captured by the rainbow's appearance during those last magical moments on Maui. Can you relate, too?
Mahalo to Fidel for sharing his photo and Maui vacation memory with us!
—
Do you have a Hawaii vacation photo that you'd like to share? See how you can submit your Aloha Friday Photo.