Yummy stops: barbecued corn on the cobb from Oahu's North Shore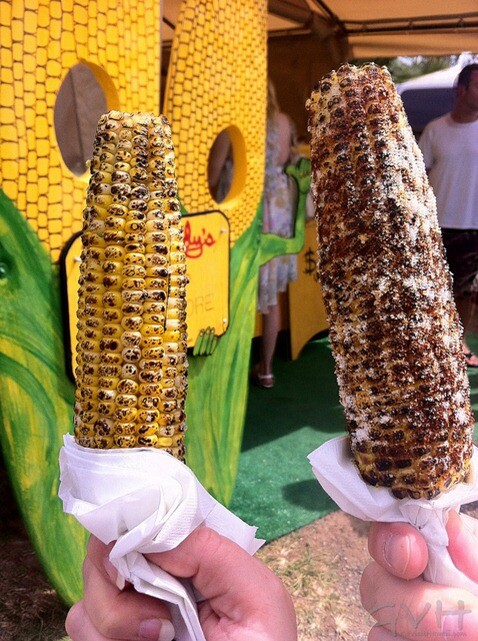 As we were recently taking a scenic drive on Oahu's North Shore, we passed by the famous shrimp trucks.  We were saving room for a burger from Kua Aina in Haleiwa, so we weren't planning on stopping.
As we passed the Giovanni's truck, I noticed a bright yellow sign for barbecue corn. I've heard about how sweet and tasty North Shore corn is from Kahuku, so I asked Andy to turn the car around so that we could give it a try.
After parking, we walked over to the colorful stand and met the owner, "Uncle Woody". He was busy grilling corn that was just picked that morning. You can't get much fresher than that.
When we visited this BBQ corn place, they served two styles of grilled corn with their own specially blended spices. The two options available in 2012 were:
Island Style – butter, black pepper, sea salt, and garlic salt.
Baja Style – butter, mayo, lemon-lime juice, Baja seasonings and parmesan cheese.
We purchased one of each style to share. They were both delicious, but I think we liked the simplicity of the Island Style best.
If you're in the area and you want a snack or something extra to go with your North Shore shrimp, we recommend a stop.
Unfortunately, there's no seating area. We knew if we ate the corn in the car, we'd have a mess all over our shirts and lap, so we ate it while standing outside the car.
Uncle Woody's BBQ Corn stand is open every day between 11am and 5pm. Though opening hours are subject to change. It's located just behind Giovanni's Shrimp Truck (56-5505 Kamehameha Highway) in Kahuku. The cost was $3 each in 2012. Pricing is subject to change.