Maui July 4th Fireworks & Events
2016 UPDATE:
Click this link for information on –> Maui July 4th Fireworks & Events 2016
—
The following list is from 2012. For information on 2016 events, see the 2016 Maui July 4th fireworks and events list.
If you're going to be on Maui to celebrate Independence Day, you'll find a full day's worth of fun events starting with a morning parade and finishing up with a fireworks show over the beautiful Pacific Ocean. Here are the top attractions on Maui for this July 4th.
Makawao 4th of July Parade & Rodeo
The small upcountry town of Makawao celebrates their ranching history with their annual rodeo festival. Festivities begin at 9am and go through noon.  The parade starts at the lower end of Baldwin Avenue, follows up Makawao Avenue, then ends at Eddie Tam Center. See this Google Map of Makawao to calculate directions.  For more information and park and ride options,  call 808-572-9565.
Visitor tip:  you might consider planning your visit to Haleakala summit for sunrise the morning of this parade. Makawao is located in Maui's upcountry and is not very far from the main drive to and from the resorts up to the summit of Haleakala.
July 4th Concert in the Park
From the Library Lawn on  Lahaina's Front Street, you can enjoy the Maui Community Band and other performers before the big Lahaina fireworks show (listed below.) This outdoor concert is free and open to the public. The concert begins at 5:30pm. For more information, see this link.
Lahaina Fireworks
After enjoying the Concert in the Park, watch Maui's big fireworks show that's set to start at 8pm. You can watch the fireworks from the shoreline along town, oceanfront restaurants and from special fireworks boating cruises. Restaurants and cruises book quickly, so don't delay making a decision if those are of interest to you. Here are the cruises that are available at the time of publishing: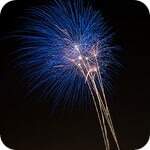 – Sold Out, with a waiting list — Pride of Maui July 4th fireworks dinner cruise – this cruise departs at 6pm and is set to return at 9:45leaves. For pricing and menus, see this link to the Pride of Maui cruise.  With parking in Lahaina being challenging to find at times, the it's a plus that this cruise leaves from Maalaea Harbor, where parking is easier to find and, to my knowledge, free.
– Pacific Whale Foundation – offers three different July 4th fireworks cruise options. Two of the cruises depart form Maalaea, which  are much easier for finding cheap/free parking. For menus and pricing, see this link for the PWF cruise options.
Notes:
– All these details for 2012 Maui July 4th events are accurately reported at the time of publishing.
– Bookmark this page and check back for potential additions.
Attention bloggers and journalists: If you use this post as part of researching your own article, please link back to Go Visit Hawaii. This comprehensive list is a result of many phone calls, emails, contacts, hours of research, etc.