Grand Gingerbread Village On Display In Waikiki
An amazing gingerbread village is on display at Waikiki's Sheraton Princess Kaiulani. It's so dreamy and beautiful, I'd like to move into this village. Wouldn't you?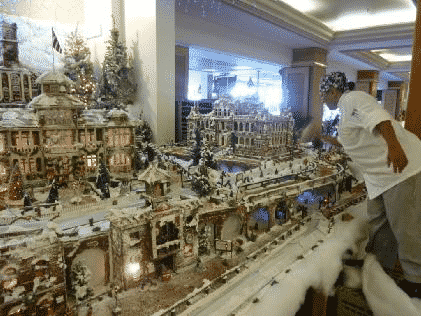 Sheraton Princess Kaiulani's Chef Bauer, Pantry Chef Amie Tungpalan, Executive Sous Chef John Hightower and the Engineering Department estimate that they spent over 750 hours designing, constructing and setting up the final art piece.  The village stands over 14 feet high and over 24 feet wide. It's constructed with 225 gallons of icing, 140 pounds of dark chocolate, 50 pounds of white chocolate, and 70 sheets of gingerbread.
Chef Bauer created this village to imitate the holiday spirit of quaint mountainside villages of his native country Germany. His creation includes medieval churches, bell towers, train stations, a carousel and a skating rink. Bauer does add a touch of old Hawaii too, with iconic structures including the Kawaihao mission church, the Moana Surfrider and last year's addition, the Iolani Palace which alone took over six weeks to build.  This year, Bauer includes the Aloha Tower as the latest addition to the historical gingerbread landmark creations. (Source)
This gingerbread village will be on display in the Sheraton Princess Kaiulani hotel lobby through January 2.
Here's a short video that shows photos of the village.
(Email subscribers: click here to access the video.)
For ideas of what to do for Christmas 2012 in Waikiki and Honolulu, click this link: Waikiki Christmas 2012 — Special Holiday Dining & Events