I don't know about you, but I've got Christmas shopping on my mind today. So, I wanted to revisit last year's gift idea post with some fresh ideas for what to get your friends and family that love the Aloha State.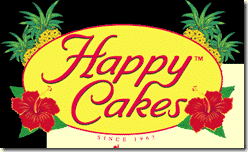 Hawaiian Happy Cakes –  I wrote this about Happy Cakes, "These moist and golden pineapple, macadamia nut and coconut cakes are crazy good!" Any sweet tooth on your list would enjoy a Hawaiian Happy Cake.
Macadamia nuts – Most any Hawaii fan goes nuts over macadamias. You can order Hawaiian mac nuts online at sites like Hamakua Macadamia Nut or Mauna Loa, but if you want to save on shipping, check your local grocery store, World Market, or Costco.
Volcano Island Honey Company – My jar of Rare Hawaiian Organic White Honey from Volcano Island Honey Company is almost worth more to me than gold.
Big Island Candies – Have a chocolate lover on your list? I bet they'd love a chocolate covered macadamia nut brownie. Big Island Candies offers a large selection of cookies, brownies, chocolate, and nuts.

Honolulu Cookie Company – For Christmas, the Honolulu Cookie Company is offering special holiday packaging of their delicious cookies. They have flavors like Pineapple Macadamia, Dark Chocolate Lilikoi, White Chocolate Coconut, and do I need to keep going? Holiday packaged gift  pricing starts at $4.95. See this link for more information.
Hawaiian Vanilla Company – After visiting the Hawaiian Vanilla Company a couple of weeks ago, I fell in love with their many vanilla infused products from salad dressings to teas to soap.
Photo books – You can create some beautiful, high-quality photo books from your own personal digital photos. Pick out your favorite Hawaii vacation photos to build your own book online. We made a photo book for my parents with photos from their Maui vacation. They really seemed to like it.  Shutterfly and Snapfish are two of the most well-known companies that offer photo book making services.
Hawaii Coffee –  The Big Island's Kona coffee is the most well-known coffee, but coffee is also grown on the Oahu, Molokai and Kauai. You can either order Hawaii-grown coffee online or look for it locally. I have found Kauai coffee in my local Walmart.
Music from Hawaii – With Amazon and other online suppliers, it's easy peasy to add to your Hawaii lover's music collection. Need ideas for artists? Check out our readers' list of favorite Hawaiian music.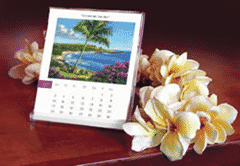 Hawaii prints and calendars – One of my favorite Hawaii-based artists in Mike Carroll from Lana'i. I've met Mike and his staff and they pay attention to detail in everything they do. You can find lovely, ready-to-frame prints starting at $23 from the Mike Carroll online gallery. I have already asked Santa for the Mike Carroll Island of Lanai 2012 desk calendar starting at $14.95 or purchase in packs of three or five for more savings.
Hawaii Photos – Our very own award-winning, Go Visit Hawaii photographer offers his best Hawaii photos for purchase.
I hope these gift ideas make your holiday shopping easier. What other gifts have you purchased for your friends and family that like Hawaii?