Don't Go To Hawaii Without: Rash Guard Top
Andy had been wearing a rash guard top in Hawaii for a few years before I discovered how awesome they are. I won't go to Hawaii without one now.
What makes rash guard tops so valuable?
The built in sun protection is the main reason I recommend a rash guard top. Whether we're kayaking, snorkeling, or just spending a day sightseeing or at the beach, these tops offer exceptional sun protection – usually the equivalent of SPF 50.
Since rash guards offer their own sunscreen, you don't have to use as much sunscreen. Plus you don't have to worry about missing a spot covered by your rash guard or reapplying.
Studies have shown that chemical sunscreens, especially ones with Oxybenzone, can be damaging to coral. With a rash guard top, less sunscreen required and less damage to the coral.
Surfers wear rash guard tops to protect their skin from scraping lava rocks and sand if they fall. So, when we wear our rash guard tops we feel like we look like a super cool surfer — well, sort of.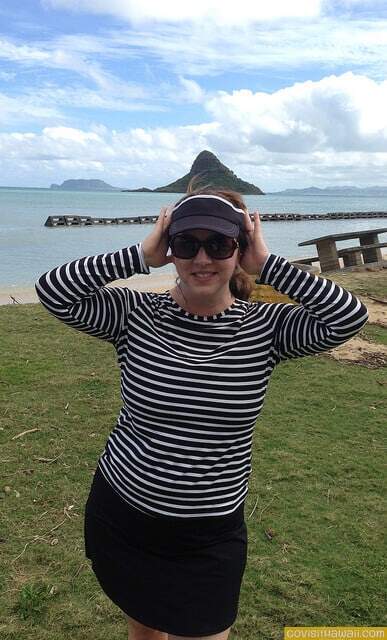 Where to buy rash guard tops?
Since rash guard tops are not commonly sold in department and discount stores, they can sometimes be tricky to find. The following retailers usually carry rash guards year round. We've seen rash guards spelled with one or two words, so try both options when searching online.
– Zappos (free shipping)
– LandsEnd.com
– REI.com 
– Hanes.com sells quick-drying, moisture-wicking shirts with UPF 50 built in. They're not advertised as rash guards, but we believe they can be used for the sun protection purposes of rash guard tops. They're the least expensive shirts we've found with UPF 50.
– When you're in Hawaii, stop in one of the surf shops in Hawaii.
Do you have a rash guard top? How do you like it? Where did you find your top?
—
Read the other posts in this series:
Don't Go To Hawaii Without: Moisture Wicking Long Pants
Don't Go To Hawaii Without: Shoes You Don't Mind Getting Muddy & Wet