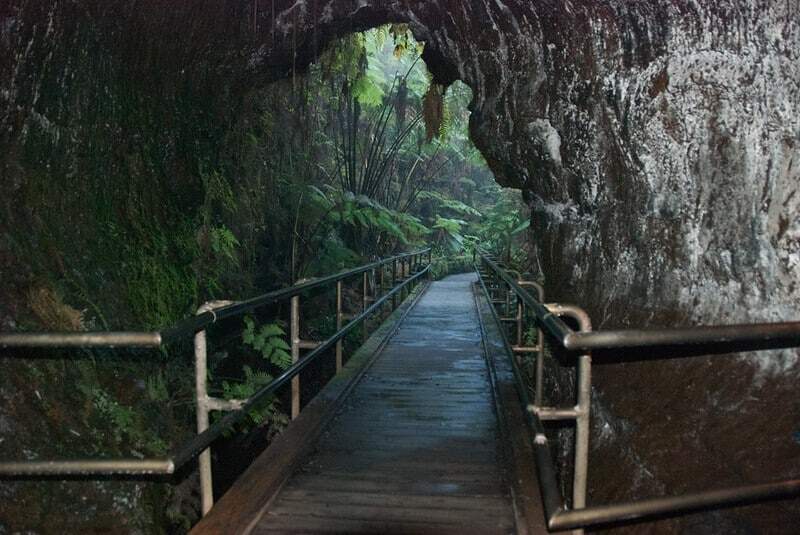 When you visit Hawaii, try to check out a lava tube, if you can. These cave-like structures are a amazing formations whether active or inactive for centuries.
What are lava tubes? They might be best described as pipes for underground lava rivers. Hawaii Volcanoes National Park has produced a nice little video with an explanation of lava tubes. (Email subscribers, please click here for the video.)
Where can you find lava tubes on your Hawaii vacation? Here's some top spots across the islands:
BIG ISLAND
– Thurston Lava Tube (the Hawaiian name is Nahuku) in Hawaii Volcanoes National Park is one of the finest to explore as you can walk through a large section of the tube.
– When lava is actively flowing to the ocean eventually, it forms a lava tube. Most likely, you will not be able to see the tube up close as the conditions are unstable and dangerous. You will, however, be able to see the effect of the lava reaching the ocean in the form of a plume of smoke and a red glow. For example, the following photo shows lava flowing to the ocean in 2017.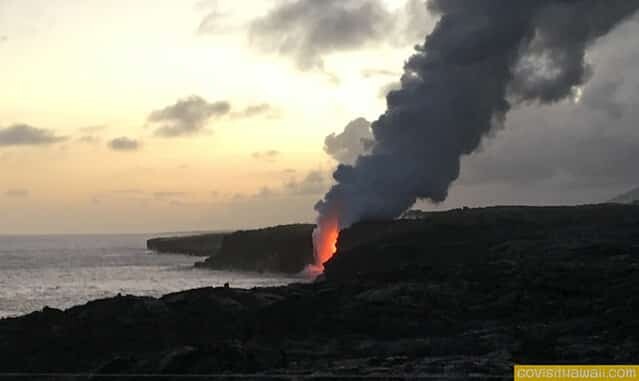 MAUI
– There's a fantastic lava tube at Waianapanapa State Park that's off the Road to Hana. The photo below shows a view from the interior of this short tube. To see this tube go to the black sand beach at Wainapanapa. Once you are on the beach and facing the ocean, you'll see an opening on the right side of the beach.
– Also off the Road to Hana is Kaeleku Caverns.
KAUAI
The most impressive blowhole in all of Hawaii is Kauai's Spouting Horn in Poipu. Ocean water enters the ancient lava flow tube until enough pressure builds to forcefully spew out the water. This next video shows Spouting Horn in action.
– There are several sea caves and lava tubes along the Na Pali coastline. If you're very fit and adventurous, see them by a kayak tour. For the less fit, a catamaran or inflatable speed boat tour will give you great views of the coast, plus a possible glimpse of a lava tube. (I've toured with Captain Andy's, Blue Dolphin and Kauai Sea Tours.) With a catamaran tour, you may want to mention to the crew that you'd like to see an old lava tube so they can point one out to you.
OAHU
– The only lava tube example that I know of is the Halona Blowhole which is off HWY 72 just past the Hanauma Bay entrance as you're heading away from Waikiki and towards Kailua.
—-
Have you seen any of these lava tubes or others on your Hawaii vacation? What did you think of them?