March Madness Monday Music Giveaway – March 14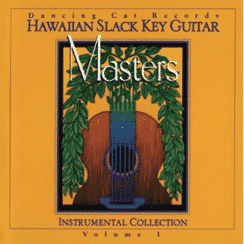 Let's continue our music giveaway fun. Today's giveaway is this Hawaiian Slack Key Guitar Masters Volume 1. It's an instrumental CD that will certainly lift your spirits and calm your nerves with a Hawaiian flair.
I chose a slack key guitar CD because it's a sound that was invented in Hawaii. It's very distinctive sound practically transports you to Hawaii as soon as you hear the first cord.
Listening to slack key guitar in Hawaii is one of my favorite sounds. (My very favorite Hawaiian sound is the sound of the tradewinds blowing through the palm trees.)  I'd like to know what's your favorite sound in Hawaii. So, for a chance at winning this week's CD, please comment with your favorite sound of Hawaii. For a chance at winning this CD, please enter your comment either here on this blog post or on this facebook post by the end of the day Wednesday, March 16, 2011.