Waikiki Beach After the March 11th Tsunami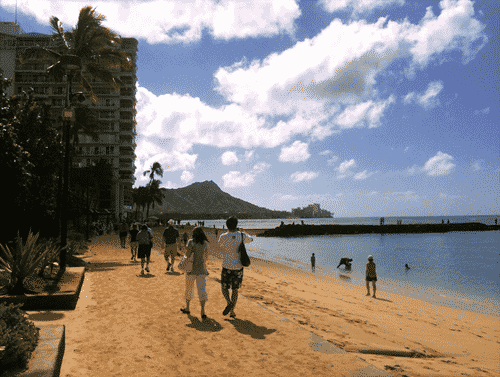 My friend, Dave from Oahu, sent this photo from Waikiki. Dave said, "The sidewalk is covered in sand but everything else seems to be OK."
There has been some isolated damage in Hawaii from today's tsunami, but by in large everyone in Hawaii is breathing a sigh of relief that Hawaii was mostly spared.
The Hawaii Visitors and Convention Bureau issued a statement about today's tsunami saying, "Travelers heading to Hawaii should continue do so with confidence after checking with their airline as there may be some temporary delays."
For the most part, everything is back to business as usual in Hawaii, thankfully – very, very thankfully!
——
March 14 Update:
The Kona Coast of Hawaii's Big Island did experience some pockets of damage. Please see Post Tsunami Information from Hawaii's Big Island.