HA: Breath of Life: An Unparallel Polynesian Show
Andy and I loved the Polynesian Cultural Center's long-running show Horizons. As I wrote in my review of Horizons back in 2007:
We saw this evening show on our first full day of our recent trip to Oahu.  We had flown to Hawaii from the East Coast the day before and we were extremely jet lagged.  We had had a full day touring the islands of the center and taking part in the Ali'i Luau.  By the time the show started, it was well past our bedtime at home.  So, we were a little concerned that when the lights dimmed for the show, that we might end up watching the back of our eye lids instead of the show. Our concerns were not warranted because the show captured our attention the entire time.  Not only were we wide awake watching the show, but when we got back to our hotel at the Turtle Bay Resort, we kept awake for a while talking about how great the show was.
So, when we learned that Horizons was being replaced by a new show, HA: Breath of Life,  in August 2009, we wondered why would the Polynesian Cultural Center change a show that was already spectacular. I mean, if it ain't broke, don't fix it, right?
When HA: Breath of Life debuted, I kept hearing how much people enjoyed it – both local residents and visitors. It's not easy to create a show that strikes a chord with locals and visitors, but HA does.
When we had the opportunity to return to Oahu in October, one of the first things that popped in my mind was, "We've got to see HA!" So, we made our plans for this short, five-day visit, making sure we got to the Polynesian Cultural Center.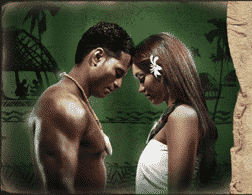 We thought HA was outstanding. This spectacular Polynesian show has all the bells and whistles of a top notch Broadway or London West End show, but with the warmth and pageantry of all the major Polynesian cultures. HA features more than 100 performers, live music, colorful Polynesian-inspired costumes, a stage that's approximately 60ft tall, and fire – lots of dramatic scenes using fire. I believe I counted about 10 Samoan fireknife dances at one point — an illuminating display!
All the cast, music, choreography, and technical features of the show help to make HA excellent entertainment, but HA's story is what makes it so memorable. The show centers on Mana, following his life and his family. With each stage of Mana's life, we journey to a different Polynesian island chain, with aspects of each culture beautifully woven into the story. If I remember correctly, the Polynesian journey goes through Tonga, Hawaii, New Zealand, Samoa, Tahiti and Fiji.
I don't want to give too much of the storyline away. I will say this, don't be surprised if a tear wells up in your eye.
To help you gain a better idea of what to expect from the show, here's a short YouTube video produced by the Polynesian Cultural Center. (Email subscribers, use this link to access the video.)
Andy prepared a nice video with scenes from the show shot from our seats. The previous video was professionally produced, so please don't compare the quality of our video with clips from the show. 🙂 (Email subscribers, please click here to see our own video.)
HA: Breath of Life shows every Monday through Saturday evening with the exceptions of Thanksgiving and Christmas holidays. The open-air venue is covered, so you don't have to worry about getting wet if it rains.
The Polynesian Cultural Center offers a variety of packages including admission to the show. You can also get packages that include dinner or a dinner luau. It can be confusing, but in our opinion the Ali'i package comes with a luau and preferred show seating as well as access to the Polynesian villages and cultural presentations. You can save at least 10% or more when you book online at least 10 days in advance directly with Polynesian Cultural Center's website.
I've seen many Polynesian shows and HA: Breath of Life is truly outstanding. I don't believe there's another Polynesian show anywhere that's on par with the magnitude of HA's production. I highly recommend it.
For more reviews of HA: Breath of Life, see this TripAdvisor link. Have you seen HA: Breath of Life? What was your impression of the show?