Waikiki's Grand Gingerbread Village
Santa's elves and I have been working away on our annual Waikiki Christmas events list. I'll be posting that soon. (Update: It's posted here  – Waikiki Christmas 2010 – Holiday Events & Where to Dine)
In the meantime, here's a sneak peak at one of the events on the list — the Sheraton Princess Kaiulani's amazing Gingerbread Village.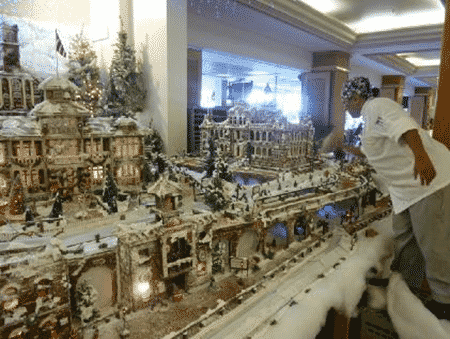 This impressive village is over 14.5 feet tall and 24 feet wide! It's constructed with 200 gallons of icing, 100 pounds of dark chocolate, 30 pounds of white chocolate and lots and lots of gingerbread. The hotel's chef and staff spent more than 660 hours designing and constructing this gift to guests.
The following video shows bits of this gingerbread village assembly. What a sweet, dreamy wonderland it is! Enjoy!
(Email subscribers, please click here to watch the video.)