Today, I'm delighted to share this poetic piece from my friend Melanie Waldman of Travels With Two, who writes an inspirational travel blog for couples. Please enjoy her ode to Maui that transports you on a romantic journey from honeymoon to a return visit years later. Enjoy!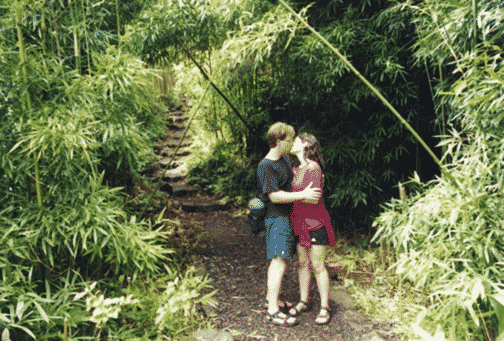 I spent my honeymoon on this half-manicured, half-wild island and fell in love with the soft trade winds, soaring cliffs and daily rainbows. That my husband booked the trip for us means that, to me, Maui will always feel like a gift.
11 years later, I decided to return the favor and give him the gift of Maui, this time for his 39th birthday. Turns out, it's still spectacular.
As a brand new bride in a white silk bathrobe, I remember wafting to the top of a grassy Haiku bluff, gazing across the lapis-blue Pacific beside breeze-ruffled palm trees and wild ginger, wondering if any other place on Earth could feel so exotic and friendly at the same time. Our honeymoon B&B here has since closed, but the gorgeous Cliff's Edge at Huelo Point has taken its place. What a relief for anyone with eyes.
Flash more than a decade forward, huddled side by side at the Paia Fish Market, surrounded by a crowd but feeling alone with one another; we dug deep into a miraculous Ono Burger, flaky white fish and coleslaw on a soft sesame roll, admiring the photos of surfing stars who may as well have been sitting at the next table. Outside, the clouds poured forth a gray and roaring rain, ending in a rainbow that landed in the middle of the ocean.
Where once we'd awakened in the early-morning dark and ascended Haleakala only to miss the sunrise by (a sad) five minutes, we would finally have our day in the…sun. Swaddled in wool, our noses, fingers and toes covered but still half-frozen, we greeted his birthday at its literal break. On a rock below us, a chubby little chukka, silly and bobbing as a quail but far more Hawaiian, pumped its neck and crowed at the dawn as the global crowd cheered the start of another day.
Then and long before, with the top down on a rented Sebring, we'd feel the temperature drop inside the 'Iao Valley. Where once we'd stood with rubbery legs in a shallow, rushing stream, laughing and looking fruitlessly for new sunglasses knocked loose by the rapids, years later we'd stand stock still by the edge, listening to a warble of birdsong high above the jagged 'Iao Needle. Here, Maui's history was mingled with our own…though, to be fair, Maui's is a lot longer and far more dramatic.
As a younger woman, I swam to my groom in a rocky natural pool, tucked away beside a whirring-insect jungle of forest green, and splashed him with a burst of ice-cold water. An orange butterfly flitted past my head and disappeared high above, in a cluster of plumeria blossoms. (Theoretically) more mature versions of ourselves would venture past a different orange butterfly, down below the Earth; in the Hana Lava Tube, the air was cool and dry, the sightless creatures strange. We followed the sound of each others' laughter through a tunnel of darkness and rock like melted chocolate frosting.
Now, do I think the Road to Hana is a metaphor for marriage? Well, yes. It's best taken slowly, with a sense of shared adventure. Never miss a chance to stop and drink in a quiet moment of reflection, but watch that you don't run off the sides. It's long, winding and ends in a gorgeous series of waterfalls, leading one to another and out to sea; in other words, no real ending at all. We drove the Road once, we drove it twice, and both times we could hardly believe our eyes (and good fortune).
As a new wife, stepping foot for the first time on a beach made of hardened black lava felt foreign and exciting, especially when a huge wave crashed the shore and soaked us both. As a wife of eleven years, strolling hand-in-hand near Kihei with my long-familiar husband on a brown sugar beach, Lana'i off to one side and an endless field of sugarcane on the other, a single sunny afternoon washed away a chilly Spring. As a tanned stranger passed by with his salt-drenched dog, he smiled and said, "Another great day on Maui!"
He wasn't wrong. We hope to someday have many more.
—–
Melanie Waldman writes Travels With Two, which aims to inspire working couples to step away from their desks…and get the heck out of dodge. TWT offers travel tips, photos and real-life stories from couples who've managed to take some time away, together. Follow Travels With Two on Twitter and Facebook.
Today, Melanie and I are playing blog switcharoo. She's written this excellent post for us here. And, I've written about our trip to New Zealand (part one) and part two for Travels With Two.