See Kauai's Wailua River Valley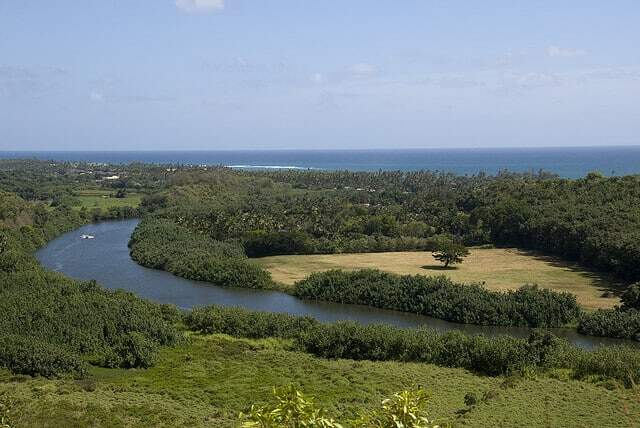 A short drive up Kaumoo Road (Highway 580) from Kauai's East Shore will provide plenty of great views and intriguing sights to explore in the Wailua River State Park. Make sure you plan a visit to this historic, sacred and scenic area.
The queen of Wailua River is Opaekaa Falls, which is just off Kaumoo Road. This Kauai beauty gently flows across lava rock walls. Here's a photo of this beautiful, lacy waterfall.
Of course seeing Opaekaa Falls is reason enough to take this little diversion up Kaumoo Road, but you'll also be able to take a glimpse back into ancient Hawaiian culture at the four heiaus situated here. Heiaus were Polynesian places of worship. They are typically stacked stones in a rectangular shape. If your time is limited, make sure you see the Poliahu Heiau that sits on the bluff above the Wailua River. It's about 300 yards across the street from where you park to for the Opaekaa Falls overlook. It's estimated that Poliahu Heiau may have been used as early as the 1600s. According to the park brochure, Poliahu Heiau was most likely dedicated to the god Ku for success in war and it's likely that human sacrifices occurred there. Other nearby heiaus are closer to the shore — Hikinaakala Heiau, Malea Heiau and Kalaeokamanu Heiau.
If you'd like to further explore the beautiful Wailua River, we recommend taking a kayak tour which leads to a waterfall. If you don't want to kayak, you can take a leisurely boat ride up the Wailua River to the Fern Grotto.