Visiting Hawaii Tropical Botanical Garden
Until this recent visit to the Big Island, we hadn't had the a chance to visit Hawaii Tropical Botanical Garden. We had driven past the garden a number of times, but for logistics reasons weren't able to stop in. Now that we've had a chance to tour the gardens, we realize we had really been missing out on such a special place.
I'll cut to the chase. I love this garden. Love it! Each time I visit the Big Island from now on, I will make plans to visit Hawaii Tropical Botanical Garden. It's one of the closest places to heaven on earth that I've encountered.
A Garden In a Valley on the Ocean
What makes Hawaii Tropical Botanical Garden special? Where do I start? Let's begin with a trusted, old real estate phrase, "Location! Location! Location!" Hawaii's climate is perfect for tropical gardens that you'll find on every island, but I doubt there's another garden location that can beat Hawaii Tropical Botanical Garden. Their tagline, "a garden in a valley on the ocean", almost says it all. While you saunter along the garden's paths you hear the soothing sounds of the Pacific Ocean coupled with the chirping of birds.
Hawaii Tropical Botanical Garden is blessed with natural landscape beauty. First, the garden  is situated along Onomea Bay and from the garden paths, you'll find beautiful views of the bay. While we were enjoying the view of the bay, we were also treated to some humpback whale watching. Another wonderful natural landscape feature within the gardens is Onomea Waterfalls as well as Boulder Creek Waterfalls.
By now, you are probably starting to get the picture that the location and landscape of Hawaii Tropical Botanical Gardens are gorgeous, right? So, you may be wondering what about the garden bit. Oh yes, these gardens are abundant with all sorts of tropical flowers and trees. We must have said, "Wow, look at that!" over and over again. I've never seen such a collection of exotic trees and plants – hundreds of varieties — from orchids to heliconias to bromeliads to gingers to ferns to palms, and much, much more. Even my brother-in-law, who is not botanically-inclined, said that he was very impressed with the gardens and that it was one of his highlights of the trip.
A Garden Love Story
On the day I visited, I was in luck. I had the honor of meeting Mrs. Pauline Lutkenhouse, the wife of the founder, Mr. Dan Lutkenhouse. Mrs. Lutkenhouse happened to be at the garden's visitor center and greeted us with such warm aloha. She shared a bit of the history of the garden and spoke so proudly and lovingly of Mr. Lutkenhouse who passed away in 2007. She said that he lived his dream in creating Hawaii Tropical Botanical Garden. Isn't that beautiful?
The Lutkenhouses purchased the first 17 acres of Onomea valley in 1978. At that point it was so overgrown and virtually impenetrable jungle that it took eight years to clear it and design. (Can you imagine eight long years of clearing and creating paths?) Mrs. Lutkenhouse said that even today, she's still impressed with the creativity and way her husband designed the garden. I must agree, that the design is exceptionally impressive. I admire the vision it took to plan, plant, and create this one of a kind garden.
After my brief chat with Mrs.Lutkenhouse, I could sense that this garden was so much more than what's physically visible. It's a romantic story – one that symbolizes the love that the Lutkenhouses have for Hawaii, for nature, and for each other. If the garden ever considers changing their tagline, I'd like to suggest "A Love Story in a Garden in a Valley on the Ocean"
The Lutkenhouses added another 40 acres to the original 17. They donated all the land to establish a non-profit nature preserve and sanctuary that's funded solely by visitors and tax-deductible memberships. While the founders saved this land from being over built, they also created a garden paradise that will be enjoyed for many generations to come. You can read more of the history of this garden on their Web site.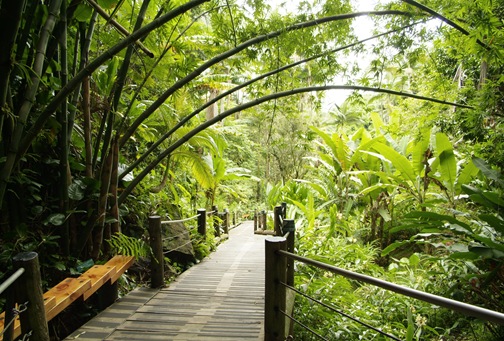 What to Know When You Go
Hawaii Tropical Botanical Gardens is located off the scenic four mile drive, Old Mamalahoa Road, just about 9 miles north of Hilo on the Big Island.
Open daily from 9am to 5pm, with the exceptions of Thanksgiving, Christmas, and New Year's Day. Note admission ends at 4pm.
Admission is $20 for adults. Children ages 6 – 16 are $5. Children under 6 are free. Pricing is always subject to change, so check for any rate changes.
We were told to allow at least an hour to tour the gardens. We lost track of time, but we are certain that we enjoyed our visit for over two hours.
You will need to guard yourself against mosquitoes. Yes, mosquito repellant is a must!
Wear comfortable walking shoes and bring a bottle of water.
To get a small preview of the garden, see our collection of photos from our visit.
Have you been to Hawaii Tropical Botanical Garden? How was your visit?