Where to Find Oahu Vacation Maps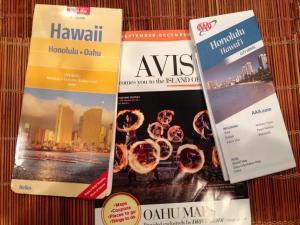 It's a good idea to start getting familiar with the geography and streets of Oahu before your feet touch the island ground. Where do you find a useful Oahu map? Here are eight resources to help you find your way around Oahu.
1. Download or order your free Oahu vacation planner from the Oahu Visitors Bureau. From this link you'll be able to access and order Oahu brochures that are loaded with useful maps. These guides are very useful to help you start understanding the lay of the land.
2. Purchase a driving map of Oahu through Amazon.com or at your local book store. We used to recommend the Nelles Map Hawaii: Honolulu – Oahu, but it doesn't appear that this map is still in print. It appears that this Reference Map for Oahu is a good one. Additionally, though not a map per se, Oahu Revealed offers many detailed maps of interest to tourists through out this travel guidebook.
3. When you arrive at the Honolulu Airport, stop at one of the information desks and politely ask for a map of Oahu. My only caution is that the information desks are not always manned. The free maps that they provide are really the best Oahu vacation maps that I've found. Most of the major scenic points are well labeled. The only downside to the maps is that there isn't a great deal of street detail.
4. If you have AAA, stop into one of their offices near your hometown and request free driving maps. They offer a very detailed map of Honolulu.
5. Of course you can always use online maps like Google Maps, Bing Maps, etc. to print driving directions.
6. If you have a portable GPS navigation system, do bring it with you to Oahu. Andy and I first brought ours last year and it saved us lots of aggravation and time. I am convinced that we were able to see more of Oahu because we brought the navigation system. (See my post on using a GPS navigation system in Hawaii.) Mobile phone map apps can be useful too if you have mobile phone service/coverage.
7. If you are renting a car, the agency provides a free driving guide. These drive guides can be useful if you have the patience to find the pages with the maps in between multiple pages of advertisements. (Sometimes, they do have good coupons, though.) This link should lead you to the current Oahu drive guide that's being distributed.
8. Ask the staff at your hotel if they have maps available.
Now, having listed all those resources for maps and navigating Oahu, guess which ones I use. Would you believe that I use a combination of all of them? I really do. How about you? What map and navigation resources do you recommend for sightseeing on Oahu?