Bring disposable rain ponchos for your Hawaii vacation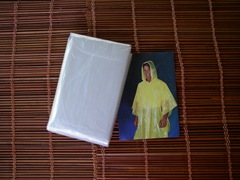 Okay, I admit it! I shop at Dollar Tree from time to time. I actually like to hit the local dollar store before heading to Hawaii because I've found some pretty useful items. For example, take the disposable rain poncho from the photo on the left. For a dollar, I buy a package that contains two ponchos. These rain ponchos are compact enough to easily store in your purse or back pack. The first day we arrive, I put a package of ponchos in the glove box of the rental car. Even though I pack a lightweight waterproof jacket when I travel to Hawaii, I don't always remember to bring it with me as I go out on a day of sight-seeing. That's why I like having these ponchos in the glove compartment as back up. You may notice that only one poncho is shown in the photo. That's because its mate was used during a stop at Akaka Falls.
I've found some other dollar store items that are great for traveling. I've also bought travel toothbrushes, toothpaste, small first aid kit, empty travel containers, and lingerie bag for separating dirty laundry. Have you found any good dollar store finds for your travels?