Hawaii Vacation Deals & News Roundup: September 21, 2009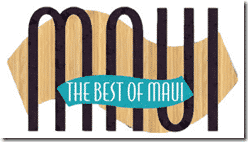 There's lot's cooking today, so let's dive right into the vacation news.
* Maui News has issued their annual "Best of Maui 2009" list. Though the publication is separated out into multiple pdf files, it's worth your time to review it, if you're headed to Maui. In the publication, you'll find the best restaurants in multiple categories, plus you'll find some deals and coupons. Also, see my own top picks and additional resources on finding the best restaurants in Maui.
* Four Seasons Resorts in Hawaii have added some new upgrades. You can read all the Hawaii Four Seasons news here. As I skimmed through the news, this little Four Seasons Lanai at Manele Bay tidbit caught my hopelessly romantic eye:
in Manele Bay [Lanai], new Oceanfront hales overlooking Hulopo'e Bay provide the perfect spot for … the Oceanside Hale Twilight Experience, served in candlelit privacy with Champagne, a five-course tasting menu and fragrant flowers to create the perfect ambience.
* The Mauna Lani on the Kohala Coast of the Big Island is due to reopen November 1st after a fresh refurbishment. They've extended their Hawaii 5-0 deal through December 23, 2009 with rates starting at $270 per night.
* A 4-D theater is under construction at the Shops at Mauna Lani and is slated to open in November.
* The former Maui Prince Hotel is under new management and has been renamed the Makena Beach and Golf Resort, per the Maui News. I think it's worthwhile noting that the same company that manages one of my Oahu favorites, Turtle Bay Resort , is now managing the Makena Beach and Golf Resort on Maui.
* Attention classic movie buffs! Guess who is returning to Kauai for the first time since taking part of a classic movie filmed on Kauai in 1957-58? If you guessed Mitzi Gaynor from the classic movie musical South Pacific, you're right. She's returning to Kauai to take part in the Garden Isle's celebration of the movie's 50th anniversary the first weekend in October. On October 4, the Kauai Visitors Bureau is presenting An Afternoon with Mitzi Gaynor at the Kauai Marriott Resort & Beach Club, an entertaining reflection by Ms. Gaynor on the filming of South Pacific and her career. The event is open to the public and benefits the Kauai Museum. Admission is $20.
* I'll close this roundup by sharing a video of Mitzi Gaynor singing one of the more famous songs and scenes from South Pacific, I'm Gonna Wash That Man Right Outta Of My Hair. This scene was filmed on Kauai's Lumahai Beach.